Composition & Arrangement Software
Band-in-a-Box is the program used worldwide by musicians of all styles to compose and arrange. With impressive automatic accompaniment features, create professional-sounding arrangements in minutes. Written by musicians for musicians, the arrangements always sound like real musicians, never stiff or computerized. That's the key to Band-in-a-Box's popularity for live performances, audio productions, as a learning and practice program, or just for the fun of jamming for hours with a top-notch live band.
Band In A Box - UltraPAK includes: Band-in-a-Box, RealBand, over 3,500 RealTracks in Set 1-429, over 292 MIDI SuperTracks, over 2,800 MIDI Styles, over 300 MIDI Soloists, over 200 MIDI Melodists, 160+ Artist Performances, over 1,000 Loops.
This product is compatible with macOS only.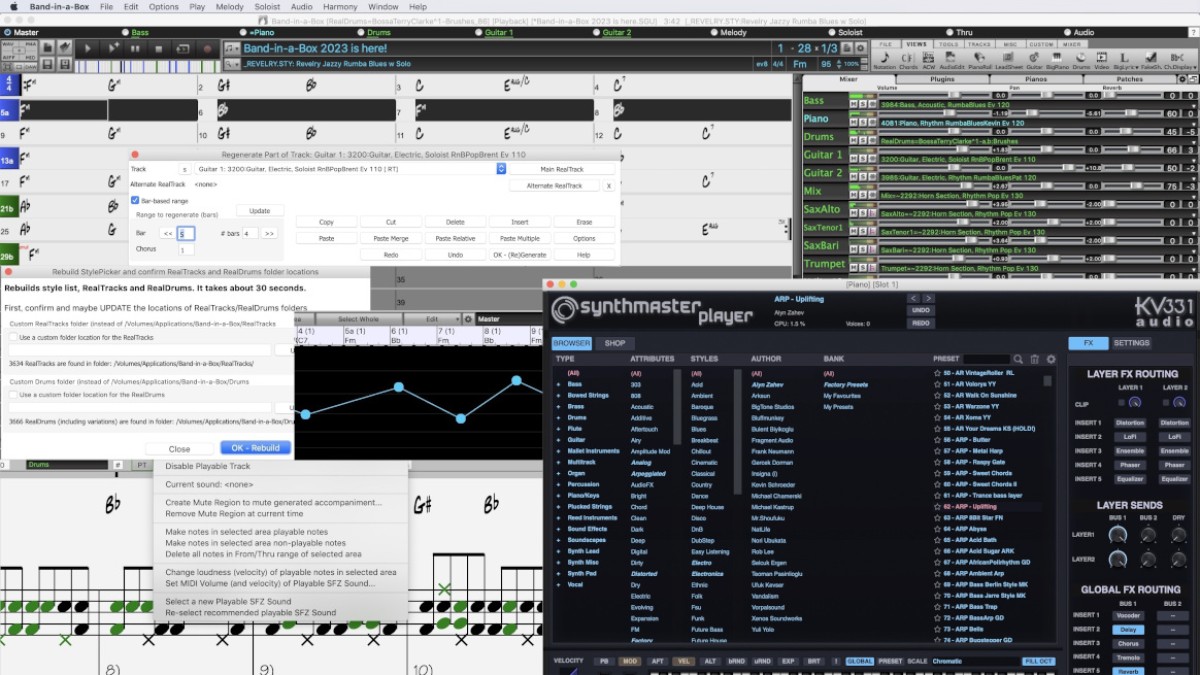 Features
RealTracks - real instruments recorded by professional musicians. The sound is absolutely realistic.

Video RealTracks, work like RealTracks but include videos of the musician performing.

RealDrums - real drums, recorded by professional drummers and dramatically better than older MIDI drum tracks.

Band-in-a-Box® DAW Plugin

Performance Tracks - professionals play the melody to RealTracks

Melodist - automatically create complete songs from scratch - including chords, melodies, intro and even a song title!

Soloist - intelligent functions for creating extremely musical sounding solos.

Audio Chord Wizard - analyzes audio recordings and transfers the chords to the Band-in-a-Box chord display.

Audio Harmonies - creates entire choirs with up to 16 voices in no time.

MedleyMaker - perfect medleys with nice transitions to the new key, style and tempo.

StyleMaker - create and edit styles yourself.

MIDI SuperTracks - MIDI tracks played by top studio musicians.

Performance Tracks - professional artists demonstrate the possibilities of RealTracks

VST Synthesizer (sforzando SFZ Synth) with support for the popular .SFZ sound format and PG Music's Hi-Q sounds

DirectX audio effects bring familiar standard effects to your tape-in-a-box recordings.

MultiStyles - create up to 24 substyles in one song.

Melody recording with internal sequencer/per single step

Display/edit music in piano roll display or as notation.

Compositions can be printed out - complete with notes, chords, lyrics and playing names

Save compositions as graphic files for publishing on the Internet

Fullscreen lyrics window allows copy/paste of lyrics from writing programs

Harmonize melody or real-time harmonization of melodies played on keyboard

Direct rendering function to create audio files or CDs of your songs

'Conductor' function for controlling band-in-a-box during live performance or jam sessions

Supports ASIO sound cards

VST interface for integrating VST instruments and effect plug-ins (32- and 64-bit)

'Scales Wizard', generates scales for any chord progression - ideal for practicing

SoundCloud and DropBox support - so you can easily publish your songs on the Internet

Includes RealBand - sequencer, arranger, composer program

Many AddOns with new songs, styles, soloists, melodists, RealTracks, RealDrums or harmonies available
Mac:
macOS 10.6.8 or higher
64 bit
Apple Silicon compatible
RAM: 2GB or higher
Windows:
Not supported.
Required Registration:
PG Music products require you to register with the manufacturer at www.pgmusic.com to activate your license.
This product requires an activation!
An internet connection is required to authorize / activate the product.