Master of the low end...electric, upright, fretless, and synth basses

Become master of the low end with BASiS, a breakthrough new virtual instrument from Vir2 Instruments. Featuring a comprehensively sampled collection of electric, upright, fretless, and synth basses, BASiS offers incredible attention to detail in the depth and breadth of the basses: 24-bit sampling, DI and amp blending control, multiple velocity layers, seamless humanizing, custom legato and vibrato tools, release layers, harmonics, hammer-ons, pulloffs, slides, slaps, rakes, falls, and more.

BASiS includes more than 7 gigabytes of the most diverse collection of basses available in the world of virtual instruments: classics like the Jazz Bass, P-Bass, Rickenbacker, and Musicman basses are presented alongside personality and genre tributes such as a classic Motown bass, a gospel bass, Jaco´s Fretless, and Macca´s Hofner. One upright bass and three slap basses are also included. In the synth bass category, more than a hundred patches are provided, ranging from thumping vintage synth basses to techno basses and esoteric fresh creations to spice up your tracks. Each instrument has been meticulously mastered and programmed for maximum musicality when placed in a mix.

All electric basses have been sampled from both the direct input (DI) and an amped perspective. A knob on the interface allows phase-aligned blending of the two, or the selection of one or the other. For the upright bass, the same knob allows mixing of the direct input and a phase-aligned tube mic output capture of the same sessions. Other onscreen controls allow pitch bend range adjustment, pick noise and fret noise controls, release layer controls, adjustable velocity curve, and instant and detailed control over EQ. A comprehensive selection of effects is included, including an octaver, compression, saturation, lo-fi, distortion, limiter, phaser, flanger, chorus, reverb, and delay.
Performance features include an innovative legato tool designed for true finger-smooth playing, and a customizable vibrato engine with control over vibrato types, speeds, and depths. Rather than opting for traditional LFO-based vibrato, BASiS uses a sophisticated character vibrato modeled after real bass players, completely controllable from the keyboard and onscreen interface. Randomized pick noises, release samples, and fret noises add to the realism of each instrument.
Combining all of these innovative features into one virtual instrument, the end result is a versatile, varied, and intuitively playable library of the finest low-end instruments in the world.
BASiS includes an impressive number of features and custom engines designed specifically for this library tailored to the unique characteristics of the basses.
Amp/DI Control

Each electric bass includes an Amp/DI balance knob, allowing full blending control between phase-accurate samples of the direct bass signal and an amp´ed recording of the same take. The user can turn the knob to output 100% of one or the other, or blend the two seamlessly, resulting in a vast amount of tonal variety to help the bass fit into any mix. For convenience, the knob can also be controlled via external MIDI continuous controllers. A similar control is available in the upright bass, but it blends the direct signal with a mic´ed signal.
Realism Engines

A number of custom engines are designed to contribute to the realism of the sound. A breakthrough intelligent legato mode allows for real finger legato playing, and the engine automatically responds to the playing style to interpret a realistic legato. Adjustable pick noise, fret noise, and finger releases (the sound of the finger lifting off the string at the end of each note played) help recreate the basses completely authentically. A Humanize engine further extends the realism by introducing slight variations in each note played, avoiding the dreaded machine-gun effect. Fret noise is added, not by a random routine, but by an artificial intelligence engine that watches for where the player is moving on the virtual fretboard.
Modes and Articulations
An onscreen display gives real-time information on the currently selected articulations, playing mode (polyphonic, monophonic, and legato), and release layers. Varying articulations were recorded for each bass, including long notes, harmonics, mutes, slides, slaps, pulloffs, falls, releases, noises, and more. Both traditional keyswitching and forced keyswitching (hold down the keyswitch trigger to affect the note(s) currently being played but return to the previous mode as soon as the keyswitch trigger is released) have been designed for maximum ease of use, and all are displayed on the onscreen display in real-time. The end result is that BASiS is able to interpret any style of incoming MIDI playing and render a completely realistic bass part with a minimum of manual-reading.
Character Vibrato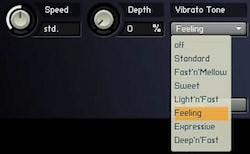 Full vibrato control, painstakingly modeled after vibrato made by real bass players, is available, including seven different characters of vibrato.
Dynamic

Response
An adjustable velocity curve allows for fine-tuning of the dynamic response of the basses.
Effects
A full suite of effects is included in BASiS, including a custom-written Octaver, and full EQ controls. Each of these effects offers a full page of tweakable settings that can be adjusted.
Remote Control
Every parameter in the onscreen BASiS engine (including its subpages) can be controlled remotely via MIDI continuous controllers (CC´s), and can be adjusted in real time.
Electric Basses
Gospel
Jazz Bass Back Pickup
Jazz Bass Full Tone
Jazz Bass Picked
Macca´s Hofner
Motown
Musicman
Precision Bass
Rickenbacker
Fretlesses and Upright
Fretless
Fretless Hollow Tone
Fretless Jaco
Upright Slap Basses
Jazz Bass Back Pickup Slap
Jazz Bass Full Tone Slap
Musicman Slap
+ tons of Synth Basses ...........
Simple McSimpleton
Smoov Schweet
Snow Flurry
Stabattack
Stay Low
Sugar Momma
Sweeping Bat
Toy Junky
Video Game Mania
Warm Enveloping
Wizzard
Short
Double Shot
Electric Shock
Hushed Mute
Rougher Up
Stabba Jamma
Substrata
Talky Wah
Talky Wah Two
Toxxik

This product works with the free Native Instruments Kontakt Player, the latest version can be downloaded through Native Access, Native Instrument's download manager!
The minimum required Kontakt version for this product is stated in the product description or can be found on the manufacturers wesite.
System Requirements:
Mac:
macOS 10.14 or higher
64 bit
Intel Core i5 or Apple M1 (native)
RAM: 4GB (6GB recommended)
Windows:
Windows 10 or higher
64 bit
Intel Core i5 or similar CPU
RAM: 4GB (6GB recommended)
Supported Interfaces:
Mac (64-bit only): Stand-alone, VST, VST3, AU, AAX
Windows (64-bit): Stand-alone, VST, VST3, AAX
Legacy Versions:
If you require legacy installers of Kontakt Player please refer to this Knowledge Base Article.
Required Registration:
Vir2 (by Big Fish) products require you to register with the manufacturer at www.bigfishaudio.com to activate your license. To use Kontakt Player Libraries you also need to register with www.native-instruments.com.
This product requires an activation!
An internet connection is required to authorize / activate the product.