BeatMaker Hustle 2:Trap, Grime & Dirty South
Beatmaker HUSTLE covers a broad range of modern urban music styles like south coast hip hop, trap/EDM-Trap and UK-grime. It provides you with a huge variety of genre specific drum grooves using typical double and triple-time sub-divided hi-hats, booming dark 808-kick sounds, and machine-gun like snare rolls and build-ups. Breaking the limitation of loops, a Beatmaker offers you the musical flexibility of a drummer, putting you in the producer's chair.
Beatmaker HUSTLE features a selection of professionally edited drum sounds, audio processors and groove styles, integrated with a professional-quality mixer console, all waiting to be fired off and arranged using your MIDI controller in realtime.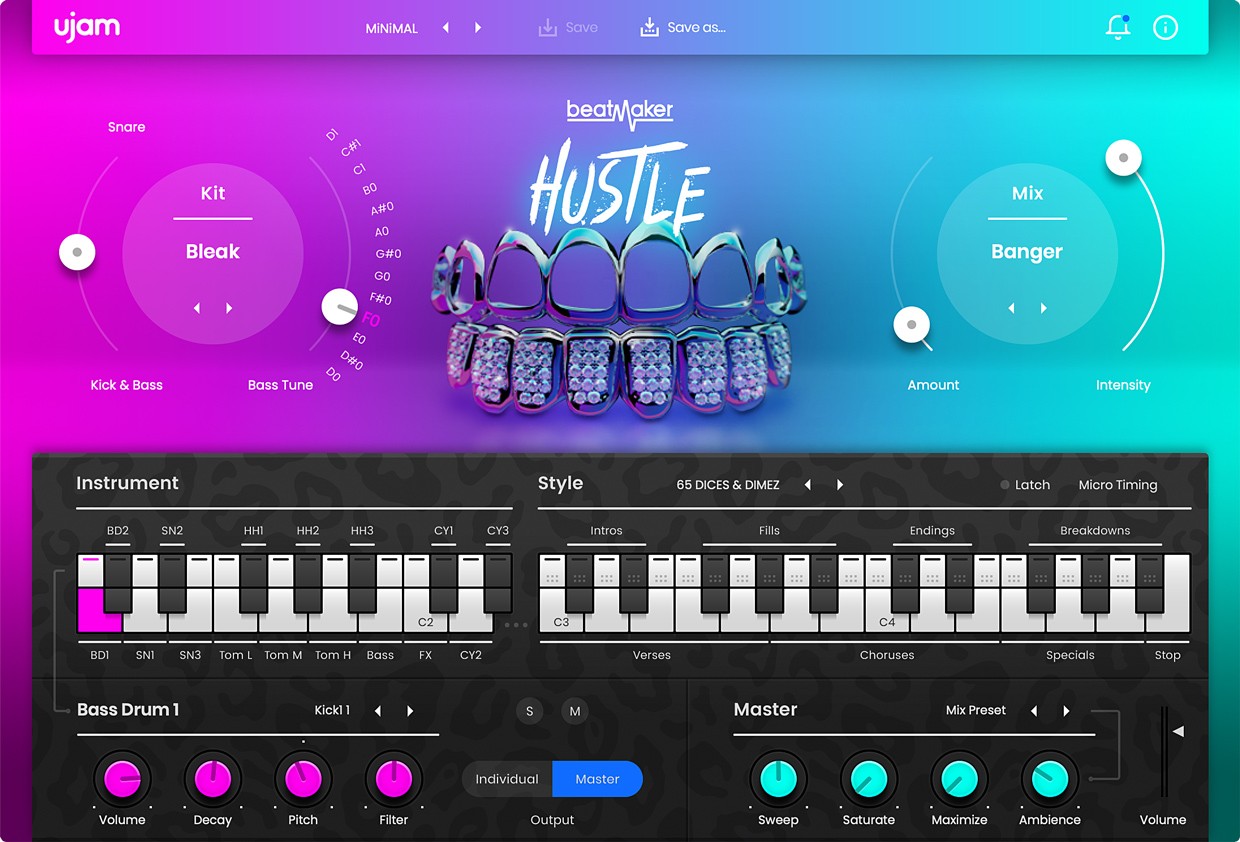 Beatmaker HUSTLE has been developed for everyone who finds drum loops too limiting and programming MIDI drum arrangements too tedious or challenging. It is also your personal style guide - whatever you produce with.
What's in There?
A virtual beat maker for massive pumping Trap, Grime and Bass Music Tracks
More than 60 styles, 690 patterns (intro, verse, chorus, fill, ending)
10 drum kits
MIDI Drag and Drop to DAW
Multiple Audio Outputs
Sound shaping controls per instrument: Type Selector, Filter
Master Section featuring: Sweep, Saturate, Maximize, Multi-band EQ,Ambience
Make also sure to check out the other Beatmakers in this series: Beatmaker EDEN (in the style of EDM) and Beatmaker DOPE (in the style of BoomBap-Rap).
Mac:
macOS 10.15 - 12.5
Native support for Apple Silicon
64 bit
RAM: 4GB (8GB recommended)
Windows:
Windows 10 - 11
64 bit
RAM: 4GB (8GB recommended)
Required Registration:
UJAM Instruments products require you to register with the manufacturer at www.ujam.com to activate your license.
Product activation:
An internet connection is required to authorize / activate the product.