Sweet & Edgy Drums - Beats to write hits to
KANDY is a bleeding-edge virtual beatmaker, employing extremely processed samples and state-of-the-art sound design for the top of the billboard charts. Easily create beats for the entire bandwidth of modern A-list pop music!
Delivering the goods
20 styles, 50 presets
10 drum kits, 460 patterns
MIDI Drag and Drop
Special control: Sweetness algorithm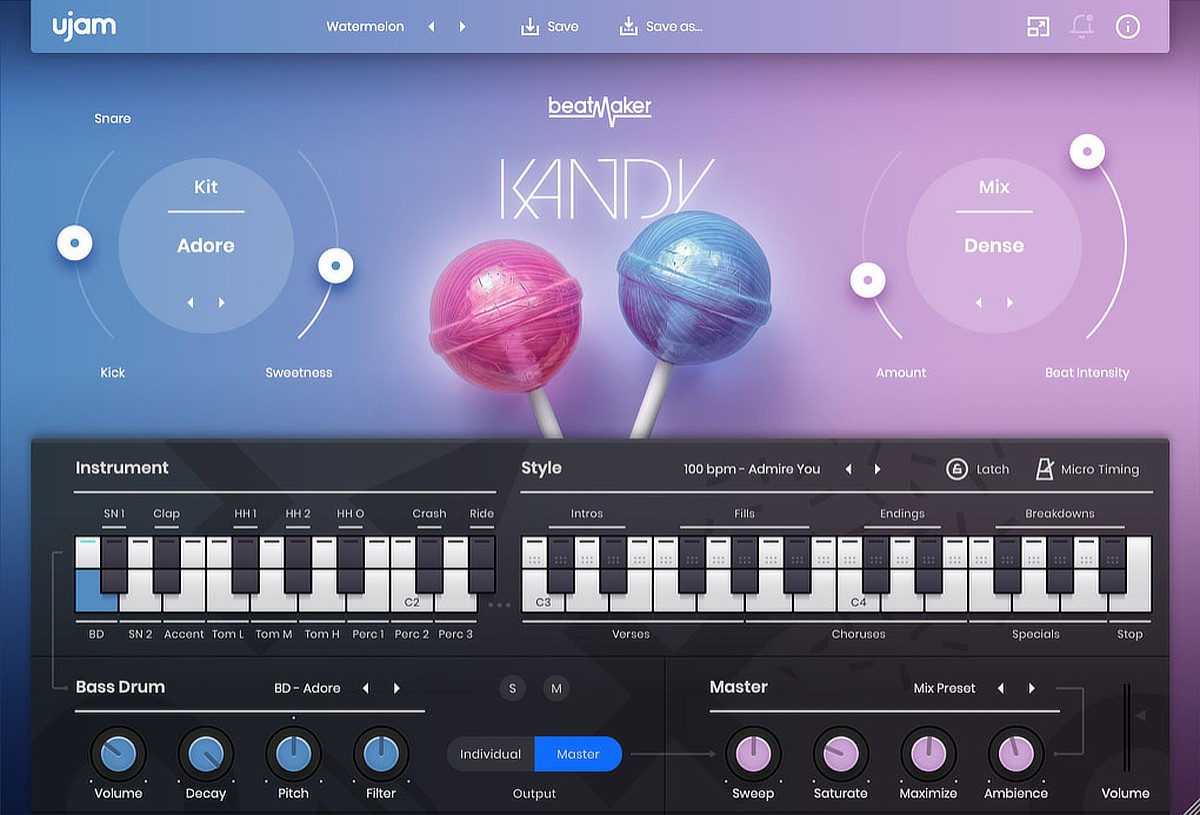 Punchy, yet sensual - One thing A-list pop artists have in common is an emphasis on beats. The beat is often the central element carrying and defining the song, and while the rhythms are coming from a wide range of genre backgrounds, they all share certain qualities!

Glossy polish – ready for the big stage - Contemporary pop beats are big, not to say huge, they cut through the mix with precision and force and they are very meticulously programmed and often extensively automated. Long gone are the days where a pop song could be carried by one or two static loops straight from a drum synthesizer!

Hybrid sounds – best of both worlds! - Listening to top-of-the-charts and pop music, it becomes quickly clear that there are many different genre influences. From broken dance rhythms to techno-inspired stompers, this music seems almost genre-fluid. Sometimes reminiscent of the gender-fluidity of some of the artists.

Adjust Sweetness - The proprietary Sweetness control shapes huge sounds with the help of multiband compression and a transient designer so the drums cut through the mix better. For chart breakers KANDY is the new title to UJAMs Beatmaker series, which makes producing outstanding beats for your music fast and easy. It instantly syncs to your DAW's tempo, and you can play a near-infinite variety of beats.

Features at a Glance - KANDY features 12 kits with 16 drum instruments each. There are 20 Styles with 23 ready-made patterns each, for a total of 460 patterns. Plus: Easy access to all the effects you need to make punchy contemporary beats that will make – uhm actually – leave an impression.

Control your mix - KANDY's clean and simple interface makes it easy to create your music without overthinking! Pick a Mix Preset and dial in its character to your desire.

Go big or go home - It's decision time! If you want to sound like the A-list pop artists, this is your key to their studio.
Mac:
macOS 10.15 - 12.5
Native support for Apple Silicon
64 bit
RAM: 4GB (8GB recommended)
Windows:
Windows 10 - 11
64 bit
RAM: 4GB (8GB recommended)
Required Registration:
UJAM Instruments products require you to register with the manufacturer at www.ujam.com to activate your license.
This product requires an activation!
An internet connection is required to authorize / activate the product.