Get ready to go big and bold with the Vienna orchestra – for free!
Create large orchestrations in no time. Beef up your existing tracks by adding massive tutti layers. Inject some inspiration into your composing process just by pressing a few notes and letting the colossal sound work its magic.
And it's free! Try it out and hear for yourself how all the musicians of the large Synchron Stage Orchestra played together with exhilarating intensity, recorded with multiple microphones in one of the best-sounding scoring stages on the planet. It's the very sound that for many years has lured clients from Hollywood and all over the world to Synchron Stage Vienna over and over again.
Articulations include staccatos, sustains, marcatos, swells and runs – just what you need to create earth-shattering accents, awe-inspiring "braahms" and nerve-wracking tension cues.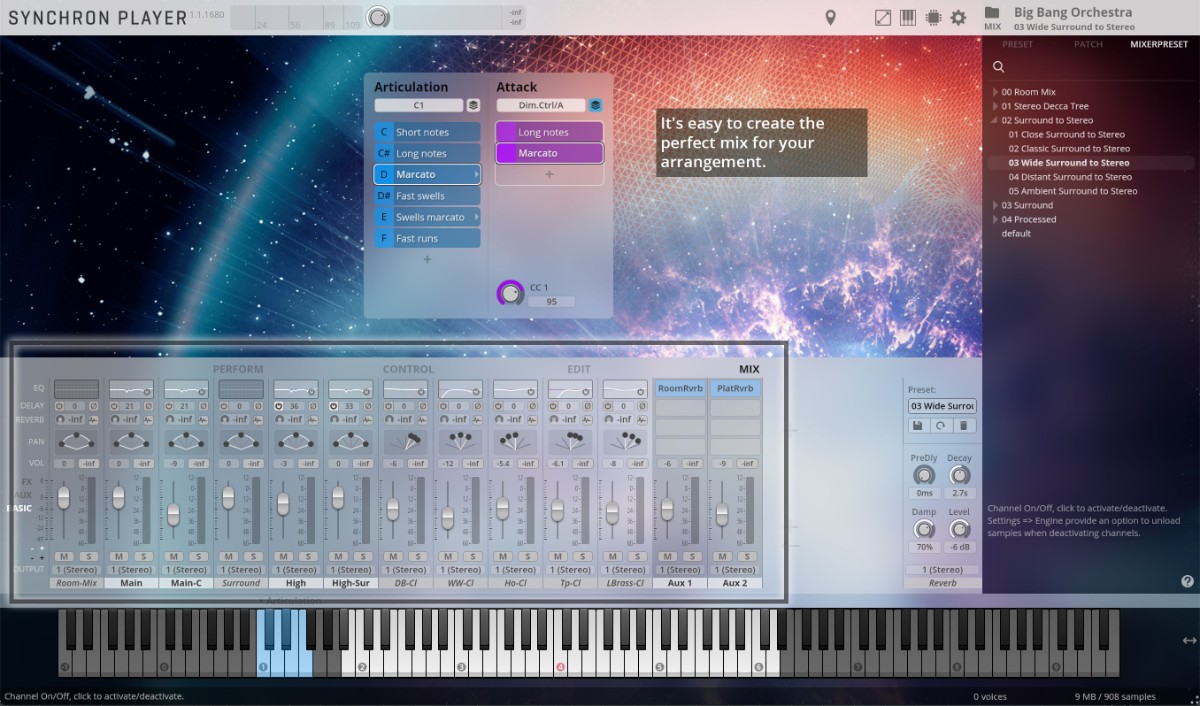 Using the Synchron Player's full-blown mixer, you can adjust the level of the various mic signals or change the sound and ambience of the entire ensemble in the room. With the included Mixer Presets it's easy to achieve perfect results out-of-the box. Room Mixes feature an excellent blend of overhead Decca tree mics and surround mics mixed to a stereo signal that's light on CPU and RAM. Other Mixer Presets offer a combination of mic signals that you can adjust to your needs and liking, masterfully crafted by Synchron Stage Vienna's acclaimed Chief Recording Engineer, Bernd Mazagg. These include "Stereo Decca Tree" and "Surround to Stereo" that feed the surround mics to the stereo signal for a richer and wider sound. Also included are "Surround" presets for 3D audio setups such as Dolby Atmos, as well as a "Processed" category for that larger-than-life, "Hollywood" sound!
Features
Massive "tutti" orchestra

Super-quick large orchestrations

Multiple microphone positions for stereo and surround output

1.4 GB FREE sample content (download size: 0.5 GB)
*Upgrades and User Discounts: You already own VSL Products?
After the login you can check in the shopping cart if you are entitled for a VSL User-Discount and apply it. This works for Upgrades, Crossgrades, EDU products and also when you complete Bundles. Simply add the desired products to your shopping cart and then check for the VSL User-Discount.
Please note that all discounted user-specific orders must be processed manually by our sales team and therefore may take up to one business day to be completed.
Mac:
macOS 10.14 or higher
64 bit
Intel Core i7/i9/Xeon/M1/M2
RAM: 8GB (16GB recommended) - Big Bang Orchestra, SYNCHRON-ized, Smart Series
RAM: 16GB (32GB recommended) - Synchron Libraries, SYNCHRON-ized Dimension Strings & Brass
SSD hard drive recommended
Windows:
Windows 10 or higher
64 bit
Intel Core i5/i7/i9/Xeon
RAM: 8GB (16GB recommended) - Big Bang Orchestra, SYNCHRON-ized, Smart Series
RAM: 16GB (32GB recommended) - Synchron Libraries, SYNCHRON-ized Dimension Strings & Brass
SSD hard drive recommended
Free hard drive space according to the library size.
Required Registration:
Vienna Symphonic Library products require you to register with the manufacturer at www.vsl.co.at and with www.ilok.com to activate your license.
This product requires an activation!
You can either "soft" activate on your computer without addditional hardware or transfer the license to an iLok USB dongle which has to be purchased separately. The iLok dongle can be used to run the protected software on different computers. Your licenses can be easily manged using the iLok Licence Manager. To protect your investment against theft or loss we recommend the iLok Zero Downtime protection with TLC.
An internet connection on any computer and a free user-accout at www.ilok.com is required to authorize the product.
Please check with the software manufacturer which iLok version is required at least if you want to use a hardware iLok!