Big Bang Orchestra: Ursa - 2nd Violins
Ensemble of 2nd Violins with all the essential articulations

Taken from Synchron Strings Pro

Colorful, vivid performances

Highly flexible for all kinds of genres and purposes

Upgrade prices to Synchron Strings Pro available
This String Section Pack brings the realism and artistry of Synchron Strings Pro to the Big Bang Orchestra. BBO: Ursa is packed with vivid ensemble performances, featuring ten acclaimed violin players from the Synchron Stage Orchestra who perform frequently on diverse productions from Hollywood film scores to movie trailers, BBC documentaries and classical recordings.
The homogeneous, well balanced sound of this cohesive, well-rehearsed violin ensemble was captured at Synchron Stage Vienna where the outstanding acoustics and the team's engineering know-how yield recordings that effortlessly transform your arrangements into organically passionate pieces of music.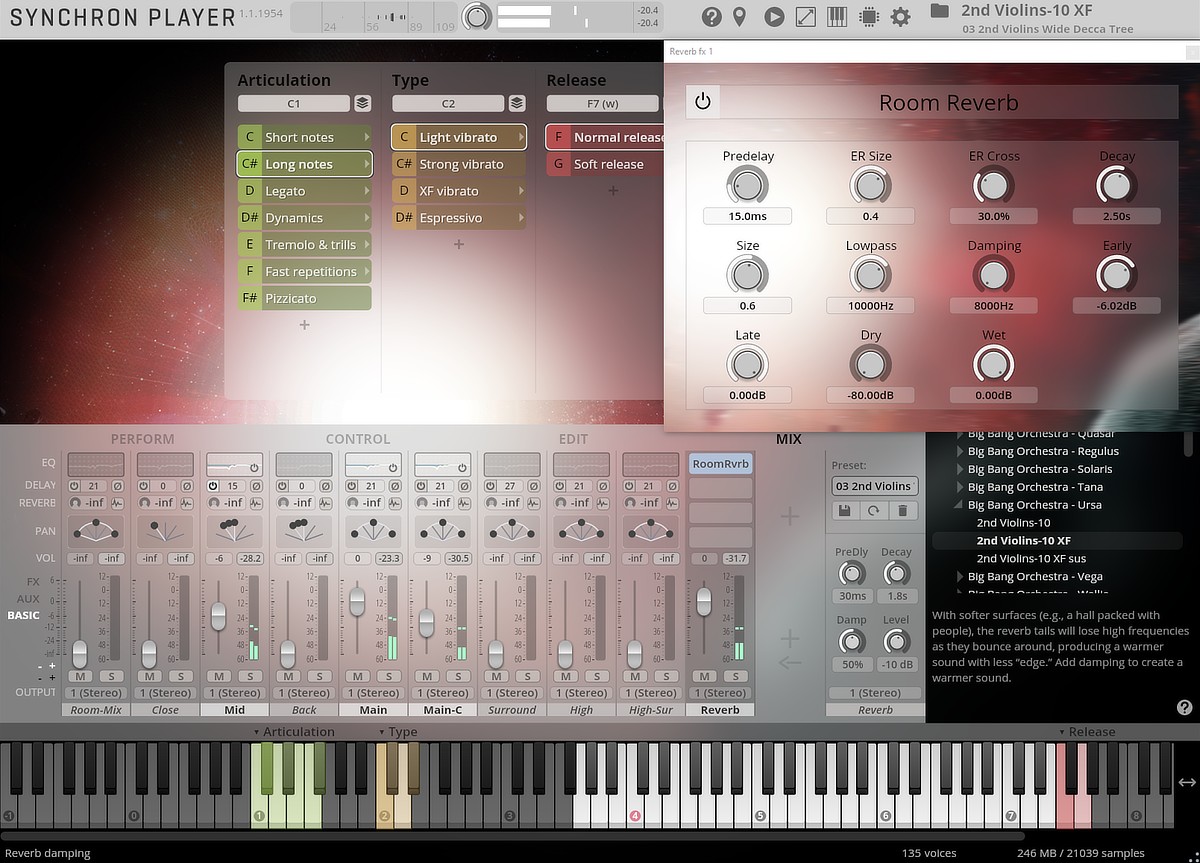 All articulations were taken from Synchron Strings Pro, including short notes (bold, agile, fortissimo), long notes with light and strong vibrato (blendable) as well as played espressivo, legatos with light and strong vibrato as well as with marcato attacks, sforzato, several swells, pizzicatos, and tremolos. The included measured tremolos, which are fast note repetitions at 120, 130, 140 and 160 bpm, can be synced to the host tempo. BBO: Ursa also includes Vienna's unique soft releases of long notes, where the musicians carefully play slightly longer note fade-outs that sound very musical without having to use MIDI controllers to shape the ending of a tone.
The included mixer presets deliver a perfect sound out-of-the-box that integrates seamlessly with all the other modules of the Big Bang Orchestra series. Room Mixes feature an excellent blend of overhead Decca tree mics and surround mics mixed to a stereo signal that's light on CPU and RAM. Other Mixer Presets offer a combination of mic signals that you can adjust to your needs and liking. These include "Decca Tree" and "Surround to Stereo Downmix" presets, the latter feeding the surround mics to the stereo signal for a richer and wider sound. Also included are "Surround" presets for immersive audio setups such as Dolby Atmos and Auro-3D.
Microphone Setup
Main (Decca tree stereo)
Main (Decca tree center)
Main surround stereo
High stereo
High surround stereo
Mid Mic
Close Mic
Back Mic

Upgrade from BBO Strings Section Packs to Synchron Strings Pro Standard: Take advantage of huge discounts when you upgrade from one or more BBO String Section Packs to Synchron Strings Pro, available starting now during the introductory offer and ongoing. Add Synchron Strings Pro Standard to your shopping cart and log in to your account, then request your "VSL User Discount" and your personal price will be displayed! Since all upgrade licenses are generated individually, the delivery can take up to one business day.
Download File Size: 12.4 GB
Installed File Size: 28.0 GB
*Upgrades and User Discounts: You already own VSL Products?
After the login you can check in the shopping cart if you are entitled for a VSL User-Discount and apply it. This works for Upgrades, Crossgrades, EDU products and also when you complete Bundles. Simply add the desired products to your shopping cart and then check for the VSL User-Discount.
Please note that all discounted user-specific orders must be processed manually by our sales team and therefore may take up to one business day to be completed.
Mac:
macOS 10.14 or higher
64 bit
Intel Core i7/i9/Xeon/M1/M2
RAM: 8GB (16GB recommended) - Big Bang Orchestra, SYNCHRON-ized, Smart Series
RAM: 16GB (32GB recommended) - Synchron Libraries, SYNCHRON-ized Dimension Strings & Brass
SSD hard drive recommended
Windows:
Windows 10 or higher
64 bit
Intel Core i5/i7/i9/Xeon
RAM: 8GB (16GB recommended) - Big Bang Orchestra, SYNCHRON-ized, Smart Series
RAM: 16GB (32GB recommended) - Synchron Libraries, SYNCHRON-ized Dimension Strings & Brass
SSD hard drive recommended
Free hard drive space according to the library size.
Required Registration:
Vienna Symphonic Library products require you to register with the manufacturer at www.vsl.co.at and with www.ilok.com to activate your license.
This product requires an activation!

You can either "soft" activate the software on your computer without addditional hardware or transfer the license to an iLok USB dongle which has to be purchased separately. The iLok dongle can be used to run the protected software on different computers. Your licenses can be easily manged using the iLok Licence Manager. To protect your investment against theft or loss we recommend the iLok Zero Downtime protection with TLC.
An internet connection on any computer and a free user-accout at www.ilok.com is required to authorize the product. In order to download and install your software products and sample libraries authorized via iLok, please use the Vienna Assistant.
Please check with the software manufacturer which iLok version is required at least if you want to use a hardware iLok!