Most authentic Woodwind, Brass & Rhythm Section Instruments
Delivering supreme content and groundbreaking technological innovation, Broadway Big Band – Kontakt Edition™ is a virtual instrument by Fable Sounds™ with a whopping 100 Gigabyte of audio content and a unique set of powerful features.
Exploding with character and attitude, Broadway Big Band – Kontakt Edition™ has been established as the ultimate virtual instrument for contemporary brass, reeds and rhythm section instruments. With multiple microphone setups, whether for live stage use or studio work, contemporary or an oldie, Broadway Big Band™ can do it all.
It has been used by top industry professionals on major albums, live shows, and high profile film, television, and theater projects. Putting the most detailed, realistic, versatile, and playable instruments at your fingertips, Broadway Big Band™ is an indispensable tool for creating Jazz, Funk, Pop, Blues, R&B, Latin, Hip-Hop, and much more…

Feature Highlights
Ultimate Playability - Fable Sounds have developed and patented a unique and intuitive articulation switching system that enables real-time access to all of the articulations of an instrument from a single patch. You can finally play a deeply sampled virtual instrument with the same creative freedom and fluidity as the musician playing the actual instrument would.

Deeply sampled - An insane amount of articulations and playing techniques, providing endless possibilities and unmatched level of expressiveness.

Legato sampling - Legato intervals recorded up to major 9th up and down in various legato interval articulations providing unmatched realism.

Massive amount of content - 100GB of audio content, recorded at 24bit/44.1khz, 140,000+ individual samples.

Meticulously recorded and processed - Recorded in one of New York's best live rooms, using top quality microphones and pre-amps and carefully processed to a virtually noiseless recording, that still breathes naturally.

Groundbreaking Technology - Whether it's our patented articulation switching system, or our MIDI Data Morphing concept, our patented, lifelike, chaos-creating alternate samples management system, the musically liberating Unison Section feature, or our new, unique and powerful Real-Time Orchestrator, Fable Sounds always keeps you on the cutting edge of technology.

Multiple microphone setups - Sonic flexibility that would make the Broadway Big Band instruments easily fit right into the mix, whatever the genre or style of production may be.

Powerful and simple - Broadway Big Band offers incredibly powerful yet simple to learn and use features, not offered by any other virtual instruments currently on the market. See the features section for details.

Top New York musicians - It sounds right and feels right because it was played right, by accomplished New York Jazz, salsa, pop & Funk musicians. It's the real deal from top to bottom.
New features in version 2.0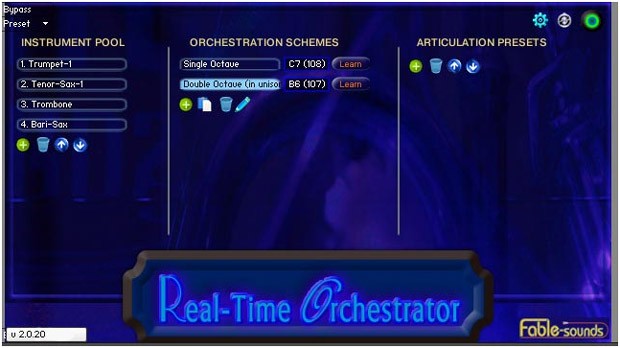 Real-Time Orchestrator (RTO)
A groundbreaking feature enabling polyphonic, poly-rhythmic legato across a mixed section of instruments. Using RTO you can play an entire section on the keyboard, and the notes you play are orchestrated in real time and distributed to the various instruments in the RTO multi, based on orchestration schemes that you can create yourself. This is an extremely powerful system which is extremely easy to use. Great for live shows, as well as tracking under tight deadlines. It also offers articulation presets which can replace the built-in key-switching with alternative midi triggers such as foot-switches, freeing your left hand for playing notes rather than key-switches.
Unison Section
From now on, you can use any of the Broadway Big Band wind instruments multiple times in the arrangement or in a multi, even when playing unison, creating a realistic section of multiple instruments. This means that even with multiple instances of just one instrument, you can still get a realistic section of multiple instruments playing in unison. The feature is not some kind of a doubling effect, but rather it uses different samples, and performs slight adjustments to make sure each instance of the instrument sounds a little different from the other. The results are very realistic. The feature also includes "Humanize" and "Detune" knobs for further control over the section sound.
Notation Software Support
With version 2.0, "Notation mode" has been added to all of the Broadway Big Band instruments, to enable notation programs to communicate with Broadway Big Band and use it for playback of scores, including all included articulations and dynamics. The new Notation mode also enables integration with Cubase Expression maps. This was not previously possible due to the unique articulation switching system in Broadway Big Band. The new Notation Mode uses an alternative system of key-switching that is more in line with the way notation programs operate. (full documentation in the user manual).
Velocity curve control
Due to the extended dynamic range of the wind instruments included in Broadway Big Band, it is sometimes difficult to keep dynamics under control when using a MIDI keyboard's velocity. To help overcome this, we've added a new knob to control the velocity curve, which helps adjusting the responsiveness of the Broadway Big Band instruments to various MIDI keyboards. The new velocity curve control feature can also be MIDI automated to make changes within a song as needed.
A new articulation added to Tenor Saxophone 1
FP+Vibrato, Added both as a temporary articulation and in combination with the existing "Strong Vibrato" articulation, as a new "Deep Vibrato" playing mode.
Various improvements in programming and UI
Improved consistency of levels and envelope programming and a new and improved user interface.
Key Features
100 GB of multi-sample audio content at 24 bit / 44.1 KHz
Over 140,000 unique samples
Multiple microphone setups to combine or choose from for each instrument, providing several recording styles and techniques to accommodate a wide variety of music productions and genres.
Real note-transition samples, including legato, glissando, etc.
Real-time access to all of the articulations of each instrument, using the revolutionary real-time articulation-switching system, which is a part of the patented "Broadway Performer" technology.
Dynamic articulation switching enables switching articulations for ongoing notes while they're still playing, offering the hyper-realistic fluidity of a live performer.
Clever key-switch programming enables super-fast, easy and intuitive articulation switching in real-time.
MIDI data morphing for mod-wheel driven crescendos and diminuendos enables the unique hybrid mode, using keyboard velocity and modulation wheel at the same time.
Velocity curve control, and Velocity Shift slider, to help to manage with the wide dynamic range of the instruments when using a MIDI keyboard.
Strumming engine for the Banjo and Ukulele makes it easy to strum on your keyboard.
Unison Section – enables stacking multiple instances of the same instrument, creating a realistic section even when playing in unison.
Real-Time Orchestrator – a revolutionary powerful feature which enables a keyboard player to play an entire mixed section of instruments with polyphonic polyrhythmic legato, distributing the voices to the selected instruments, as defined in a user editable orchestration scheme. Multiple orchestration schemes are possible within a single RTO multi, switchable in real-time via mouse click or user defined midi triggers.
Includes a set of powerful instruments multis for easy section playing (both regular stacked multis and RTO multis).
Revolutionary and patented alternate samples handling (round-robin), including an individual cycle for each note in each dynamic level of each articulation, resulting in up to hundreds of individual cycles per instrument, providing the most authentic performance ever offered by a multi-sample library or a virtual instrument.
Create and recall snapshots of alternate cycles to lock performance and gain ultimate control.
Dump & Reload articulations of instruments right from the interface, to optimize memory usage.
Top New York musicians and recording studios.
Color coded keyboard view presents the playable range and the various types of virtual key switches available for each instrument
For a detailed list of Instruments and Articulations please go to "More Info".
---


Mike Reagan
Film/TV & video game composer
"God Of War" and "God Of War 2", "Darkwatch" and "Nowhere to Hide"
"I find Broadway Big Band to be revolutionary!
...it actually helps me write better. I feel like I'm playing a live instrument. It makes it more fun. I feel less like I'm working and more like I'm making music. There are other libraries out there that do true legato, that do different articulations, but… I haven't heard articulations and samples connect this way. It's just seamless. However these guys are doing it, it's different than anything else that I've heard and it's definitely different than anything else I have played with."
---


Jimmy Lockett
Musical Theatre & symphonic composer
Las Vegas / New York
"The sound, the concept, the whole approach to what they're doing with the Broadway Big Band is something new in sampling, and something I think that's going to really change the sampling world."
---


Rob Arbittier
Composer and music producer
Los Angeles
"This is the most amazing tool I've ever come across for being able to do brass arrangements."

This product works with the free Native Instruments Kontakt Player, the latest version can be downloaded through Native Access, Native Instrument's download manager!
The minimum required Kontakt version for this product is stated in the product description or can be found on the manufacturers wesite.
System Requirements:
Mac:
macOS 10.14 or higher
64 bit
Intel Core i5 or Apple M1 (native)
RAM: 4GB (6GB recommended)
Windows:
Windows 10 or higher
64 bit
Intel Core i5 or similar CPU
RAM: 4GB (6GB recommended)
Supported Interfaces:
Mac (64-bit only): Stand-alone, VST, VST3, AU, AAX
Windows (64-bit): Stand-alone, VST, VST3, AAX
Legacy Versions:
If you require legacy installers of Kontakt Player please refer to this Knowledge Base Article.
Required Registration:
Fable Sounds products require you to register with the manufacturer at www.fablesounds.com to activate your license. To use Kontakt Player Libraries you also need to register with www.native-instruments.com.
This product requires an activation!
An internet connection is required to authorize / activate the product.