M/S Power. Authentic Space. Total Control.
New from the masters of mid-side processing, bx_rooMS is a breathtaking reverb and the next frontier in simulation of acoustic spaces and mechanical plates. At its core, Brainworx's new space-meister features unparalleled realism, superb sound quality, and a huge collection of virtual rooms, halls, churches, plates and ambience. But bx_rooMS also empowers you to shape your virtual spaces in unusual and extremely powerful ways, adding mid-side parametric filtering, center-image panning and width control of the reverb's stereo field.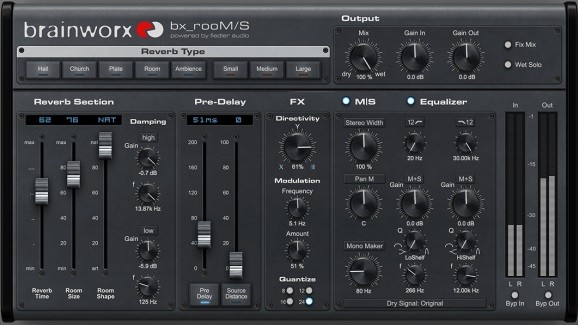 The key to bx_rooMS' realism and versatility lies in its embedded TrueSpace technology, which explodes the number of included reverb algorithms to create a virtually infinite number of room sizes and shapes. While currently available reverb technologies emulate a fixed set of space types, such as Room, Hall, Church etc. (often called algorithms) and then offer a limited range of possible sizes for each of them, TrueSpace provides a continuous range of unique space types (or algorithms) while always making available the full range of possible sizes.
Mid-side processing is unequaled in its ability to transform stereo mixes. Now you can harness that power in the most realistic and versatile reverb processor ever: bx_rooMS.
Features
Stunning simulations of rooms, halls, churches, plates and ambience
TrueSpace technology provides a continuous range of unique space types while always making available the full range of possible sizes, giving you a virtually infinite number of possible room shapes and sizes accessible via just a few straightforward parameters
Quick Select buttons easily produce settings for five different environments of three sizes each, starting you off with a solid acoustic response before you quickly hone the space to taste
Continuously variable Stereo Width control adjusts reverb field from mono to stereo to super-wide stereo
Pan M control pans the reverb's mid channel to correct an imbalanced soundstage or for creative effect
Mono Maker control collapses bass content in the wet signal to mono below an adjustable corner frequency, anchoring the reverb's center and increasing clarity at its edges
Fully parametric 2-band equalizer can be assigned to the mid, side or both mid and side channels, or bypassed
Room Shape slider gradually adjusts the character of reverb programs from natural to artificial
Continuously variable Source Distance control moves the dry signal farther out into the virtual room
Directivity control adjusts the degree to which each channel of stereo input signals gets fed into the opposite reverb channel
Low- and high-frequency damping controls use continuously variable shelving filters with independent bypasses
Modulation Frequency and Amount controls add subtle movement or create outrageous, pitch-shifting reverbs
Indispensable Fix Mix parameter allows preset surfing without changing wet/dry balance of effect
Quantize function changes wet signal's bit depth to 8, 12, 16 or 24 bits to emulate both classic and modern reverb designs
Extremely low CPU drain allows many instances to be used on track inserts across a mix
Stereo>stereo and mono>mono configurations included
Nearly 200 presets from experienced producers and engineers who know bx_rooMS inside and out
Mac:
macOS 10.9-11.0.1
Intel CPU (2GHz recommended)
1440x900, 1280x960 or higher display resolution
RAM: 2GB
Windows:
Windows 8-10
x64-compatible CPU
1440x900, 1280x960 or higher display resolution
RAM: 2GB
Product activation:
An internet connection is required to authorize / activate the product.