The Earth's Ancient Voice
Caprakan transforms the sounds of ancient earthen instruments into a variety of unique and energizing new sounds. Caprakan integrates traditional instruments from Andean and Mesoamerican civilizations with investigations of electronically-excited vibrating matter, using more than 50 unique unusual instrument sources.
Deep percussion, expressive winds, precise strings, and sources that sound organic can all be found in these unique sources, providing you with a rich palette from which to create beautiful music and sounds.
Features
100+ Presets
50 Instrument Sample Maps
Up to 18 Round Robins
Up to 3 Dynamic Layers
4 Blendable Microphone Channels (Close, Far, Vintage, and Resonant)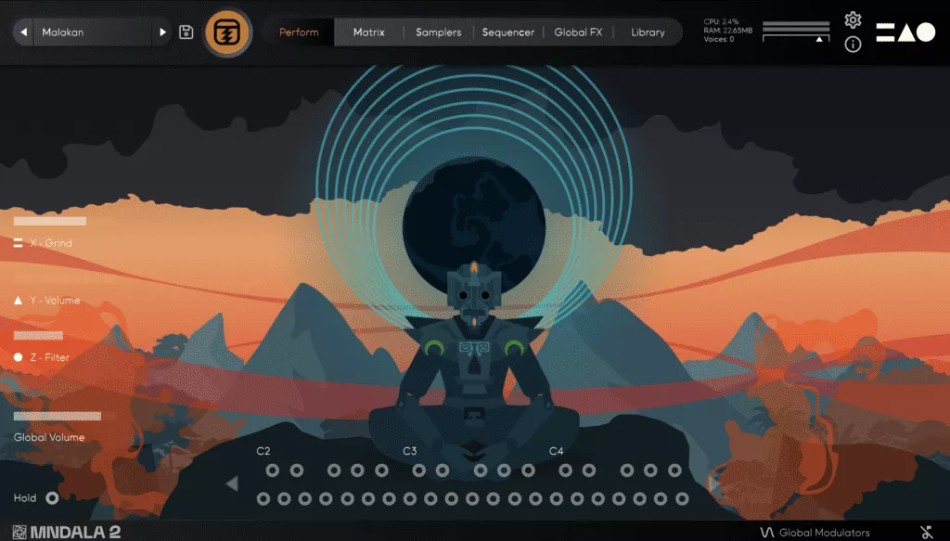 3-Axis Universal Controls - Simply map your favourite controller once for all plugin instances.
Intuitive Performance GUI - Custom animation driven performance interface & mouse hover interactions.
Industry Leading Audio Quality - 384khz/32-bit extended ultrasonic range sample sources
Instruments included:
Wind Instruments: Pájaro Whistle, Death Whistle, Brazilian Hunting Whistle, Mini Quena, Mayan Double Flute,Bird Ocarina, Mayan Double Flute, Large Hybrid Reed, Overtone Flute, Small Clay Flute, Two-Tone Flute, Mayan Horn, Mayan Horn, Mayan Horn + Drum Resonator, Re-Amped Flute & Gaita.

Percussion: Medium Teponaztlis Mallet Hit, Large Teponaztlis Mallet Hit, Large Teponaztlis Side Hit, Giant Teponaztlis Mallet Hit, Giant Drum Shaker Hit, Giant Drum Finger Rub,Giant Drum Mallet Hit, Huehuetl Mallet Hit & Gourd Skin Resonator

Hybrid: Arco del Duende, Arco del Duende Bowed & Hybrid Mayan Reed
Mac:
macOS 10.11 or higher
Apple Silicon compatibility
64 bit
Windows:
Windows 10 or higher
64 bit
Required Registration:
Mntra Instruments products require you to register with the manufacturer at www.mntra.io to activate your license.
This product requires an activation!
An internet connection is required to authorize / activate the product.