Orchestral woodwinds for your computer in unheard perfection!
Chris Hein – Winds consists of four parts, Vol 4. Bassoons offers 3 different bassoons.
Please see all the details in the following description of Chris Hein Winds Complete:
Orchestral woodwinds for your computer in unheard perfection!
Chris Hein – Winds is an extensive woodwind library meeting the highest expectations regarding sound, quality, expression and usability. The library's instruments are based on painstakingly recorded and edited multisamples, with numerous articulations and up to eight dynamic layers. Producer Chris Hein has brought thirty years of sampling experience into this masterpiece, giving the user maximum flexibility and a high level of customization, while maintaining the ease of use.
Version 2 now features the following improvements:
improved tuning of almost all samples
improved phase-aligned samples
drastically reduced resource demand
improved legato transitions
optimised transition speed function
glide mode-slur for more realistic runs
optimised Touch OSC MIDI remote control
minor bug fixes
Registered users of the first version will find a free download of version 2 in their Best Service account!
Chris Hein – Winds consists of four individual volumes, also being available separately or combined in a bundled complete version. The library contains a total of 13 instruments: four transverse flutes, three clarinets, three oboes and three bassoons.
Vol. 1 - Flute
Flute Piccolo
C-Flute 1
C-Flute 2
Alto-Flute
Vol. 2 - Clarinet
Eb-Clarinet
Bb-Clarinet
Bass-Clarinet
Vol. 3 - Oboe
Oboe
Oboe D´Amore
English Horn
Vol. 4 - Bassoon
Basson
Bassoon Barock
Contra Bassoon
Chris Hein – Winds focuses on orchestral woodwind sounds maximum flexibility, while maintaining the ease of use.

The library is arbitrarily configurable to embrace individual workflow techniques and demands of different producers. The available options and solutions take care of almost every practical application, leaving almost nothing to be desired – everything has been thought of! The extensive amount of samples is handled by Native Instruments´ powerful sample-engine, Kontakt Player. Expect a custom tailored user-interface and extensive scripting to meet the specific requirements of these instruments.

Chris Hein – Winds lives up to the expectations of both woodwind lovers and specialists demanding outstanding samples, comprehensive details, an elaborate selection of articulations and a versatile adaption to specific workflows.
The instruments can be loaded as full sample-sets, offering all articulations ready to be played on the keyboard. Thanks to the library´s modular concept, you can also call up significantly reduced versions to keep loading-times fast and memory usage low. In clean-start configuration, only a sustain-set is loaded into memory. Whenever needed, you can add further articulations and functions with a single click. This allows fluent and efficient work, even on compact and mobile production systems with less powerful specifications.

Chris Hein – Winds offers orchestral woodwind sounds tailored to perfection. Both the high quality gear such as selected Neumann microphones and the musician's significant performaces drive the sound aesthetics. Unlike the award-winning Chris Hein – Horns, this library takes advantage of the renowned WDR Symphonic Orchestra.
For this library, dry close mic´ing was an intentional decision. All instruments were recorded individually avoiding any crosstalk. Despite that CH Winds incorporated the inevitable interaction of an orchestra. Therefore, the participating musicians used headphone monitoring, to complement each other. Consequently, time-dependent articulations such as Dynamic Expression receive an especially coherent tone, allowing you to combine individual instruments to perfectly matched ensembles.

Due to the sample-engine's dual convolution reverbs and the intentionally dry sound of Chris Hein - Winds, you can easily adapt the instruments to various situations. The Kontakt Player allows a free instrument-placement in the stereo panorama. Separate convolution engines for the corpus-sound (body) and the ambience (room) allow creating any spatial environment, ranging from close intimacy to large orchestral halls. This makes Chris Hein – Winds significantly different to many competitors and their fixed spatial characteristics. It makes this library greatly variable and, additionally, combinable with almost any other library available.

Unique functions
Perfect dynamic transitions thanks to phase alignment
Over a research-period of six months, all samples were fully aligned in phase. Accordingly, the instruments offer perfect seamless transitions of dynamic layers without sonic degradation.
Unique combination of short and long notes
The combination of long and short notes is a major problem in sample-libraries, that often fails to deliver authentically sounding results. With real musical instruments, the note length often influences the attack behavior as well as the note end. Chris Hein – Winds addresses these aspects by its "Note Head Designer". For each sustain, you can call up short, adjusted sample variations, so called shorts, via the controllers. These Shorts not only offer the corresponding correct attack-behavior but also a note-end that perfectly matches the note length. These user-defined selections of short-note-variations are available in eight dynamic layers each and can be combined with the corresponding sustained phases, leading to astonishingly realistic results that cannot be achieved using random round-robin based selections. Of course, these shorts are also available as individual articulations.
True Legato
The instruments of Chris Hein – Winds offer true legato in up to four dynamic layers. For example, while playing the French Horn, the sample-engine picks the perfect note-transition out of more than 2,200 samples, resulting in unheard legato-realism. At the same time, it is possible to combine these realistic combinations with additional artificially inserted legatos.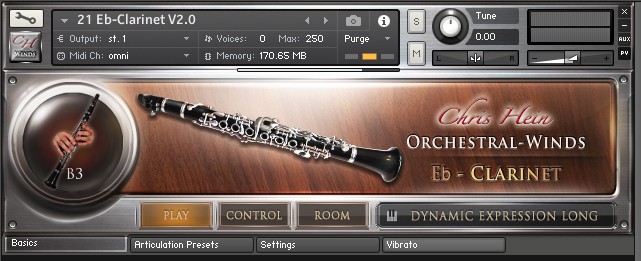 Library extend
The library´s performance-data directly reflects the immense investment of recordings and configuration possibilities. Each instrument builds upon almost 10,000 single samples, 14 articulations and up to eight dynamic layers. This makes Chris Hein – Winds the most in-depth-library of orchestral woodwinds currently available. The custom-tailored user-interface of the Kontakt Player not only offers numerous functions to adapt the library´s sound character and articulations but also offers immense configuration choices to live up to specific demands and workflows. At the same time, you can effectively play the library without any deep edits. 26 pre-programmed key-switch-presets at the lower part of the keyboard (A-1 to A#1) allow fast tryouts of all available types.
Thanks to four "Dynamic Modes", the "Note-Head Designer", "Key-Vibrato", "Hot-Keys" and the revolutionary concept of articulation-presets, the user-interface will give you the impression of actually playing these instruments live.

Main Features
13 Orchestral Woodwind Instruments, 50 GB Content, 130.000 Samples, 13 Articulations

Up to 8 Dynamic Layers

Unique Phase-Align Technique, 4 Dynamic Modes, Dynamic Expression Sustains

Note-Head Designer, Hot-Keys, Intelligent Legato, Glide-Mode to play realistic runs

10 built in DSP-Effects, 2 independent Convolution Reverbs, 63 high class impulse responses

Attack- & Release controls, Special Noise Controls

Ensemble Maker, Micro-Tuner, Adjustable Fader Settings in the UI

Intelligent LFO-Vibrato including EQ, Customizable Auto-Vibrato, Key-Vibrato
Free Kontakt Player included (version 5.5.0 or higher required)


The Audio Spotlight, 4,3 / 5


Bonedo.de, 4,5 / 5
---


Joerg Magnus Pfeil
Musician and composer, Merit Award for Music, numerous nominations
The Chris Hein Winds Library is fun to play from the very first encounter on. The default patches can be fluently played and are configured to react to legato or non legato, velocity and short or long notes. A highlight for me are the Vibrato up/down keyswitches, which can be used to retrigger a played note slightly "detuned" making it easy to play ethnic phrases and ornaments.
For me a superb wind library!

This product works with the free Native Instruments Kontakt Player, the latest version can be downloaded through Native Access, Native Instrument's download manager!
The minimum required Kontakt version for this product is stated in the product description or can be found on the manufacturers wesite.
System Requirements:
Mac:
macOS 10.14 or higher
64 bit
Intel Core i5 or Apple M1 (native)
RAM: 4GB (6GB recommended)
Windows:
Windows 10 or higher
64 bit
Intel Core i5 or similar CPU
RAM: 4GB (6GB recommended)
Supported Interfaces:
Mac (64-bit only): Stand-alone, VST, VST3, AU, AAX
Windows (64-bit): Stand-alone, VST, VST3, AAX
Legacy Versions:
If you require legacy installers of Kontakt Player please refer to this Knowledge Base Article.
Required Registration:
Best Service products require you to register with the manufacturer at www.bestservice.com to activate your license. To use Kontakt Player Libraries you also need to register with www.native-instruments.com.
This product requires an activation!
An internet connection is required to authorize / activate the product.