Based on the well known Clavinet D6 by Hohner
It is probably one of the most "funky" instruments ever invented, despite the fact that it was originally intended for classical music as its sound is close to the harpsichord. It turns out that it was very well suited to replace or double a rhythmic guitar and was used in many Funk and Disco hits. The clavinet has 5 octaves (60 keys) and works in a simple way, when you press a note, the string is pressed against a bridge just like a hammer-on on a guitar, the non muted part of the string vibrates and the pickups amplify the sound.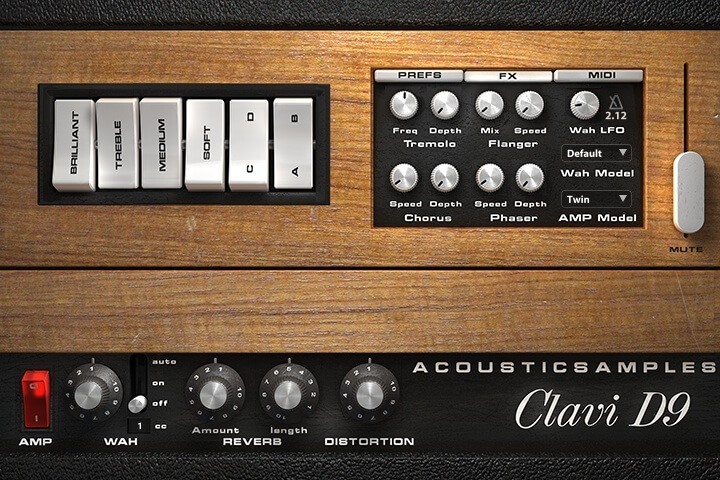 The D6 has very few controls, 4 eq switches and 2 pickup switches to choose which pickup has to be used plus a global volume. Acousticsamples recorded both pickups and modeled precisely the eqs, as a result you can use the whites switches exactly like on the real instrument. They also sampled every possible aspect of the instrument, normal notes, staccatos, releases, mutes, every pickup, sympathetic resonances and more to give you the most authentic Clavinet sound possible.
Technical Description:
2,76Gb uncompressed, 553Mb compressed in lossless flac format, around 4500 samples.

Realistic staccatos.

Precise simulation of the original filters.

Separation of both pickups and independant volume.

Sympathetic Resonances.

High quality Amp simulations with the most used models.

Real Wah effect with different pedal models.

Complete FX selection with Phaser, Flanger, Tremolo, Chorus, Distortion and Spring Reverb.

Real mute samples.

Control over the MIDI response of the library.

Advanced UVI scripting giving you access to a simple yet powerfull interface and advanced features.

The latest version of UVI Workstation 3 is included in this virtual instrument!
More information about UVI Workstation and the latest version (free download) is available HERE
ULTIMATE COMPATIBILITY
Stand Alone application for Mac and PC
VST for Mac and PC (Cubase and other VST compatible sequencers)
AAX native (Pro Tools) on Mac and PC
Audio Units (Logic Pro and other AU compatible sequencers)
"Falcon" compatible
UVI Workstation 3 system requirements:
Mac:
macOS 10.8-10.15
64 bit
hard drive: 7200 RPM (SSD hard drive recommended)
RAM: 4GB (8GB or higher highly recommended)
Windows:
Windows 8 or higher
64 bit
hard drive: 7200 RPM (SSD hard drive recommended)
RAM: 4GB (8GB or higher highly recommended)
57.8 MB of disk space (Mac Installer: 233 MB ; Windows64 Installer: 266 MB)
Required Registration:
Acousticsamples products require you to register with the manufacturer at www.acousticsamples.net to activate your license. To use UVI Libraries you also need to register with www.uvi.net.
This product requires an activation!
You can either "soft" activate on your computer without addditional hardware or transfer the license to an iLok USB dongle which has to be purchased separately. The iLok dongle can be used to run the protected software on different computers. Your licenses can be easily manged using the iLok Licence Manager. To protect your investment against theft or loss we recommend the iLok Zero Downtime protection with TLC.
An internet connection on any computer and a free user-accout at www.ilok.com is required to authorize the product.
Please check with the software manufacturer which iLok version is required at least if you want to use a hardware iLok!