The classic vinyl record sound for macOS
DaD Vinyl simulates the legendary and sought-after sound of old records.
Not only does it imitate vinyls but it also simulates records made of other materials such as shellac resin (the so-called "78" by collectors).
With DaD Vinyl you can customize precisely the features of your virtual phonograph. These include : a detailed control of tone parameters, rumble, disc damage, overall quality, stereo image, and even independent control of pops and scratches. You will be able hear the dust, hiss and mechanical noise of the turntable.
You can even choose into which year you would like the recording to be made. Once the parameters set to your liking, this plug-in is as easy to use as placing a record on the turntable.
And if you would like to experiment with your sound, some of DaD Vinyl's modes allow for unusual tweaks. The possibilities are limitless.
With Dad Vinyl you can at last savour the experience of listening to your music with an "old record" sound that adds a soulful and nostalgic feel to it.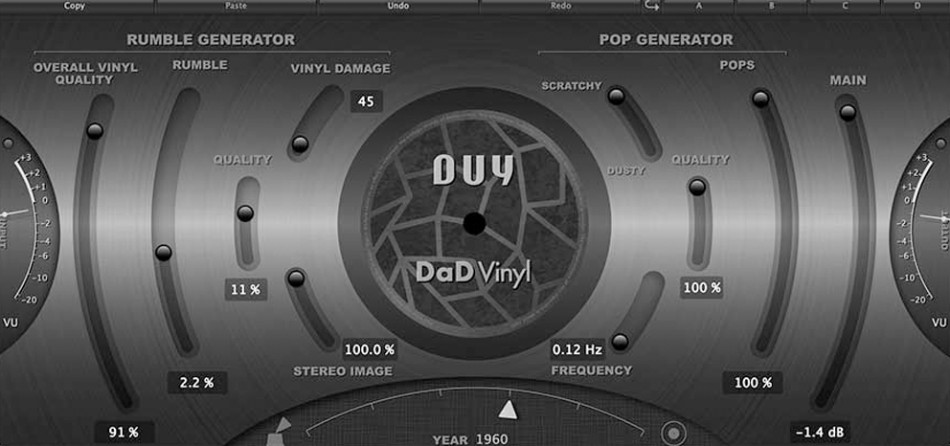 Product Features
Simulation of the most common disc record sounds 33, 45, and 78 RPM. Vynil, shellac resin, etc, with a full range of physical parameter control.

Independent control of overall quality, Rumble, Damage, Stereo Image, FRequency, Pops and Scratches

A unique control of the year of the recording

Easy and intuitive user interface

Proprietary system based on physical modeling providing independent control over all physical parameters.

High signal-to-noise ratio due to high-quality internal resolution
Mac:
macOS 10.7 or higher
AU, AAX, VST and VST3
ProTools 12 and 64-bit systems are supported
Required Registration:
DUY products require you to register with the manufacturer at www.duy.com as well as with www.ilok.com and my.plugivery.com/redeem to activate your license.
This product requires an activation!
An internet connection is required to authorize / activate the product.