VR mixing controller
Visualize and control audio tracks in VR
Super-efficient mixing workflow for 360° videos
Intuitive gesture-controlled positioning and leveling
Seamless integration with dearVR PRO
Nuendo and Reaper support
Positional automation export for Unity game objects
Perfect workflow for spatial audio productions
Enjoy the highest level of creative flexibility when producing spatial audio in VR. Use gesture control to intuitively arrange your tracks and create automation. You can effortlessly construct incredibly realistic acoustic settings with an accurate perception of direction, distance, reflections, and reverb by getting direct access to Dear Reality's top-tier spatializer, dearVR PRO Acoustic.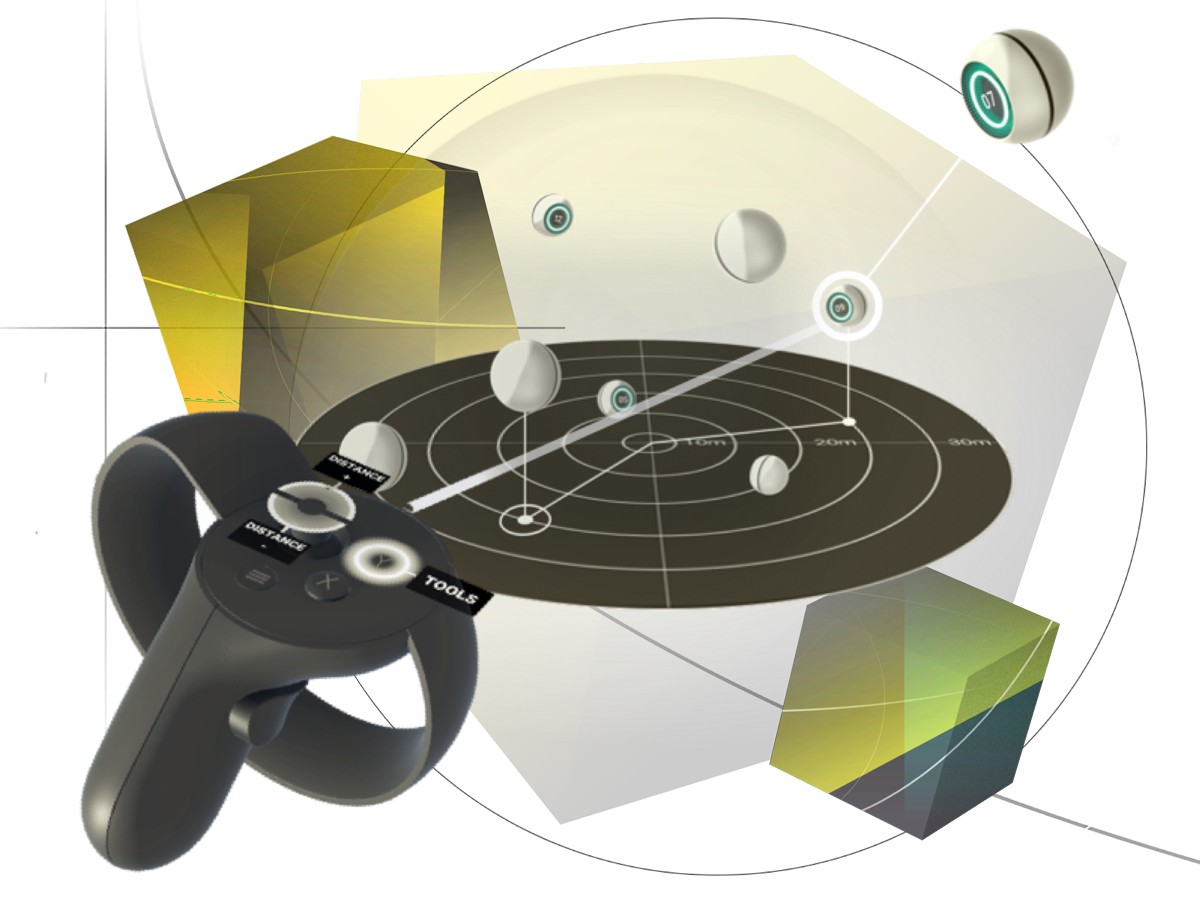 Main Features
Control your mix by gestures
Fast & Intuitive Workflow - Control positions of sound sources simply by pointing at them in the virtual space. With the Minimap-Tool, you always have the whole mix and the automation data from your workstation at your fingertips. Use the VR controller to write automation and control a mix intuitively. dearVR SPATIAL CONNECT gives you the power to check and optimize your mixdown instantly using head tracking - the same as it will be perceived in the final medium by the user.
Control your DAW in VR
Direct Access - Jump through the timeline and tracks in VR the same as you're used to in your DAW. Set & control markers, loop points, automation modes, and solo & mute individual for each audio source. Control levels with faders on the meterbridge or simply perform an up or down gesture - just like painting your mix.
Work in binaural and ambisonics
Advanced Spatialization - Each sound source in the dearVR SPATIAL CONNECT represents a dearVR PRO track in your DAW. Control spatial position and acoustic virtualization to simulate a car, church, stadium, or concert hall. Decide which audio format you want to output at the end and monitor it head-tracked with headphones or even loudspeakers.
Bring your mix to the interactive world
Automation export function - Transfer dearVR PRO's positional automation data via dearVR SPATIAL CONNECT directly into the Unity game engine. The automation export function allows you to experience six degrees of freedom in Unity.
Virtual Reality Devices
Oculus Rift
Oculus Rift S
Oculus Quest (through Quest-Link)
Oculus Quest 2 (through Quest-Link)
HTC Vive
HTC Vive Pro
HTC Cosmos
DAW support
Reaper 64bit (version 5.96 or higher)
Nuendo 10 or higher
OS dearVR SPATIAL CONNECT for VR
OS DAW and dearVR SPATIAL CONNECT Adapter
dearVR PRO : For 3D audio spatialization, an additional dearVR PRO license is required
dearVR MONITOR: For multi-channel productions and monitoring through headphones, we recommend dearVR MONITOR
Required Registration:
Dear Reality products require you to register with the manufacturer at www.dear-reality.com to activate your license.
This product requires an activation!
An internet connection is required to authorize / activate the product.