Devil-Loc Deluxe - Audio Level Destroyer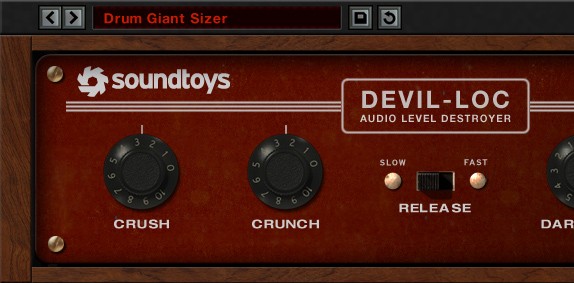 To take things beyond the hardware that inspired it and give you even more creative flexibility, Soundtoys have created a deluxe version of the Devil-Loc plug-in, Devil-Loc Deluxe.
The Deluxe version adds a "Darkness" control for tone, switchable slow or fast release times and a mix knob so you can mix your dry signal back in right on the front panel.
Additional Control
The addition of these controls opens up the sonic palette immensely.
Dark thundering drums, to driven lo-fi loops, and more, and the mix control saves all that tedious routing and lets you automate mix to keep the Devil from taking over the soul of your tracks. This time, evil is good.
A Bit of History
The original Shure Level-Loc from the 1960s was a brick wall limiter designed to be used in public address systems. Its extreme compression and gritty sound eventually became a secret weapon of some well-known and very creative engineers and producers.
It's an extreme effect, and can create huge sounds with drums and room mics, and in small amounts can add sizzle to things like vocals or acoustic guitar.

Mac:
macOS 10.10 or higher
Intel- or M1-processor (native)
64 bit
The minimum version of Logic Pro for native Apple silicon is 10.7.3. Please make sure to update your version of Logic.
Windows:
Windows 7 or higher
64 bit
Required Registration:
Soundtoys products require you to register with the manufacturer at www.soundtoys.com and with www.ilok.com to activate your license.
This product requires an activation!
You can either "soft" activate on your computer without addditional hardware or transfer the license to an iLok USB dongle which has to be purchased separately. The iLok dongle can be used to run the protected software on different computers. Your licenses can be easily manged using the iLok Licence Manager. To protect your investment against theft or loss we recommend the iLok Zero Downtime protection with TLC.
An internet connection on any computer and a free user-accout at www.ilok.com is required to authorize the product.
Please check with the software manufacturer which iLok version is required at least if you want to use a hardware iLok!