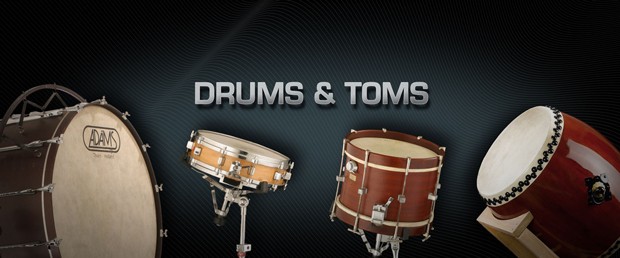 Drums and toms in their various forms are the most important and rudimentary of percussion instruments.
The snare drum originates from the military and can be found in practically every type of today's western music – from marching and wind bands to jazz, rock and pop. The instrument is also known as side drum because in military/marching bands it is placed at the drummer's left hip and is beaten from the side. The snare drum covers the treble register within the orchestra percussion section, but has no definite pitch. The typical sound results from its batter (top) head in combination with the additional resonance head at the bottom of the shell that is equipped with snare strings.
The slimmer snare drum is called piccolo drum. The field drum (or tenor drum) has a larger shell than the snare drum and like the snare drum it is usually equipped with snare strings.
The bass drum covers the bass register within the orchestra percussion section and plays an essential role in almost all western musical styles. In military music it is played together with the cymbal, in pop, rock and jazz it is played with the bass pedal as part of the drum kit.
Concert toms are suspended tom-toms that are usually set up as batteries of four, six, or eight instruments. They have an open bottom and therefore no resonance head. As opposed to concert toms, roto toms have no drumshell – their heads are fixed on metal hoops that can be turned in order to change their tension and consequently their pitch.
The Taiko drum is a general term for various barrel-shaped drums that have a mythological origin in Japanese folklore.
The tambourine is a frame drum augmented with small metal disks in slots around the frame that is mainly played with the fingers, the palm, the fist or with mallets.
Library Content
Standard Library: Samples 2,188 | Download Files Size 606.6 MB | Installed File Size 2.0 GB

Full Library: Samples 7,273 | Download Files Size 1.4 GB | Installed File Size 4.9 GB
*Upgrades and User Discounts: You already own VSL Products?
After the login you can check in the shopping cart if you are entitled for a VSL User-Discount and apply it. This works for Upgrades, Crossgrades, EDU products and also when you complete Bundles. Simply add the desired products to your shopping cart and then check for the VSL User-Discount.
Please note that all discounted user-specific orders must be processed manually by our sales team and therefore may take up to one business day to be completed.
Your purchase of any VSL library entitles you to download the free Vienna Instruments Pro player software that includes the Vienna Ensemble mixing host.
Mac:
macOS 10.13 or higher
64 bit
Intel Core i5 (Intel Core i7/i9/Xeon/M1/M2 recommended)
RAM: min. 8 GB (16GB recommended)
Windows:
Windows 10/11 or higher
64 bit
Intel Core i5 / AMD Athlon Pro (Intel Core i7/i9/Xeon recommended)
RAM: min. 8 GB (16GB recommended)
Free hard drive space according to the library size.
Required Registration:
Vienna Symphonic Library products require you to register with the manufacturer at www.vsl.co.at and with www.ilok.com to activate your license.
This product requires an activation!

You can either "soft" activate the software on your computer without addditional hardware or transfer the license to an iLok USB dongle which has to be purchased separately. The iLok dongle can be used to run the protected software on different computers. Your licenses can be easily manged using the iLok Licence Manager. To protect your investment against theft or loss we recommend the iLok Zero Downtime protection with TLC.
An internet connection on any computer and a free user-accout at www.ilok.com is required to authorize the product. In order to download and install your software products and sample libraries authorized via iLok, please use the Vienna Assistant.
Please check with the software manufacturer which iLok version is required at least if you want to use a hardware iLok!