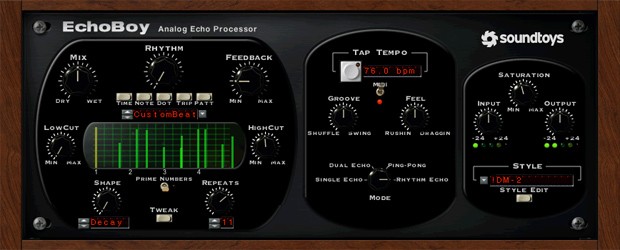 The Ultimate Echo Plug-In
At Soundtoys they are more than a little obsessed with delay effects, and EchoBoy is the ultimate realization of that obsession. It wraps decades of echo device history and new forward-thinking features into one versatile effect that will find its way into every corner of your mixes.
Highlights
Choose from 30 different echo styles: Echoplex, Space Echo, Memory Man, DM-2, and many more
Warm up vocals with high-end tape sound modeled on the Ampex ATR-102
Control saturation, tape flutter and diffusion for strikingly analog-sounding effects
Create rich stereo delays with Dual and Ping-Pong modes
Adjust shuffle, swing and accent. The only echo with true "groove"
Design one-of-a-kind rhythmic delay effects using Rhythm Echo mode
Vintage Tone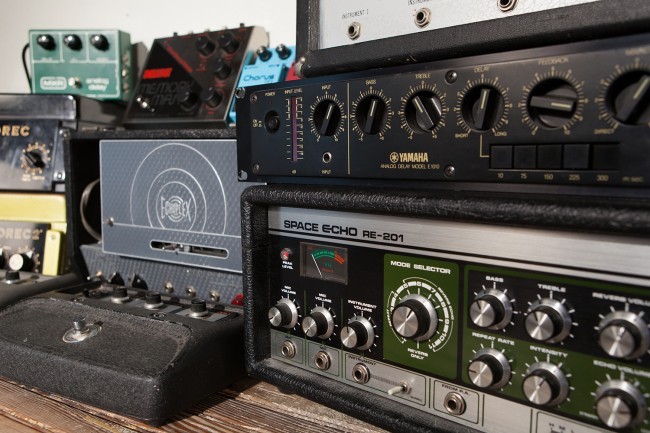 Soundtoys dug deep into their collection of vintage gear to find the essence of our favorite echo boxes, and they channeled it into EchoBoy. You'll find an echo tone that fits your mix easily by choosing one of the 30 built-in styles modeled on vintage gear. Get instant access to a whole range of classic echo box tones, including EchoPlex, Space Echo, Memory Man, DM-2, and the TelRay oil can delay.
EchoBoy's chorus even emulates the CE-1 chorus, considered a holy-grail of guitar chorus pedals. They've also modeled other gear to give you a range of sounds that goes beyond standard delay stompboxes. If you want warm, smooth saturation, try the "Studio Tape" style, inspired by our Ampex ATR-102 half-inch two-track machine. And yes, turn it up! EchoBoy sounds great when pushed hard, just like the best analog gear.
Designed for Musicians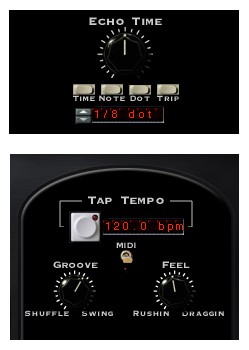 Soundtoys designed EchoBoy with musicians in mind, and they've made it easy to get expressive, musical echo effects quickly. Unlike vintage hardware echoes, getting perfectly timed delays with EchoBoy is simple. Just dial in a musical note value and lock it to your song's tempo with the flip of a switch.
But the real magic happens when you fine-tune the echo's rhythm with the Groove, Feel and Accent controls. Create echoes that rush or drag against the beat. Add some shuffle or swing to match the groove of your song. EchoBoy is the only delay effect that gives you this level of musical groove control.
Expressive Tools - EchoBoy is easy to use, but it's also incredibly versatile and offers a wealth of advanced features for those who want to explore. Keep it simple with Single Echo mode, Switch to Dual Echo or Ping-Pong modes for powerful stereo echo effects, or dive deep with EchoBoy's powerful Rhythm mode and the Echo Style editor.
New Rhythms - If you're bored with conventional delay effects, switch EchoBoy to Rhythm Echo mode for a new experience entirely. In this mode EchoBoy lets you select the rhythmic timing of up to 16 repeats. Rhythm Mode is like having a tape echo with up to 16 read heads (or "taps"). You can add taps to the Rhythm Editor graph, control their timing and sculpt their loudness curve using the Shape control. Rhythm Echo mode is a unique take on delay effects that might just become your new secret weapon in the studio.
Deep Customization Options - Slide open the Style Editor to get access to a full set creative tools that let you create any delay sound you can dream up. Choose the amount and type of analog saturation to get the vibe just right. Dial in some realistic tape wobble, or add reverb-style diffusion.
Mac:
macOS 10.10 or higher
Intel- or M1-processor (native)
64 bit
The minimum version of Logic Pro for native Apple silicon is 10.7.3. Please make sure to update your version of Logic.
Windows:
Windows 7 or higher
64 bit
Required Registration:
Soundtoys products require you to register with the manufacturer at www.soundtoys.com and with www.ilok.com to activate your license.
This product requires an activation!
You can either "soft" activate on your computer without addditional hardware or transfer the license to an iLok USB dongle which has to be purchased separately. The iLok dongle can be used to run the protected software on different computers. Your licenses can be easily manged using the iLok Licence Manager. To protect your investment against theft or loss we recommend the iLok Zero Downtime protection with TLC.
An internet connection on any computer and a free user-accout at www.ilok.com is required to authorize the product.
Please check with the software manufacturer which iLok version is required at least if you want to use a hardware iLok!