Powerful & Precise Human Ear EQ
Perfect for mixing and mastering, EQuivocate's auditory filters and match EQ functionality make it incredibly powerful, simple to use, and natural sounding.
EQuivocate uses filters which are modeled on the human ear. Each of the 26 critical bands tickles a different part of your inner ear, making any combination of settings sound as natural as possible. Combining this with a linear-phase filter shape that reduces pre-echo makes EQuivocate an EQ with a difference you can hear.
Use EQuivocate's Match EQ feature to make the sound of your track match or complement the audio signal streamed to its sidechain. You can also use it to make a final master match the tone of a reference track, or help fit a sound into a dense mix. Unlike other match EQ plug-ins, EQuivocate provides a transparent match without trying to model imperceptible differences which can cause a match EQ to sound unnatural. Feed your favorite song or individual track into it and instantly morph your tone to match.
The 26 filters are distributed along the Mel Spectrum but you can customize the filters and their frequencies. When combined with usability options like Automatic Level Compensation, Draw EQ Curve, and individual solos for each critical band, EQuivocate is as powerful as it is precise.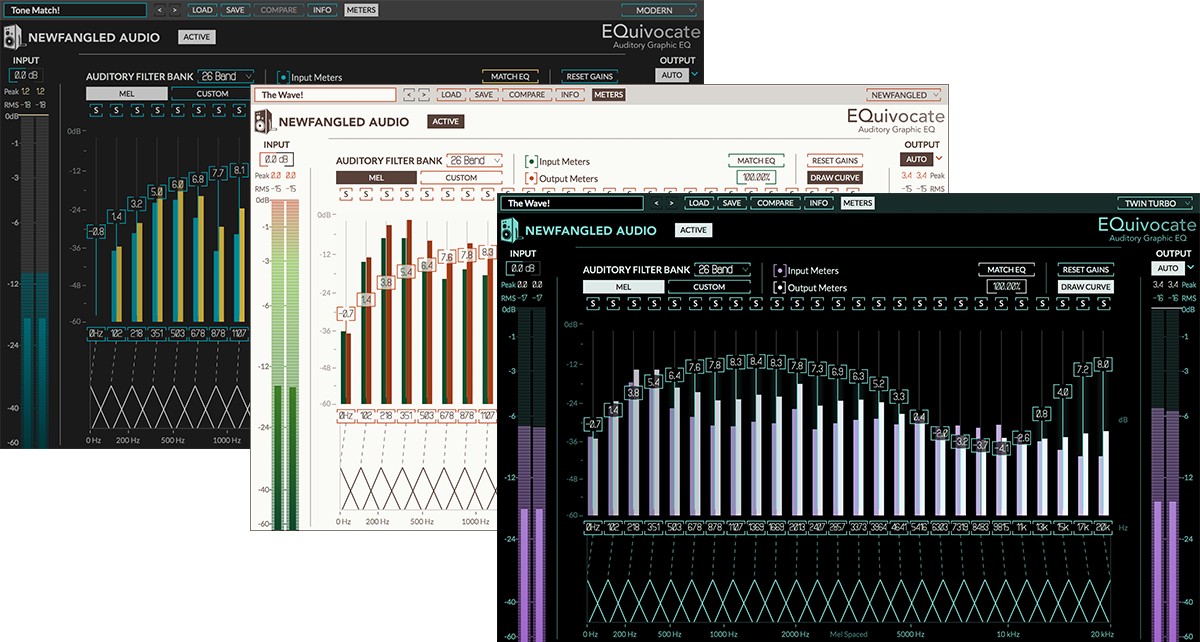 Features
Simple yet musical, the 26 linear phase auditory filters are shaped to approximate the critical band filters in your ear.

Match EQ feature matches the tone of one track to another. Blend two tracks to sound like they came from the same source, complement each other for better separation, or make a final master have a similar tone to a reference track!

Click and swipe your mouse across the gain slider field to draw an EQ curve. Then toggle Draw Curve off to fine tune.

Use the output level Auto button to automatically compensate for level changes introduced by the EQ.

Solo the output of one or more bands to easily find problem frequencies.

Add or remove filters to customize your sound.

Includes artist presets from Richard Devine, Jeremy Lubsey, Alex Saltz, Sebastian Arocha Morton, Richard X, and John McCaig.

Start with the presets or create your own. Use the Compare button to toggle between two unique settings.
Mac:
macOS 10.9 or higher
Apple Silicon compatible
64 bit
Windows:
Windows 8.1 or higher
64 bit
Required Registration:
Eventide products require you to register with the manufacturer at www.eventideaudio.com and with www.ilok.com to activate your license.
This product requires an activation!
You can either "soft" activate on your computer without addditional hardware or transfer the license to an iLok USB dongle which has to be purchased separately. The iLok dongle can be used to run the protected software on different computers. Your licenses can be easily manged using the iLok Licence Manager. To protect your investment against theft or loss we recommend the iLok Zero Downtime protection with TLC.
An internet connection on any computer and a free user-accout at www.ilok.com is required to authorize the product.
Please check with the software manufacturer which iLok version is required at least if you want to use a hardware iLok!