Reverb just got a whole lot wilder
Ether, a reverb unlike any other, gives your music new dimensions because to its unmatched processing power. Ether is a creative powerhouse that gives you unprecedented control over how you can shape and modify your music. It is not simply another multi-effects processor.
Ether's basic features include pre-delay, reverb time, damp adjustments, and eight different space settings. However, its post-reverb shaping powers are what distinguish it. With a collection of five completely bypassable modules, you can add personality to even the most basic sounds.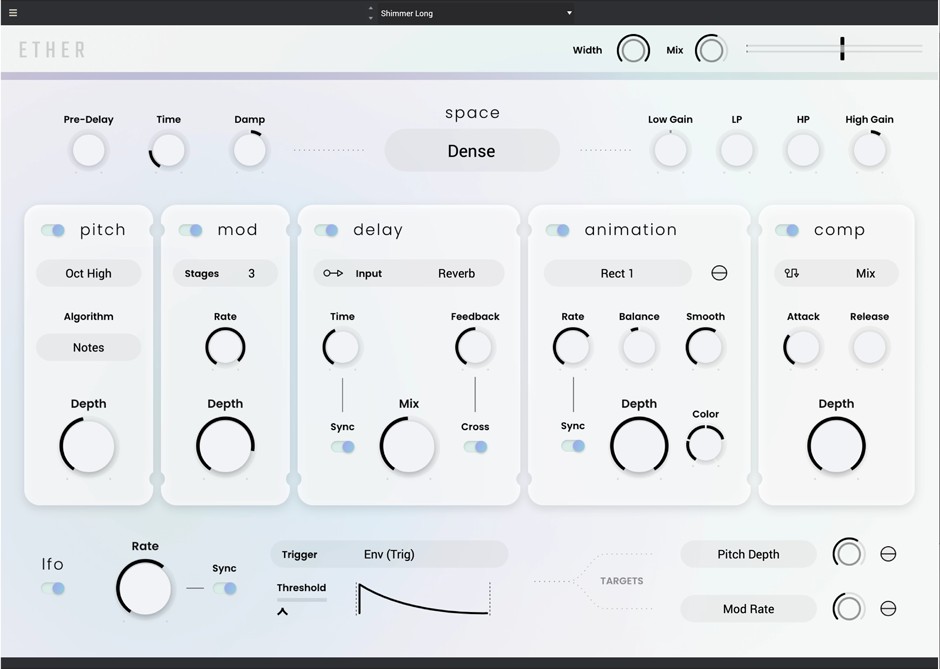 PITCH-PERFECT - With the ability to adjust and blend, PITCH gives you complete control over your sounds' timbre. Tuning your reverb up can add shimmering, ethereal qualities, suitable for creating otherworldly textures and soundscapes. Pitching down, on the other hand, can add depth and weight, perfect for lo-fi crunch.

RISE AND SHINE - Take your tracks to new heights with mesmerizing MODULATION. Easily control rate, mix, and stages to achieve subtle and lush swells to mind-bending motion.

RINSE & REPEAT - With the ability to feed the input from the dry, pitched, reverb, or mix, add DELAY in ways that previously seemed impossible. Time and feedback controls allow you to sculpt the effect to your exact liking, whilst sync and mix make it easy to sit perfectly into your mix. With cross control, you can create dynamic, bouncing echos that make your tracks stand out from the crowd.

SONIC MASTERPIECE - Add layers of sonic paint to your music with ANIMATION. Whether you want to create gentle ripples, choppy stutters or pulsating beats, our range of selectable shapes and adjustable parameters provide a colourful palette of sound.

COMPRESS TO IMPRESS - Whether you're a seasoned pro or just starting out, COMPRESSOR is the perfect tool to finely tune your sound's dynamics. With flexible input options, adjustable attack and release settings, you can dial in just the right amount of compression.

MAKING WAVES - If you're looking to add subtle pitch modulation or rhythmic effects, our LFO is the secret weapon for adding character to your sound. Explore endless possibilities with a range of triggering options that can easily sync to your project tempo.
Product Features
Comprehensive Reverb section with: Eight distinct space settings, Pre-delay, reverb time and damp controls
Post-reverb shaping with EQ & filter section
5 further, fully bypassable modules including: Pitch shifting algorithm with variety of available intervals, plus algorithm selector to suit your source material, Pitch modulation section with shape, depth and rate controls, Delay section with BPM sync, cross-feed for bouncing delay FX and a range of input routing options, Animation section, Compressor
LFO/Envelope section
Wide variety of logically categorised presets.
Mac:
macOS 10.8.5 or higher
64 bit
Core duo processor (i7 recommended)
RAM: 1GB (2GB recommended)
Windows:
Windows 7 or higher
64 bit
Dual core processor (i7 recommended)
2GHz
RAM: 1GB (2GB recommended)
Required Registration:
AIR Music Technology products require you to register with the manufacturer at www.airmusictech.com and with my.plugivery.com/redeem to activate your license.
This product requires an activation!
An internet connection is required to authorize / activate the product.