EZkeys 2: Your new virtual piano
Your inspiring songwriting partner as a perfect complement for EZdrummer and EZbass
This bundle contains the full version of EZkeys 2 plus two additional freely selectable EKX sound libraries. After registering the serial numbers in the Toontrack Product Manager, the additional EKX sound libraries can be picked freely from the range of available EKXs.
EZkeys 2 continues to build on all the innovative features and revolutionary functionality that made its predecessor a successful and popular standard instrument for all songwriters. Easily import any performance as a MIDI or audio file into Bandmate, and EZkeys 2 will automatically and autonomously provide the best suggestions for a suitable piano accompaniment. If you're looking for a creative idea, the Suggest Chord feature in EZkeys 2 offers a reliable and straightforward way to get inspired by a musically sensible suggested chord progression, a particular style or an individual feel. Many different songwriting scales are available to find a new suitable scale for your own song idea with perhaps rather unfamiliar sound material. And of course EZkeys 2 has over 1,400 individually recorded chord progressions and piano patterns in a wide variety of musical genres in its own MIDI library - so you always have professional-sounding piano performances at hand for working on your own song ideas.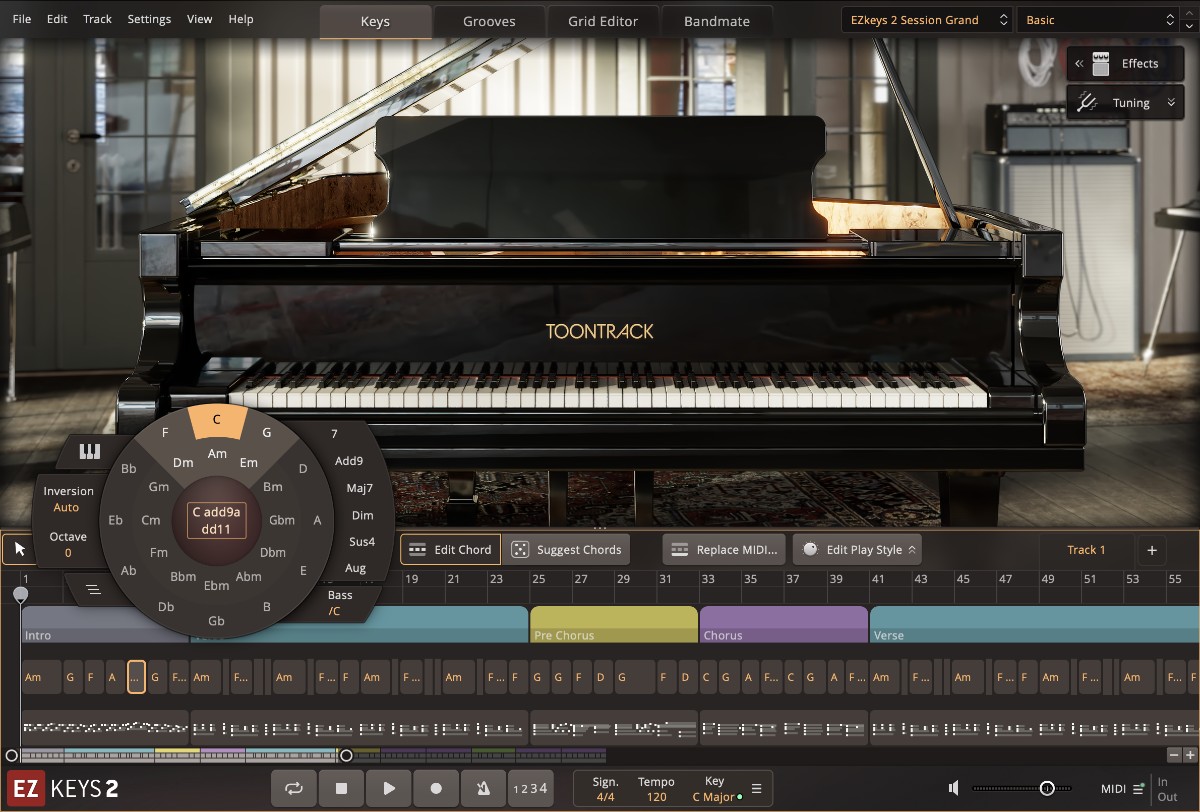 In addition, EZkeys 2 holds almost inexhaustible possibilities and functions for individual editing and arranging of your own or suggested piano performances.
Of course, EZkeys 2 includes a completely original core sound library of an extremely carefully sampled and fantastic sounding grand piano, recorded specifically for the special requirements in EZkeys 2, the greatest possible tonal flexibility and extremely nuanced and expressive playing.
All of these features make EZkeys 2 the perfect songwriting partner for creating authentic and impressive piano accompaniments for your songs. EZkeys 2 is clearly more than just another piano software - it's a creative and powerful songwriting tool, a flexible arranger, a fantastic sounding virtual piano instrument and above all an inspiring idea generator for working on your own song ideas.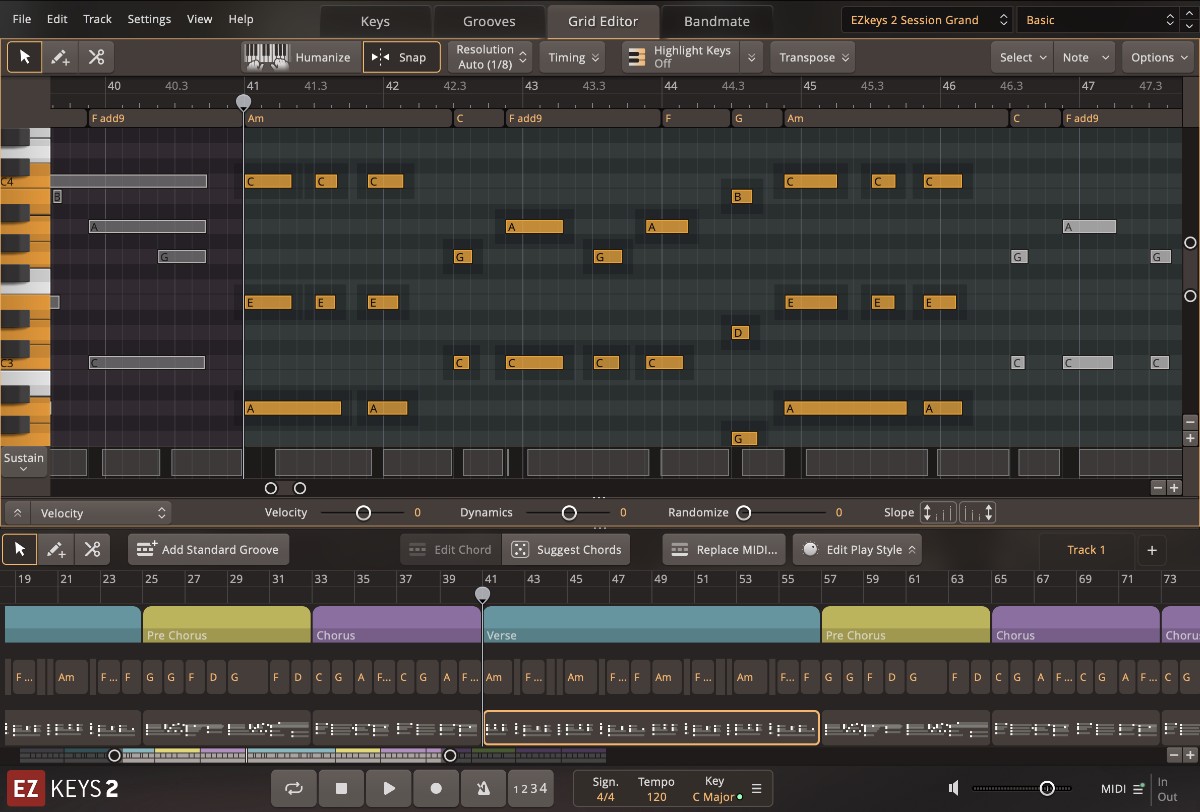 Features
Virtual sample piano instrument with integrated sound and MIDI library for creative, inspiring and easy songwriting

A completely reworked integrated core sound library of a Fazioli Z212 grand piano elaborately and carefully sampled with many direct and room microphones

Recorded at Riksmixningsverket Studio (RMV) Stockholm, Sweden via a Neve 8068 console

Direct miking of the hammers and strings

Hammer and pedal sounds can be adjusted individually

Pedal selection: Sustain, Una Corda (Soft Pedal) and Sostenuto

The keyboard response of the velocity via MIDI can be adjusted comfortably

Outstanding dynamic response of the tones for the most authentic playing feel

Natural resonance of the resonating strings is reproduced by own real samples

Fully customizable user interface

Unified look/feel like EZdrummer and EZbass

Bandmate: EZkeys 2 independently suggests a suitable piano accompaniment based on your own imported MIDI/audio files

Integrated grid editor with intelligent humanize function for improved timing, as well as automatic detection and adjustment of melody to scales/chords

Tap-2-Find: EZkeys 2 independently suggests a suitable piano accompaniment based on a custom rhythm preset

Huge selection of available mixer presets with various effects for mix-ready piano sounds in many different styles

Large selection of presets in 3 categories: Standard, Effects and Pads

All presets and their FX and pad portions can be freely edited by the user

Multi-out routing of individual microphones to DAW for further processing with external effects

Completely updated very extensive MIDI library with about 1,400 individually recorded piano patterns and playing techniques for all possible musical genres

MIDI library divided into songs in different tempos/beats and their song parts like intro, verse, pre-chorus, chorus, bridge etc. in straight and swing feel
Mac:
macOS 10.10 or higher
64 bit
Intel or Apple Silicon processor
RAM: 4 GB RAM (8 GB RAM or more recommended)
Windows:
Windows 7 or higher
64 bit
RAM: 4 GB RAM (8 GB RAM or more recommended)
Required Registration:
Toontrack products require you to register with the manufacturer at www.toontrack.com to activate your license.
This product requires an activation!
An internet connection is required to authorize / activate the product.