Five types of instruments form one coherent voice
Even though the laws of thermodynamics long ago ruled out the possibility of a perpetual motion machine, EZkeys Hybrid Harp comes very close. The laws of physics may still apply, but fact remains that this peculiar 'machine' has an inherent mojo that seems to make sure you're never short of ideas. It literally runs and feeds off of you and your own imagination.
EZkeys Hybrid Harp presents five individual instruments, all layered, textured and saturated in various capacities to form unique and never-before-heard hybrids of sounds. The undisputed star of the group is an iconic Style 23 harp. In addition to this, a traditional Swedish nyckelharpa (or "keyed fiddle"), two harmoniums, a bowed glockenspiel and a set of ocarinas were sampled. Combined, this seemingly odd group of instruments – that in logical terms have no earthly business sharing the same sonic space – culminate in what must be described as a vastly puzzling audio universe of plucking, percussive, soaring, airy, beautiful and ever-so-slightly dissonant sounds.
Welcome to one of the most multifaceted EZkeys titles yet – one that will trigger parts of your creative mind you didn't know existed. These are sounds ideal for anything you can imagine. Literally.
Overview
Five types of individually captured instrument types: a harp, a nyckelharpa, two harmoniums, ocarinas and a bowed glockenspiel

Each instrument can be called up individually using the 'Raw Tweaks' presets

In excess of 40 mix-ready presets, offering creative instrument blends of never-before-heard hybrids of sounds

For any type of music or production – ideally ambient soundscapes, scores and sound design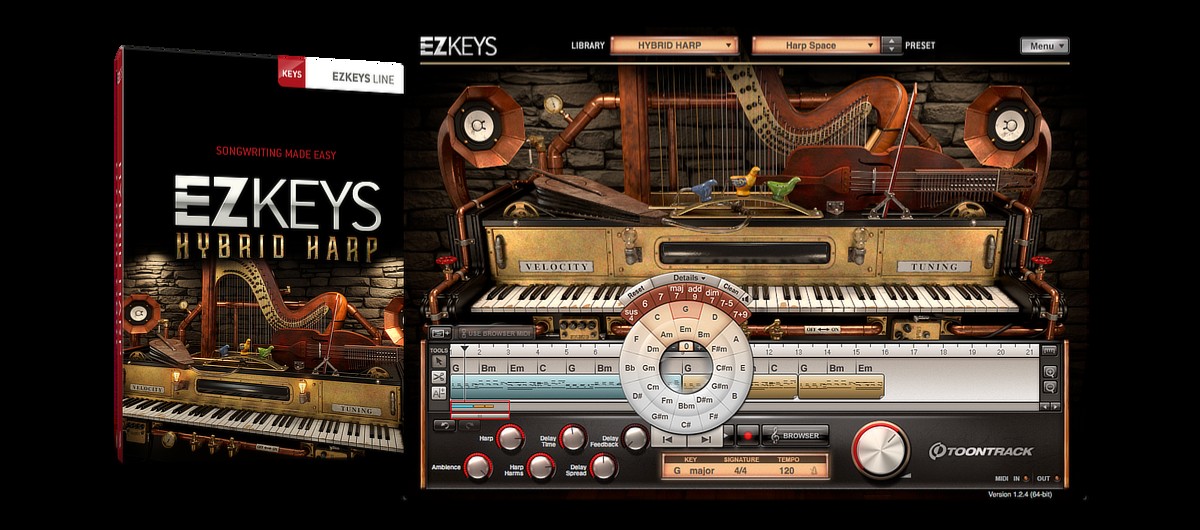 Features
Virtual instrument in both 32- and 64-bit VST, AU, RTAS plug-in versions, as well as stand-alone with very low latency

Drag&drop the integrated MIDI patterns directly into the internal Timeline Arranger

Drag&Drop support of own or third-party MIDI files in EZkeys

Drag&drop MIDI from the integrated Timeline Arranger or Song Browser into the DAW or onto the computer desktop

EZkeys analyses and recognizes all existing chords automatically during import

Recording and overdubbing of your MIDI files directly within EZkeys

Work with MIDI patterns and chord sequences from the integrated MIDI library or your own or external MIDI files and transfer the characteristic playing feel of any other MIDI performance to your own

Quickly add new chords to the Timeline or simply drag and drop from the SMART TRANSPOSE Chord Wheel

Chord display in real time allows the immediate display of chords played live

Any chord conversion by the Chord Selector, which displays all chords of the circle of fifths

Predefined presets for the most common chord types and extensions

Further arbitrary addition of more complex chord extensions via the Details menu add characteristic colors to the chords

Change the individual voicing of a chord simply by using the - and + buttons of the Chord Wheel

New "Humanize" function during import, for more realistic timing of pre-quantized MIDI patterns

Transpose single song parts or the whole song with just one mouse click

Export and convert your songs/pattern as wave files directly from the EZkeys interface

Includes a comprehensive and easy to understand introduction to music theory and chord theory as PDF with playable MIDI examples

The piano sound can be freely tuned in octave, semitone and cent steps

Dynamic Controls allow you to adjust the response of the velocity to the intensity of your playing

Three foot pedals: sustain, sostenuto and damping

MIDI learn and MIDI automation

The integration of high-quality effects from Overloud refine each preset into unique sounds that can be edited individually
If you have registered at least one EZkeys Instrument already, you are eligible for the reduced "EZkeys Sound Expansion" to get the Hybrid Harp and save big!
Mac:
macOS 10.9 or higher
64 bit
Intel- or Apple Silicon processor
RAM: 2GB
Windows:
Windows 7 or higher
Intel or Athlon processor
RAM: 2GB
Product activation:
An internet connection is required to authorize / activate the product.