The Studio Grand sound library features a carefully sampled Steinway & Sons B-211 grand piano.
With its balanced timbre and versatile range of use, this specific instrument is commonly referred to as the "perfect piano" and often the premier choice for professional studio work. All this combined with the creative framework of EZkeys will give you not only the sound of one of the world's finest pianos – it even comes with tools to help you create and write great music.
EZkeys Studio Grand contains the same software, functionality and extensive MIDI library as the other EZkeys titles.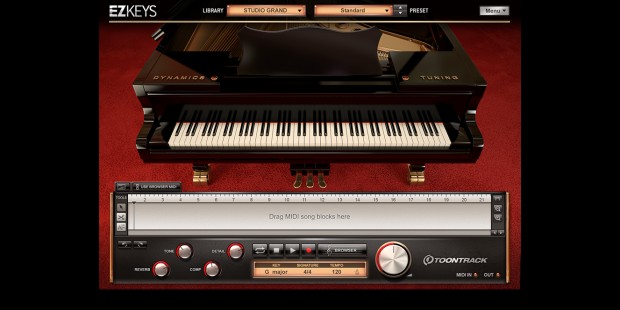 EZKEYS FEATURE SPOTLIGHT
• Each EZkeys contains the same software including all functionality as well as the extensive standard MIDI library.
• Each EZkeys comes loaded with an individual sound library.
• Customers who already own one EZkeys can go straight for any other and get a discounted price. All your EZkeys sound libraries will be accessible through the same instance of EZkeys.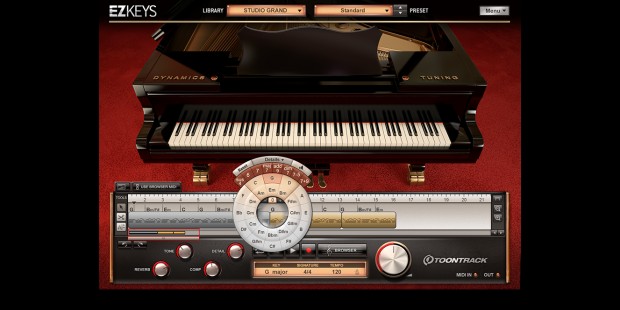 SMART SONGWRITING FEATURES.
EZkeys includes a host of revolutionary and creative songwriting features, ensuring that YOU write the songs, not the program. Transpose full MIDI tracks on the fly, add playing styles from other MIDI or use the groundbreaking EZkeys Chord Wheel to customize chord voicing and harmonic color – and much, much more.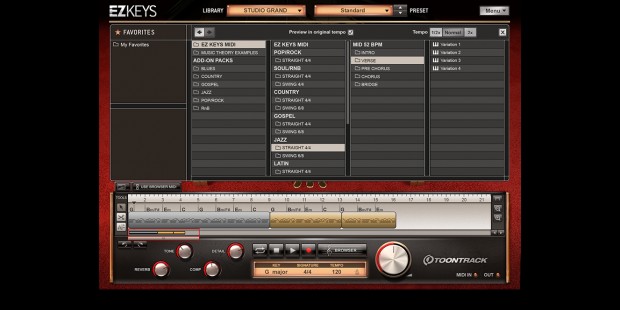 BUILD CUSTOM PIANO PIECES.
EZkeys comes with an extensive MIDI library performed by a professional session pianist. Played with increasing complexity in full song sections and covering all major genres, this library is not only a creative boost, it's an untapped source of inspiration for your yet unwritten songs. Drag, drop and lay down the foundation to a track in no time – right inside EZkeys.
Mac:
macOS 10.9 or higher
64 bit
Intel- or Apple Silicon processor
RAM: 2GB
Windows:
Windows 7 or higher
Intel or Athlon processor
RAM: 2GB
Product activation:
An internet connection is required to authorize / activate the product.