This bundle contains:
EZmix 2 (more than 350 EZmix presets)
6 global EZmix license codes which allow you to register and activate 6 additional EZmix-packs of your choice.

There are many different EZmix-Packs with presets for various styles available for download.
Save big in with this Bundle!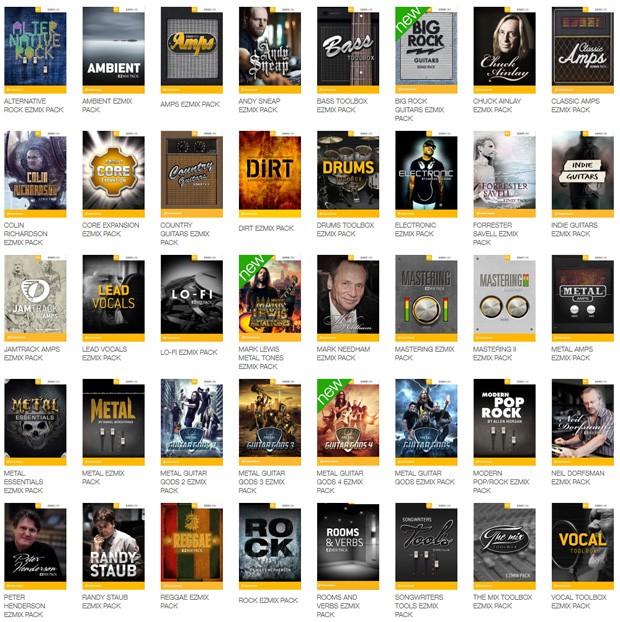 Releasetime.de

Auszug:
Fazit
Das Toontrack EZmix 2 Complete Production Bundle bietet zu einem fairen Kurs eine Komplettlösung für (fast) alle mischtechnischen Lebenslagen – genreübergreifend, die Klassik ausgenommen. Geboten wird eine Vielzahl von fertig emulierten Effektketten für alle im Jazz, Pop und Rock vertretenen Instrumente und Gesang.
Die Audioqualität spielt sich auf hohem Niveau ab. In die Emulation der Effekte ist hörbar viel tontechnische Erfahrung geflossen: Das Ergebnis sind praxisnahe, musikalisch klingende Tools, die in kürzester Zeit geladen und konfiguriert sind.
Die Arbeit beschränkt sich dabei auf die Auswahl des passenden Presets und die Bedienung zweier, allerdings sehr effektiver Makro-Regler.
Obwohl intern bis zu neun Effektkomponenten beteiligt sind, erweist sich die CPU-Leistungsanforderung als rekordverdächtig gering. Daher eignet sich EZmix 2 nicht zuletzt für Live-Anwendungen. Auch Anno 2014 steht auf der Bühne ein sparsamer Umgang mit Ressourcen an erster Stelle.
Profis werden auch im Studio von EZmix 2 profitieren, beispielsweise um unter Zeitdruck und bei schmalem Produktionsbudget dennoch ein präsentables Ergebnis zu erzielen. Außerdem wird jeder Nutzer, auch der ausgebuffte Profi, ein paar Lieblings-Presets finden, auf die er immer wieder zurückgreift.
Kein Zweifel: Für Einsteiger ist diese Software ein heißer Tipp: Man braucht nur gute Ohren und Geschmack, um die miteinander musikalisch harmonierenden Presets für die einzelnen Instrumente zusammenzustellen. Nebenbei bietet die Grafik einen Hinweis darauf, welche Effekte beteiligt sind, sodass man versuchen kann, die Effektkette und den Klang mit anderen Mitteln nachzubilden.
Mac:
macOS 10.9 or higher
64 bit
Intel or Apple Silicon processor
RAM: 2GB
Windows:
Windows 7 or higher
Intel or Athlon processor
RAM: 2GB
Product activation:
An internet connection is required to authorize / activate the product.