Two drum kits, tailored for modern death metal production of the highest order.
In the mid-to-late '80s, death metal was a peripheral genre of underground bands. Then, by the early 1990s, acts like Death, Morbid Angel, Cannibal Corpse and a handful other US bands predominantly from the Florida and East Coast areas started gaining traction. At the same time on the opposite continent in the UK, the likes of Carcass, Benediction and Napalm Death advanced with their own breed of death.
On the other shore of the North Sea, in Scandinavia, bands such as Entombed, Therion and At the Gates all added their own blend to the mix. By then, the rest of the world had caught on and death metal as a phenomenon was a fact. Since then trends in heavy music have come and gone, but death metal has stayed its course and stood its ground. Arguably no genre has evolved in a more organic way, with a constant rejuvenating fanbase and steady increment of bands. Today, although fragmented and more of an umbrella to a host of sub-genres, death metal has never been more alive.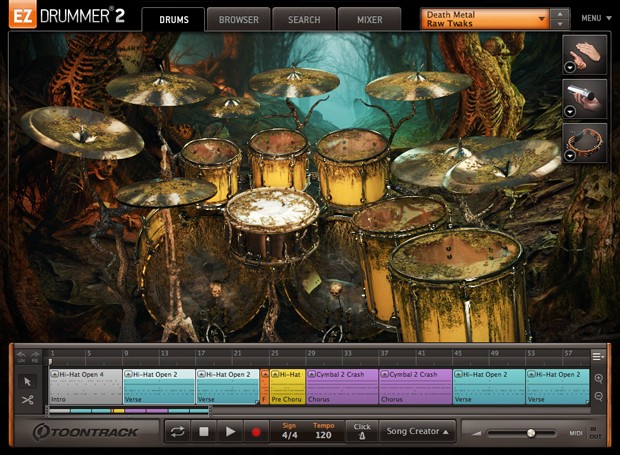 This is where the Death Metal EZX takes its venture point – to bring you timeless drums, but tailored for modern death metal production. It was recorded by acclaimed engineer/mixer/producer Mark Lewis at the impeccable room at Sonic Ranch in Tornillo, Texas and sampled by legendary drummer Sean Reinert (Death, Cynic). The two featured kits, handpicked from the Death & Darkness SDX, display two kindred but fundamentally different beasts of razor sharp, pristine and crystal clear drums designed to cut through in anything from rampant tempos to dense walls of guitars and extremely layered productions.
Feature Spotlight
Two complete kits
Recorded by Mark Lewis at Sonic Ranch, TX
Sampled by legendary drummer Sean Reinert (Death, Cynic)
Includes a collection of death metal-inspired drum MIDI grooves by Dave McGraw
To use this product, an installed and activated Version of EZdrummer 2 or Superior Drummer 3 is required.
Required Registration:
Toontrack products require you to register with the manufacturer at www.toontrack.com to activate your license.
This product requires an activation!
An internet connection is required to authorize / activate the product.