Tailored for modern Music Production
The Dream Pop EZX presents a truly unique fusion of organic and electronic percussion that bridges the gap between nature and technology. A sonic panorama where wood meets metal, man battles machine and complex textures of modular synthesis clash with the crude, unfiltered tone of nature. This is the perfect canvas for ethereal soundscapes and contemporary music where you let your own creativity be the primary architect.
All in all, the Dream Pop EZX comes with 29 preset kits made up by a total of close to 250 individual percussive sounds. In addition to traditional acoustic drums and classic drum machine sounds, you'll find completely new hybrids and textured percussive foley sampled from a rich variety of elements. Get creative renditions of stomps, claps, snares and kicks – but also, a set of chromatic pad-like sounds as well as a collection of ever-changing filter loops made in a modular system.
The Dream Pop EZX is the culmination of when cutting-edge sound design comes to a head with convention and creates something entirely new. Start making the beats of your wildest dreams. Literally.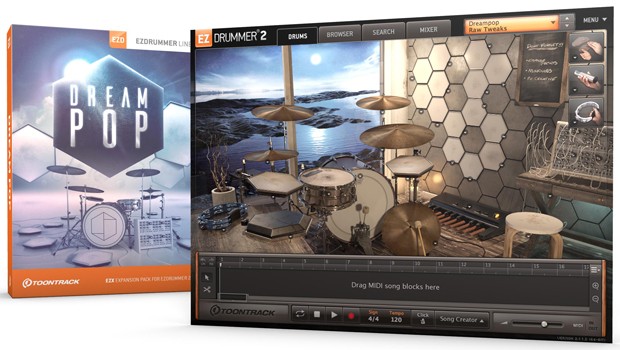 FEATURE SPOTLIGHT
Produced by Addeboy vs. Cliff (Say Lou Lou, Roxette) and Mattias Eklund (Toontrack)
Acoustic, electronic and hybrid sounds
Percussive foley sampled from a rich variety of elements
Close to 250 instruments in total
29 preset kits
A selection of MIDI grooves included
THE SOUNDS
The Dream Pop EZX combines acoustic drums and classic machines with creative percussion elements, all honed and shaped with cutting-edge sound design to never-before-heard drum kit hybrids, tailored for modern music-making.

ORGANIC - Real drums, multi-sampled in classic Toontrack fashion – mixed, matched and layered to contemporary hybrids.

ELECTRONIC - Classic drum machine sounds and all-new percussive tones built from the ground up in a modular system.

NATURE - An extensive set of percussive and sound effect-like sounds recorded from various natural elements – wood, water, gravel, branches, claps and stomps, to name a few.

SOUNDSCAPES - With the chromatic soundscapes of ambient, ethereal synth-like pads, the Dream Pop EZX goes beyond the traditional definition of drums and percussion – this is a multi-instrument.
THE PRODUCERS
Helmed by the creative duo of Addeboy vs. Cliff, the Dream Pop EZX was produced in collaboration with Toontrack's head of Sound Design, Mattias Eklund, at his private studio in the archipelago of northern Sweden. With an array of analog modular systems, percussion and drums, they set out to create what would become probably one of the most unique collections of percussive sound libraries in the history of Toontrack. "To design this library from the ground up, without any rules or restraints, has been one of the most creative processess I've ever been part of. Creating each preset has literally been like writing a song, from start to finish. To me, this product is just as much about music as it is about drums", said Mattias Eklund.
Addeboy vs. Cliff has collectively won several awards, produced, written and recorded with acts like Say Lou Lou, Adam Tensta and Roxette. Mattias is the founder of Toontrack and has a long history of audio engineering, mixing and sound design.
To use this product, an installed and activated Version of EZdrummer 2 or Superior Drummer 3 is required.
Required Registration:
Toontrack products require you to register with the manufacturer at www.toontrack.com to activate your license.
This product requires an activation!
An internet connection is required to authorize / activate the product.