Welcome to the Hard Rock EZX by Bob Rock
The Hard Rock EZX was recorded at The Warehouse in Vancouver, BC, and comes with two kits, fundamentally different in their individual tones. The custom Gretsch, with its brittle and direct attack, is ideal for use in more modern productions while the classic three-ply Ludwig, with its complex, dark and warm timbre, is the perfect choice in mixes of a more vintage and ambient nature. In addition, the EZX includes a broad selection of extra kicks, snares and cymbals, allowing you to mix, match and design your own hybrid kits as you go.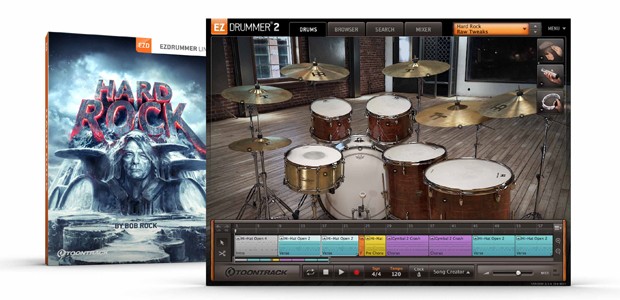 To top off, the Hard Rock EZX features a collection of mix-ready presets encompassing a wide tonal range and mix of styles. Three of the presets were personally engineered and mixed by Bob Rock himself using his own custom samples to layer, saturate and augment the already awesome power in the raw drum tones.
Features Overview:
Two individual kits (Gretsch, Ludwig)
Recorded by Bob Rock at The Warehouse in Vancouver, BC
Features custom mix presets by Bob Rock
Five (5) kicks, four (4) snares, seven (7) toms, two (2) hi-hats and eight (8) cymbals in total
A basic selection of custom MIDI drum grooves included
About Bob Rock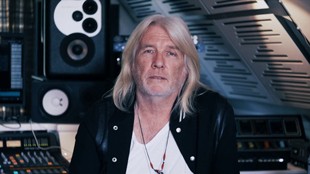 While Metallica's groundbreaking "Black Album" may be one of the more commonly known works in his discography, Bob Rock's engineering and producing credits stretch all the way back to the late '70s and include some of the best selling acts in rock history: Survivor, Bon Jovi, Aerosmith, Mötley Crüe, Bryan Adams and many, many more. In all of his productions, a common denominator is phenomenally engineered and mixed drums. In fact, his work with Metallica and Mötley Crüe may very well have set a new standard as to how we mix drums to sit in a production. Needless to say, his influence on the sound of hard rock and metal as we know it is monumental.
SDX and EZX. – What´s the difference?
The Hard Rock EZX is tailored for use with EZdrummer 2 and features mix-ready kits derived from the already available expansion for Superior Drummer 3, The Rock Foundry SDX. The EZX is best described as a slimmed down version of the SDX.
To use this product, an installed and activated Version of EZdrummer 2 or Superior Drummer 3 is required.
Required Registration:
Toontrack products require you to register with the manufacturer at www.toontrack.com to activate your license.
This product requires an activation!
An internet connection is required to authorize / activate the product.