For singer-songwriter, tight, edgy and modern!
Recorded both in the main room and the fared booth at Studio III, this E2X features two drum libraries and a selection of drums handpicked to cover a tonal width spanning anything from the warm, mellow and round to the tight, edgy and beat-oriented - sampled with sticks, rods and brushes. To add, a comprehensive selection of go-to percussion instruments were recorded, making this a definitive go-to for any songwriter. With this E2x, you'll have a selection of unique and rare kits captured in the same rooms that the likes of Prince, Beck, Fleetwood Mac and many more trusted to grace their albums.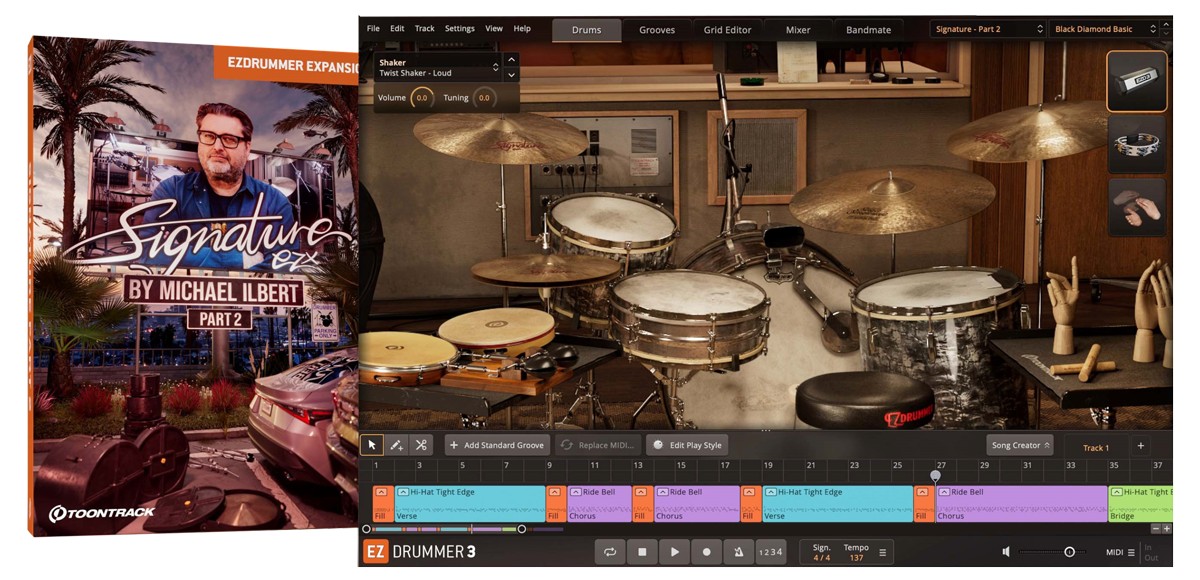 Feature Spotlight
Recorded in Studio Ill at Sunset Sound, Los Angeles/USA
Features two interfaces/ambiences: Main Room and Booth
Recorded by the EZdrummer 3 core-library team as a natural extension/follow-up to the E7D 3 core-library
4 rare and unique kits
A total of 6 kicks, 9 snares, 11 toms, 3 hi-hats, 3 rides, 6 crashes (3) full cymbal sets
One complete kit/cymbals recorded with rods and one complete kit/cymbals with snare wires off
One complete kit/cymbals recorded with brushes
Extensive percussion library feat. tambourines, shakers, maracas, castagnets, claves, cowbells, claps, snaps and more
Comes with 40 mix-ready presets engineered by Michael libert
Includes a collection of 350+ MIDI grooves and fils recorded by sampling Drummer Norman Garschke tailored for the library and specifically recorded for each kit MIDI grooves and fills tailored for the library
To use this product, an installed and activated Version of EZdrummer 2 or Superior Drummer 3 is required.
Required Registration:
Toontrack products require you to register with the manufacturer at www.toontrack.com to activate your license.
This product requires an activation!
An internet connection is required to authorize / activate the product.