Precision EQ triggered by a built-in dynamic processor
The ultimate problem-solving EQ, F6 can be used for diverse equalization, compression, expansion and de-essing processes, whether you're mixing or mastering, in the studio or live. Each of the six floating bands features advanced EQ and dynamic controls that let you zero in on any problem spot – and treat it only when the problem arises.
Rather than treating a frequency one time and leaving it there for the entire track, F6's EQ settings are sensitive to the dynamics of your track. This way you can select not only by how much, but also precisely when a specific frequency will be boosted or cut, compressed or expanded.
With the F6, you can EQ more precisely, with filters that can be as narrow or as wide as you like, free-floating bands that can overlap, variable EQ shapes, and threshold-sensitive EQ settings. F6 is ideal for isolating specific problems on individual tracks and fixing them transparently only when they pop out. The plugin's advanced mid-side processing capabilities give you even greater ability to carve out EQ space in a busy mix, so you can breathe more life into your mixes.
Features:
Precision EQ triggered by a built-in dynamic processor
6 floating bands that can be placed anywhere in the spectrum
Powerful EQ and compression/expansion controls per band
Advanced sidechaining, parallel compression and mid-side processing
High and low pass filters; bell and notch EQ shapes
Each band features a solo/sidechain monitor
Touch-compatible
Zero latency and low CPU consumption
Equally effective for studio and live mixing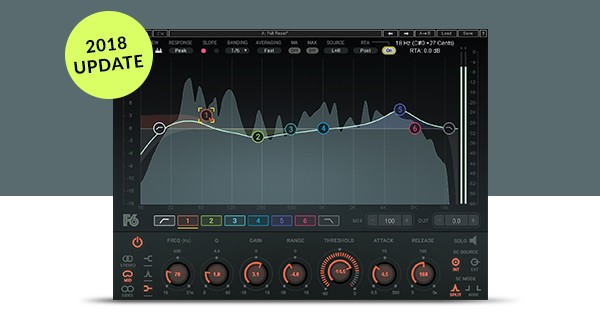 Now with a Real-Time Spectrum Analyzer!
Get a visual map of your audio with the feature-rich frequency spectrum analyzer, easily accessible from the main F6 interface:
FFT-based RTA
Adjustable reaction speed
Adjustable resolution
Diverse monitoring options
RMS vs. peak response
Moving average & peak curve
Pre-EQ, post-EQ, sidechain
White & pink noise slopes
Cursor position displays frequency, note & RTA amplitude
Mac:
macOS 10.15.7, 11.6.5, 12.3.1
64 bit
Intel Core i7 / i9 / Xeon-W / Apple M1
RAM: 8GB
1024x768 or higher display resolution
Windows:
Windows 10 / 11
64 bit
Intel Core i5 / i7 / i9 / Xeon or AMD Quad Core
RAM: 8GB
1024x768 or higher display resolution
Please check for details and latest information HERE!
Demo-version
7 days demo licenses are available HERE (registration and activation required!)
Bundle- / Product-Content
All Plug-Ins, Collections and Bundles include the identical content/version as described on www.waves.com. As the content/version might be extended by the supplier from time to time, our descriptions might not be up to date in rare cases.
To always get the latest WAVES version, you need a valid WavesUpdatePlan "WUP". With a new purchase of PlugIns and Bundles 12 month of Free Update Plan are included!
Required Registration:
Waves products require you to register with the manufacturer at www.waves.com to activate your license.
This product requires an activation!
An internet connection is required to authorize / activate the product.