Pitch / Mod Tool Soothes Or Savages Sound
Fault– a stereo frequency shifter and delay unit with a comprehensive modular patching system. No other plugin has the comprehensive ability to manipulate pitch and time like Fault. Whether used at mixdown to fortify weak tracks or in sound design to totally mangle instruments beyond recognition, Fault's applications are limited only by your imagination. With over 100 factory presets included– featuring settings from contributing artists like Richard Devine and The Crystal Method– finding creative inspiration with Fault is fun and engaging.

Three main processors power Fault's comprehensive spectral control. Dual-channel Pitch Shifters musically retune sounds up or down as much as a full octave, in steps as small as 0.1 semitone. The stereo Frequency Shifter can be modulated by precision FM controls to create beautiful and discordant sounds alike. Stereo Delays use cross-channel feedback and filters to add immersive depth. And if that weren't enough, every control knob and switch setting can be itself controlled dynamically by up to six powerful and flexible modulators.

Medicine or Mutilation—You Choose!
Fault's schizophrenic personality can take your tracks in any direction you want: make boring tracks sound richer and more exciting, or take pristine tracks to the next level of frequency-modulated mayhem. Place the Frequency Shifters in ring modulation mode and sprinkle with short delays to make a dull, lifeless snare drum sizzle like a firecracker. Still too tame for your industrial heart? Filter and feed back Fault's Pitch Shifters and add a smidgen of split-second delays to make snare hits sound like sonar hunting for submarines! If you can imagine it, Fault will take you there.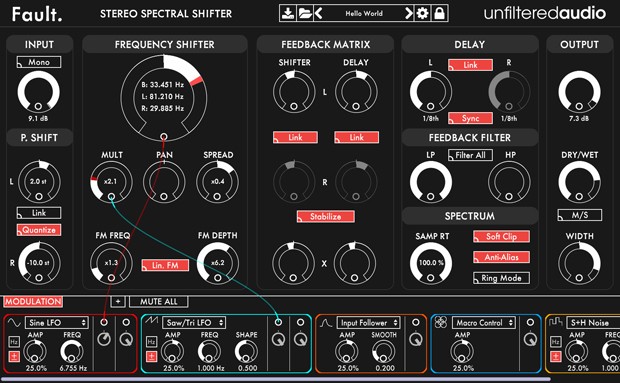 Fault's freely assignable modulators create more realistic-sounding ADT (automatic double tracking) effects for vocals than most doublers. Modulate an LFO—patched to the stereo Pitch Shifters—with a second LFO to create tape recorder-style varispeed ADT effects like the Beatles used on their vocals! Fault is indispensable for hard rock and alt-rock productions, too. Create heavy sub-octave effects on room mics to send drums to the depths of Hell. Use the Frequency Shifters' FM controls to make a grand piano track sound like an electric keyboard under water. Or like tiny birds chirping. Fault knows no bounds.

Of course, Fault can also create all the conventional effects you need for everyday processing, including ping-pong delays, chorus, flanging and more. Independent stereo parameters facilitate the ability to broaden sounds while an internal M/S matrix allows for width control and optional output to Mid and Side components for further processing. But what sets Fault apart from other plugins is its ability to create startling, new sounds that can't be ignored. Hand out seatbelts—Fault will shake your listeners to their core.
Features
Over 100 presets featuring settings from Richard Devine, The Crystal Method, Mirrorball Entertainment, and Toby Pitman of Air Studios
Artifact-free frequency and pitch modulation
Dual-channel Pitch Shifters can be stereo-linked and quantized to whole-integer semitones
Stereo Frequency Shifter can be modulated using high-resolution FM Frequency and Depth controls
Stereo Delays can be synced to host's tempo
Six feedback paths—three each for the Frequency Shifter and Delays—including cross-channel feedback
Unfiltered Audio's flagship modulation system provides six freely assignable and fully automatable modulators with drag-and-drop virtual patching: sine LFO, sawtooth/triangle LFO, square-wave LFO, input follower, sample-and-hold noise, and macro control knob
Mid/Side processing adjusts stereo image from mono to super-wide, and provides optional output in M/S for further processing
High Pass and Low Pass filters can be switched to process just the wet signal or both wet and dry
Dry/Wet control provides parallel processing
Built-in soft clipper, anti-aliasing filters, low-fi sampling rate control and ring-modulator mode
Mac:
macOS 10.6-10.11
Intel CPU
2 GHz
RAM: 2GB
Windows:
Windows 7 or higher
2 GHz
RAM: 2GB
Required Registration:
Unfiltered Audio products require you to register with www.plugin-alliance.com to activate your license.
Product activation:
An internet connection is required to authorize / activate the product.