Lush vintage phasing sound in a modern plugin package
Have you ever worried that your guitar just doesn't sound enough like a spaceship? We know we have. Coming from the ever-fertile mind of audio legend Paul Wolff, Fix Phaser perfectly covers this concern, and many others too. Create subtle movement and texture in a string section or synth pad, wash a drum kit in stratospheric swirling attitude, create a throbbing, oscillating vibrato in a vocal, or simply swoosh and whoosh things to your heart's content.
Turn mono into stereo - The wide mode can create natural, convincing stereo soundscape from a mono track. Especially useful on guitars, vocals, drums and other instruments that sound static and lifeless.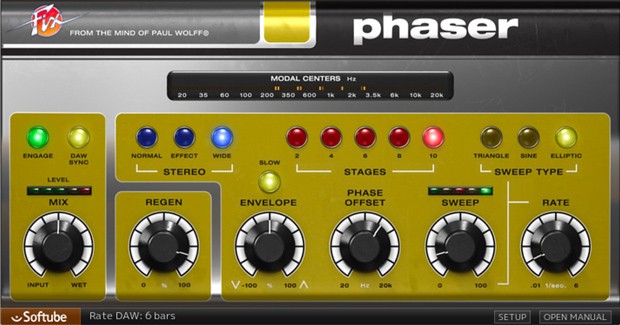 What it does - With a clean and easy-to-navigate modern interface, the Fix Phaser loses none of that quintessential 70s/80s sound and style, and can transform a flat, dull track into a vibrant living beast in no time, and in a number of different ways. Sweep your phase centre at a rate anywhere between 0.01 and 6Hz, or let the incoming signal bump and pump the effect with the in-built envelope follower. Phase offset and regen settings allow further customisation of the sound, and three different stereo settings give the user control over the spread of the effect, from both mono and stereo sources.
Fix Phaser builds on the mind-warping technical concepts already presented in the Fix Flanger and Doubler, completing the "Fix" modulation series. Never again will you reach into the toolbox and find an empty space where your spaceship should be.
In short
Lush vintage phasing sound in a modern plugin package
Wide and versatile feature set
Mix knob allows blending of wet and dry signals to taste
Create stereo soundscapes out of mono sources
Generate subtle movement in flat or dull-sounding instruments
Out-of-this-world whooshing effects
Mac:
macOS 10.13 or higher
64 bit
Intel Core i3 (M1 support pending)
RAM: 8GB
1280x800 or higher display resolution
Windows:
Windows 10
64 bit
Intel Core i3 or AMD Quad-Core
RAM: 8GB
1280x800 or higher display resolution
Required Registration:
Softube products require you to register with the manufacturer at www.softube.com to activate your license.
This product requires an activation!
You can either "soft" activate on your computer without addditional hardware or transfer the license to an iLok USB dongle which has to be purchased separately. The iLok dongle can be used to run the protected software on different computers. Your licenses can be easily manged using the iLok Licence Manager. To protect your investment against theft or loss we recommend the iLok Zero Downtime protection with TLC.
An internet connection on any computer and a free user-accout at www.ilok.com is required to authorize the product.
Please check with the software manufacturer which iLok version is required at least if you want to use a hardware iLok!