Professional Dynamics Workstation & Experimental Amplitude
G8 is a high-quality noise gate with many tricks up its sleeve. It is both a professional dynamics workstation and an experimental amplitude effect. Use it for noise reduction, AM/granular synthesis, bouncing ball rhythm programming, tremolo, trajectory panning, transient shaping, and much, much more.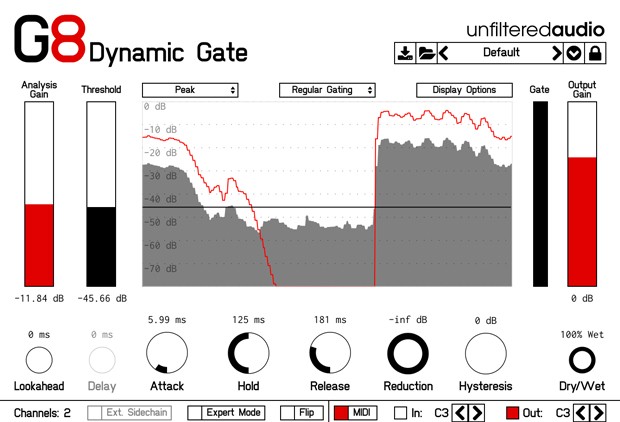 Features
'Cycle' gating mode gives you the ability to use G8 as a stutter effect, an AM/granular effect, or a tremolo
'One-shot' gating mode allows for surgical transient shaping from any type of sound
Custom MIDI in/out: trigger G8 with an instrument or extract grooves from an audio track to trigger an instrument with G8
Route post-gate, 'Reject Outputs' to another track, or use 'Flip' mode to swap Reject Outputs with G8's main output, essentially reversing the behavior of G8
Four-channel analysis (sidechain) input; two internal and two external, each independently filtered and gain-controlled
Precise triggering with Lookahead analysis
RMS and Peak detection modes
Variable reduction of gated signal allows for subtler processing
Wet/Dry mix for parallel processing
Mac:
macOS 10.9-11.0.1
Intel CPU only
2 GHz
RAM: 2 GB
1440x900 bzw. 1280x960 or higher display resolution
Windows:
Windows 7 or higher
x64-compatible CPU
2 GHz
RAM: 2 GB
1440x900 bzw. 1280x960 or higher display resolution
Required Registration:
Unfiltered Audio products require you to register with www.plugin-alliance.com to activate your license.
This product requires an activation!
An internet connection is required to authorize / activate the product.