One of the rarest harpsichord as a virtual instrument!
The German Harpsichord 1738 offers one of the few historically preserved German harpsichord for your own sampler, an instrument of harpsichord maker Christian Vater, which was built in 1738 in Hanover. This rare piece is in excellent playing condition in the Germanic National Museum in Nürnberg. Sonically, the instrument delivers wonderfully sonorous bass along with majestic warmth and crisp highs. Sampled in three different registers combinations of front and rear 8 ´as well as both 8´ together, the library covers the whole bandwidth of the Vater-harpsichord.

Like all harpsichords, the German instrument is not velocity sensitive, but we have sampled every note with 8 RR in all registers, and the Release of the Keys with 4 RR to get even the smallest change of sound and the natural elegance and liveliness in fast passages or trills.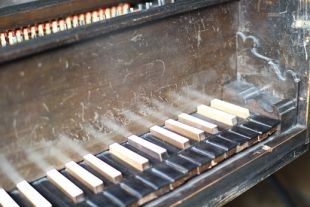 For the first time, composers will get this classic instrument as a perfect sounding sample-instrument, with the original Valotti tuning (392 Hz) (Presets in 440 Hz also available).
The set consists of nearly 2,000 individual recordings.
you will find presets for HAlion ®, Kontakt2 ® and higher, EXS24 ® and GigaStudio3 ®. In addition, the sample library contains an essay by Dr. Frank P. Bear from the Germanic National Museum on the background of the instrument.
Recorded in excellent sounding Aufseß Concert Hall of the Germanic National Museum, we have used hand-built Wagner ™ U47w ® tube microphones in conjunction with Crane Song ™ Flamingo ® preamps and Universal Audio ™ 2192 ® transducer - for optimum sound quality we have captured in 192 kHz/24-bit resolution and downsampled to the desired rate.
3 different register combinations sampled: Front 8 ´, Rear 8´ 2 x 8 ´registers
Register are freely combinable
8 Round Robin (4 RR of releases)
HAlion®/Kontakt2®/EXS24® & GigaStudio®-Presets
.wav format
For versatile use without mastering
Recorded in 192 kHz/24-bit and downsampled
Free applicable in your music
This Multi Format Library (included format(s) listed in product description) does not include any playback software. A suitable software is required to load and play the sounds included with this product.
For your own protection this library is provided as individual personalized files including a Digital Water Mark - DWM!