Innovative sounds and sound design by Steven Wilson
Produced by STEVEN WILSON and DOUG ROGERS
Played by STEVEN WILSON, MARCO MINNEMANN, and LAURENCE JUBER
Includes over 60 Gigs of unique instruments, many of which have been mutated or processed beyond all recognition!
Includes Guitars, Basses, Keyboards, Ethnic Instruments, Drums
Recorded in the world famous EASTWEST studios
New FX section is included with Ghostwriter, and available as an optional upgrade for all other legacy EastWest Opus virtual instruments.
The FX section includes a SSL EQ and Dynamics Channel Strip, Transient Shaper, and SSL´s legendary Stereo Bus Compressor; Echoplex EP-1 Delay, Amp Simulator, plus an upgraded "true stereo" reverb from EastWest.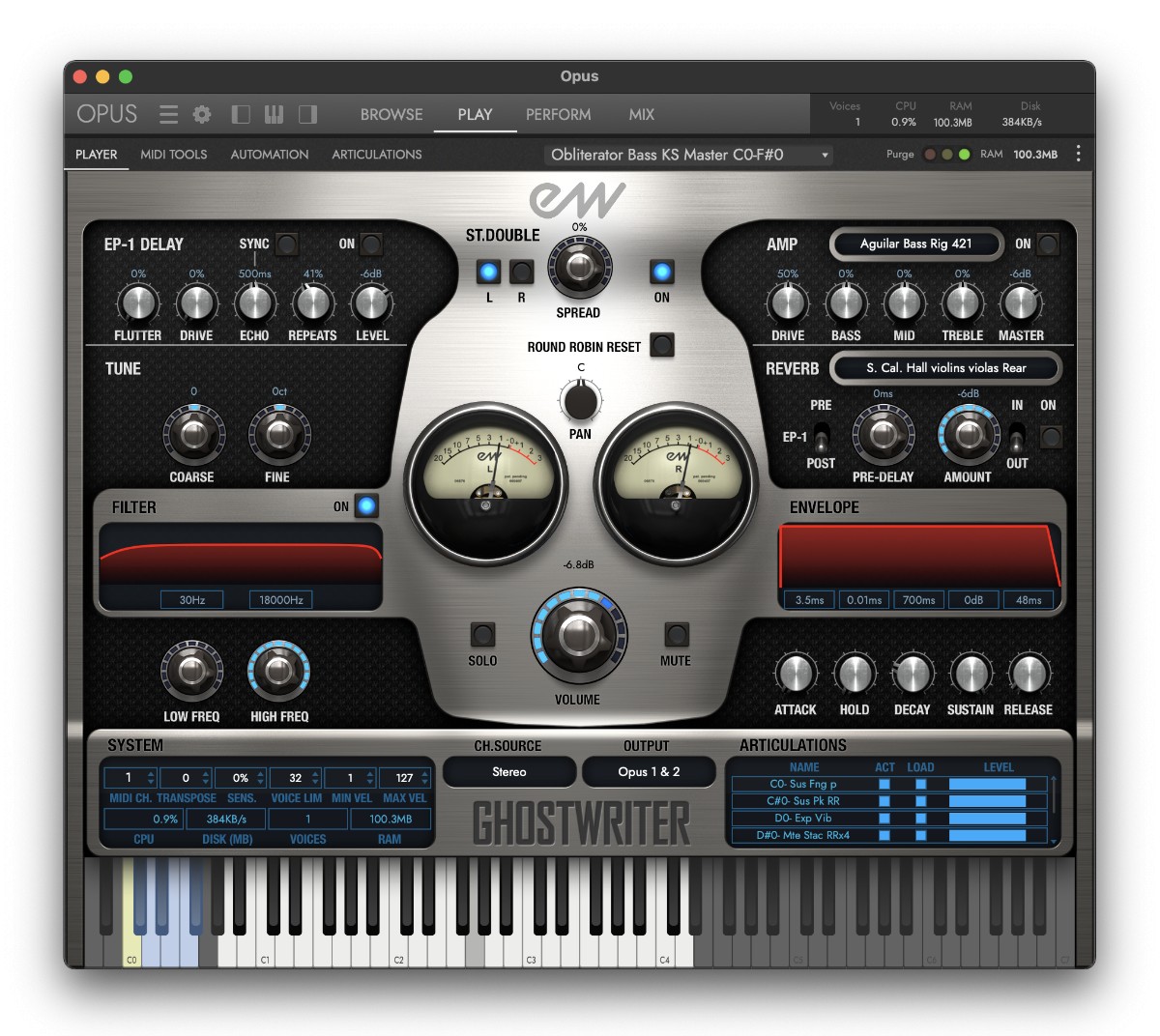 One of the most eclectic and prolific artists in rock music, Steven Wilson has been writing, recording, and producing music continuously since the early nineties. As leader of his band Porcupine Tree, and more recently as a solo artist, he has gained a reputation for his songwriting, experimentation, and sonic excellence. Since learning how to produce and record music on equipment made for him as a child by his electronic genius father in the 80´s, Steven´s passion has always been to experiment with the possibilities of sculpting with sound. Avoiding presets or existing samples, he has instead preferred to create unique sonic worlds, thus blurring the boundaries between sound design, song-writing, and record production. However, he also recognizes that not everyone has the time or inclination to spend so much time developing sound sources when working on their productions.
For the first time ever, this new virtual instrument presents many of Steven´s most innovative sounds, as well as a selection of especially created instruments and some replications of instantly recognizable classic sounds originally created by other legendary producers and engineers. These organic and inspirational sounds can be used as part of the fabric of complex music productions, or as the basis for cinematic soundtrack-based music, providing a ready-made selection of sonic building blocks with years of expertise and sonic innovation already embedded in them.
WHY GHOSTWRITER?
In music, a Ghostwriter is a composer who writes musical pieces or makes other contributions that are officially credited to another person. The concept of Ghostwriting (or "ghosting") goes back centuries, Wolfgang Amadeus Mozart was a well known composer paid to ghostwrite music for wealthy patrons. The practice is controversial as typically the Ghostwriter is not credited, but it´s widely practiced in our industry, particularly in the creation of film and television soundtracks. We feel it is an appropriate name for this project as Steven will be bringing his vast sound design and production experience to your music, but will probably never meet you, and as such is your Ghostwriter.
SOS 06/2014

Summary
Ghostwriter isn't really a ghostwriter, but its a fabulous ans inspiring range of contemporary but slightly unconventional instruments that any serious media composer or more experimental music producer could benefit from.
BEAT 06/2014

Fazit
Freilich ist Ghostwriter nicht in der Lage, Ihnen die harte Arbeit des Komponierens abzunehmen. Mit einer umfangreichen Sammlung charaktervoller und expressiv spielbarer Instrumente ist die Sample- basierte Workstation aber ein hervorragender musikalischer Ideenlieferant. Die aufgeräumte Bedienoberfläche unterstützt ein schnelles Arbeiten und die Play-Engine gestattet nicht zuletzt dank der erstklassigen Effektausstattung eine flexible Anpassung der Sounds.
This library includes "Opus" as a Sample-Player.
Mac:
macOS 10.13 or higher
64 bit
Quad-Core CPU (Octa-Core recommended)
2,7 GHz or higher
RAM: 16GB (32GB or more recommended)
SSD hard drive (SATA or PCIe)
Windows:
Windows 10 or higher
64 bit
ASIO sound driver
Quad-Core CPU (Octa-Core recommended)
2,7 GHz or higher
RAM: 16GB (32GB or more recommended)
SSD hard drive (SATA or PCIe)
Required Registration:
East West products require you to register with the manufacturer at www.soundsonline.com and with www.ilok.com to activate your license.
This product requires an activation!
You can either "soft" activate on your computer without addditional hardware or transfer the license to an iLok USB dongle which has to be purchased separately. The iLok dongle can be used to run the protected software on different computers. Your licenses can be easily manged using the iLok Licence Manager. To protect your investment against theft or loss we recommend the iLok Zero Downtime protection with TLC.
An internet connection on any computer and a free user-accout at www.ilok.com is required to authorize the product.
Please check with the software manufacturer which iLok version is required at least if you want to use a hardware iLok!