Bring Heavy Metal back to your Music
Three-Body Technology proudly presents Heavier7Strings 1.5.1, a real-time playable sample-based virtual instrument that brings back Heavy Metal to your productions. Equipped with a complete effect rack and a pattern library, this metal-style guitar library has everything you need!
The love for music, and a desire to create innovative studio technology was the mainspring that made Heavier7Strings possible. With total of 4 years in the making, using only top quality equipment, more than 10.000 samples were painstakingly recorded in 24-bit and 48 kHz. To top it all off Heavier7Strings comes with a self-developed sampler with no compromise on sound quality.
The Effect Rack
What is the first thing to do when one starts a virtual guitar? Usually it is to bypass all built-in effects, as they are mostly too primitive for any serious work. However, the effect rack provided in Heavier7Strings is complete and of production-level quality, not just a toy!

Effects Overview:
31 Heavy Metal Effect Modules: Screamer, EQ12, AMP, Flanger, Wah, Ping-Pong delay, etc.
16 AMPs with styles from heavy metal to clean sound, processing sample rate up to 8X
66 cabinet IRs, four can be mixed simultaneously with different delay, volume and phasing
Preset manager allows you to store your own effect presets, along with 200 factory presets
The effect rack can be used alone which is called "HeavierFX"
MIDI Pattern Library
Heavier7Strings contains a number of 300 predefined MIDI patterns, together with effect rack configuration. The style of these patterns ranged from metal, rock, pop, clean, and along with non-rhythmic noise and ambient sounds. All these patterns can be dragged into host DAWs, and users can define their own patterns by MIDI clip.

Patterns Overview:
300 factory MIDI patterns together with effect rack presets
Various styles: metal, rock, pop, clean, along with non-rhythmic noise and ambient sounds.
Draggable into host DAWs
Users can define their own patterns by dragging MIDI into
Samples and Sampler
The sampler used in Heavier7Strings is self-developed, no third-party samplers were used.
It has following characteristics:
Direct read from disk
Shared sample buffer between instances to reduce memory consumption
Automatic fade out on disk-read overtime to avoid clicks & pops.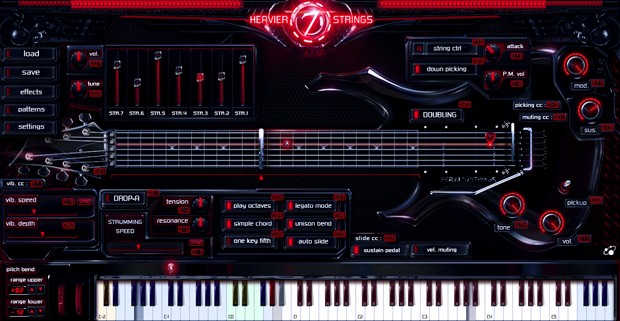 Built-in DSP Engine
A built-in DSP engine named THRASH (Tonal/Harmonic Reconstruction and Shaping) is included in Heavier7Strings to provide various tone adjusting functions:

+∞RR: in addition to 16x recorded RR at maximum, random timbre and envelope changes are applied on samples to provide more vivid RR playing;

True doubling: two guitars playing simultaneously on left and right channel, each has individual random note delay and RR selection.

Sample-based LFO: modulate sample pitch with pitch curves extracted from real-world vibrato playing. This technique is adjustable in both degree and frequency, and is more realistic than just modulate the pitch by sine/ triangle wave.

Dynamically recoups the formant during pitch-bend.

Digitally emulated tone knob and pickup switch;

Adjustable tension and resonance.
Performance
Infinite sustain
Hammer-on & pull-off
Legato slide in/out
Pinch harmonics
Tremolo
Gliss
Palm-mute
Picking-noise
Polyphonic legato
24 "inspiration keys" to directly trigger specially played sounds/complex performances
String and fret board position
Up/down picking
Strumming: deduce complete chord from part of composing notes
Trigger power chords from root note
Version 1.5.1 Features:
New "smooth" parameters have been added to Cabinet, which is rare in most convolution effects. It can flatten comb-like detailed structures in cabinet convolution kernels, and also smooth phase between different frequencies.
Cabinets also integrated simulation of room reverb. Designed to add some air feeling to an IR.
11 brand new effects. Including: MetalBall, Perry 65535+, SOLO 1000 and DualRectangle through new techniques of guitar AMP modeling. Intended for heavy metal and rock. Combined with two distortion modules added in version 1.2.
WahX is a new wah-effect modeled seven classical wah-wah pedal devices. The pedal can be controlled manually, or by LFO and envelope tracker.
Added more than 40 new patterns based on new effects.
Improved fret position detection.
Lower CPU usage using updated self-developed sampler
Try before you buy! Order your free Demo/Trial version with the following restrictions:
An instructive sound after first 2 minutes, then for every 20 seconds.
Modules in effect rack can be dragged into, but cannot be removed.
Global bypass cannot be used.
Presets cannot be saved, including guitar controlling presets and effect rack presets.
The state of Heavier7Strings is not saved when host DAW saves project.
The default assignment of MIDI CC cannot be changed.
Cannot export audio.
Btw. The demo version and retail version share the same sample file, so if you decide to purchase H7S after trying demo version, simply download the program file and you are good to go.
Sound Bytes Magazine 11/2017

Conclusions
Once I had gotten a grip on it, Heavier7Strings has been one of the most joyful instruments that I've used lately. It is not just a tool for creating angry metal riffs, but also for playing mad metal solo lines, sounding absolutely realistic with all the elements that you hear in most metal songs. I didn't elaborate on this part, but according to some third party demo clips, with some keyboard playing skills and a few CC/key-switch changes, it can be done perfectly. Playing chords and melodies with clean sounds is also quite enjoyable and surprisingly realistic. Some clean presets sound a bit 80's, but otherwise very impressive.
It's one of the best heavy guitar recreations that I've heard and tried in the last decade – and I've heard and tried quite a few of them. Even if you are a guitar player, sometimes it is quite a bit easier to use such an instrument. And if you are not, and you are looking for such an addition to your sound arsenal, then this is a must.
Alex Arsov

---

Jordan Rudess
Keyboardist "Dream Theatre"
"Heavier7Strings is absolutely unbelievable! It rocks so hard that I can hardly believe that it´s coming from a keyboard."
---

Neil Zaza
Melodic Instrumental Guitarist
"I´ve been looking for a product like Heavier7Strings for a long time! With H7S I can work on my productions on the road with my laptop trying out different guitar parts and arrangements with ease, without my guitar in hand! Composing is a breeze with H7S as I can audition my ideas instantly to see if they work and because the information I enter is MIDI, I can then export the MIDI data to my guitar tab program or other VST instruments. The most impressive is the sound, H7S sounds incredible! This VST is really something special!"
Mac:
macOS 10.9 or higher
64 bit
Intel core duo
RAM: 4GB
Windows:
Windows 7 or higher
32 bit & 64 bit
Intel core duo or AMD Athlon 64
RAM: 4GB
Required Registration:
Three-Body Technology products require you to register with the manufacturer at www.threebodytech.com to activate your license.
This product requires an activation!
An internet connection is required to authorize / activate the product.