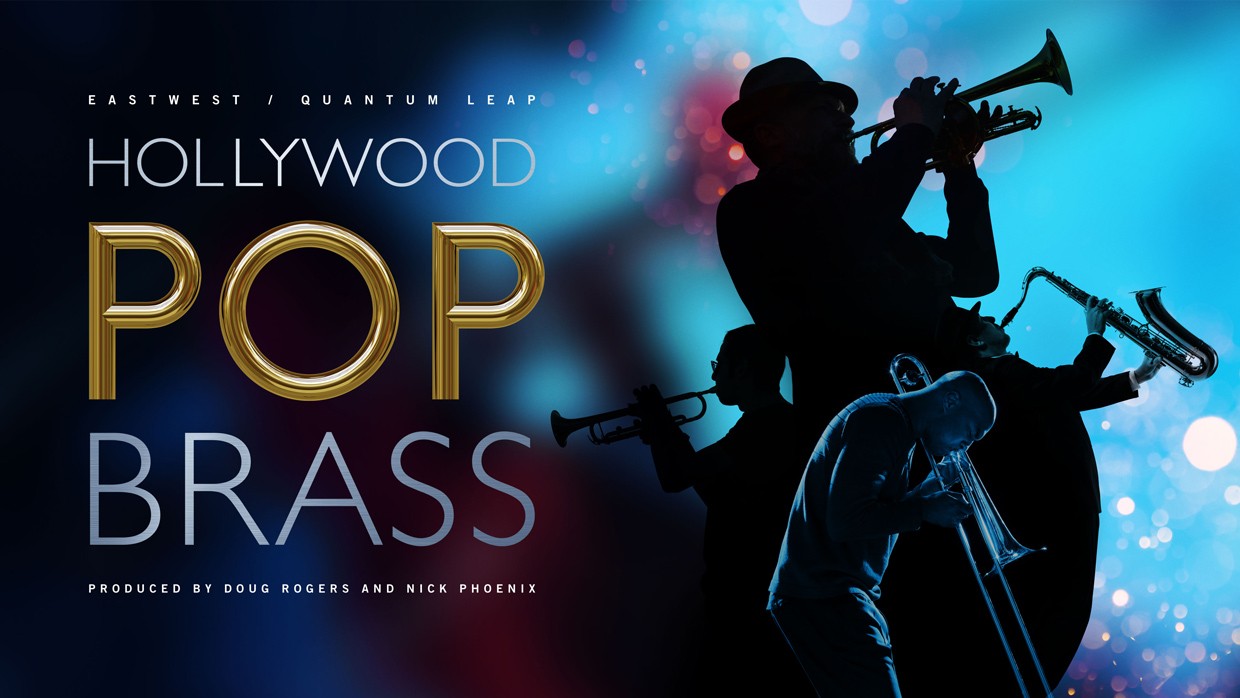 Tight, bombastic, and dynamic Brass Section
For this project, producers Doug Rogers and Nick Phoenix recorded one of the top horn sections in the industry in EastWest's famous Hollywood studios, and brought in multiple Grammy award-winning engineer Moogie Canazio to craft a sound that's larger than life. Moogie Canazio has recorded music icons Ray Charles, Sarah Vaughan, Sergio Mendes, Diana Ross, Luis Miguel, Michael Buble, Melody Gardot, and many more. He's been nominated for over 35 Grammy nominations and has won 7 Grammys and Latin Grammys.
Hollywood Pop Brass features a 4-piece brass ensemble for all main articulations that includes 2 trumpets, a trombone, and a saxophone that alternates between a baritone, tenor, and alto saxophone depending on the note range, and a 5-piece ensemble for all phrases and licks that includes 2 trumpets, a trombone and 2 saxophones that alternate between a baritone, tenor, and alto saxophone depending on the instrument voicing.
It includes incredible sounding multi-sampled ensemble sections recorded in the famous Studio 1 at EastWest Studios ("the best brass recording room in the world" according to Michael Jackson engineer Bruce Swedien) as well as stylized phrases and licks in multiple keys recorded in Studio 2, a favorite of many Latin artists going all the way back to Tijuana Brass by Sergio Mendes and Brasil 66. These phrases will simply blow you away with how easily they slide right into your track, and cover many genres from pure pop to rock, funk, soul, and many distinctive rhythms and melodies from the Latin world.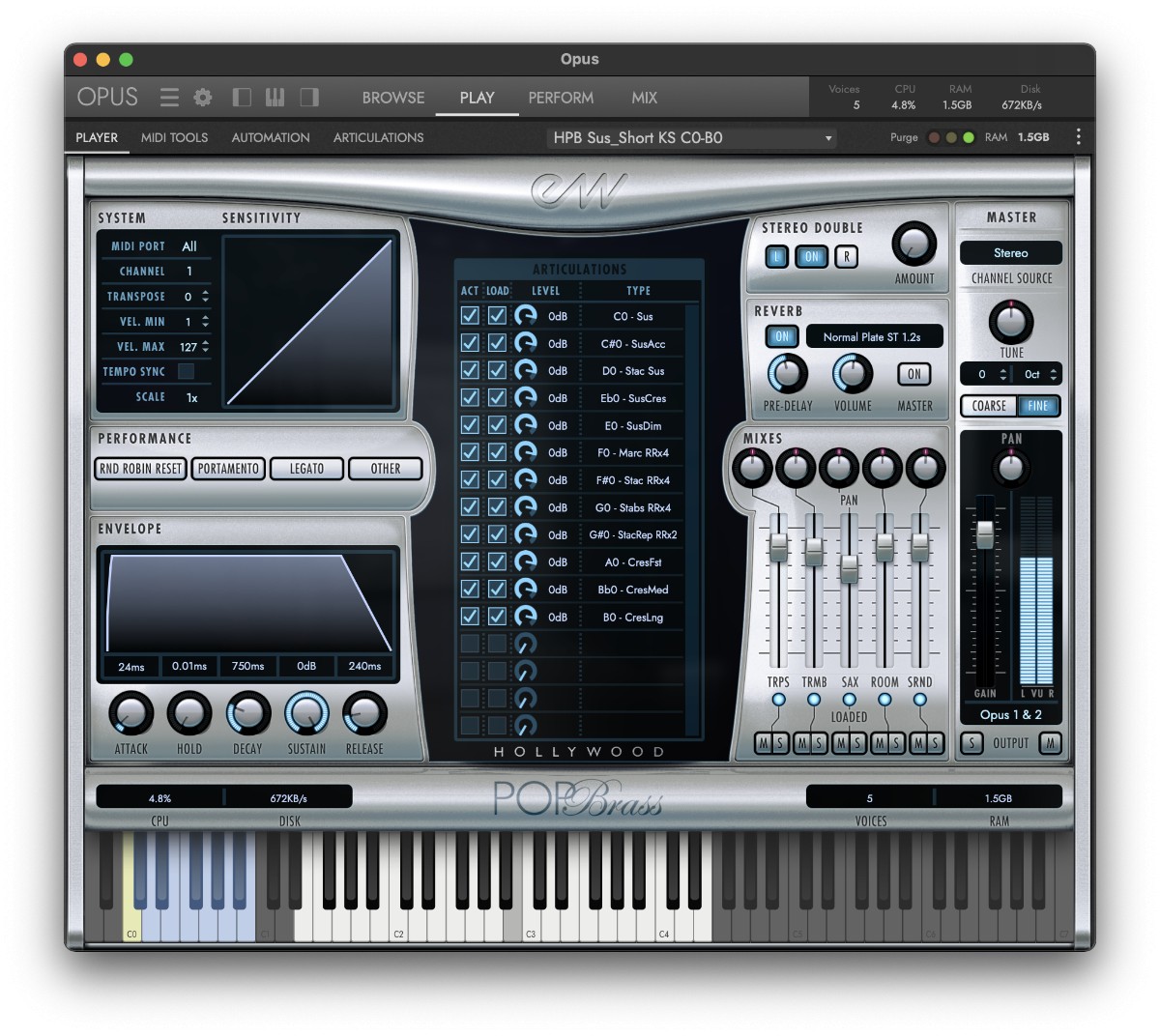 Hollywood Pop Brass was created for one simple reason - there's just nothing else out there on the market that instantaneously gives you that fiery, punchy pop brass sound that made songs like Uptown Funk such mega hits. The great thing about this library is that there's something for everyone - whether you want to build deep and detailed orchestrations with one of the world's top horn sections, or if you just want to "plug and play" using licks and phrases that will inspire you and bring that "it" factor to your song. It's the ultimate ensemble pop/Latin brass collection that will leave you screaming, hollering, and begging for more.
Hollywood Pop Brass includes the articulations listed below. Most include multiple dynamic layers, up to 8 round robin sample alternatives, and a variety of instrument programming options to accommodate a variety of playing styles.
Sustain: Contains different types of sustained articulations: fast, medium and long crescendos, sustain accent, crescendo and diminuendo, and "xfde" ver- sions of instruments that use Mod Wheel (CC1) to cross-fade between dynamics. Each contain 2 dynamic layers, and use Expression (CC 11) to control loudness.

Short: Contains a variety of articulations that have a short duration, including marcato, stabs, staccato, and staccato repetitions. Each include round robin variations, use velocity-sensitivity to control dynamics and Expression (CC 11) to control overall loudness.

Effects: Contains instruments that feature special articulation techniques like falls and rips in various durations, as well as growls and trills. All but growls contain multiple round robin variations.

Legato: Contains an instrument that will playback true legato intervals when two notes are played in a connected fashion (legato), for every interval up to and including an octave in either direction. When playing disconnected (non-legato), a sustain layer will playback.

MOD Combo: Contains instruments that combine multiple articulations and uses the Mod Wheel (CC 1) to select between them. A 'VS' (velocity-sensitive) instru- ment named HPB Shorts VS MOD.ewi alternatively uses velocity to select between articulations and Mod Wheel (CC 1) to determine dynamics.

Phrases: Contains instruments that feature phrases and sub-phrases in various tempos that fit perfectly in the world of pop brass. Each was recorded with multiple transpositions, and are mapped across the virtual keyboard on their respective root note positions for use in a variety of key signatures.

Licks: Contains instruments that feature short licks (or "motifs") performed at 120 bpm that fall into 1 of 6 chord types. The position of the Mod Wheel de- termines which of the chord types will playback. Each lick has 2 round robin variations and is mapped to the key that corresponds to the respective root note position of each chord type.

Keyswitch: Keyswitch contains instruments that combine multiple articulations into a single instrument and uses keyswitches to activate the desired articulation.
This library includes "Opus" as a Sample-Player.
Mac:
macOS 10.13 or higher
64 bit
Quad-Core CPU (Octa-Core recommended)
2,7 GHz or higher
RAM: 16GB (32GB or more recommended)
SSD hard drive (SATA or PCIe)
Windows:
Windows 10 or higher
64 bit
ASIO sound driver
Quad-Core CPU (Octa-Core recommended)
2,7 GHz or higher
RAM: 16GB (32GB or more recommended)
SSD hard drive (SATA or PCIe)
Required Registration:
East West products require you to register with the manufacturer at www.soundsonline.com and with www.ilok.com to activate your license.
This product requires an activation!
You can either "soft" activate on your computer without addditional hardware or transfer the license to an iLok USB dongle which has to be purchased separately. The iLok dongle can be used to run the protected software on different computers. Your licenses can be easily manged using the iLok Licence Manager. To protect your investment against theft or loss we recommend the iLok Zero Downtime protection with TLC.
An internet connection on any computer and a free user-accout at www.ilok.com is required to authorize the product.
Please check with the software manufacturer which iLok version is required at least if you want to use a hardware iLok!