The first of its kind
"Hypernode" is the most feature-complete full production package for Kontakt ever made and entire songs can be made from scratch using the system in a variety of modern styles including:
Pop
Dance
Ambient
Chillout
Downtempo!
With almost 12GB of content, all instruments offer flexible sequencers, automation, five freely assignable insert effect slots, convolution reverb and more. You can even modulate insert effect parameters via the included sequencers!
Create the perfect sounds, sequence them all together and then create an intro, verse, chorus, bridge, middle 8, fills and outros all inside the system!
Modular-Mania!
Each multi instrument in "Hypernode" is called a "style" and can be seen like a whole song complete with intro, chorus, verse and so on. You can edit any part, section and / or sounds of each multi to your liking.
Hypernode ships with over 600 factory sounds (24 bit, 44 khz), ranging from keys, to guitars, to synthesizer, to hybrids - you can edit every aspect of the sounds.
All instruments offer flexible sequencers, automation, five freely assignable insert effect slots, convolution reverb and more, you can even modulate insert effect parameters via the included sequencers!
Accompaniment & Bass
Accompaniment Module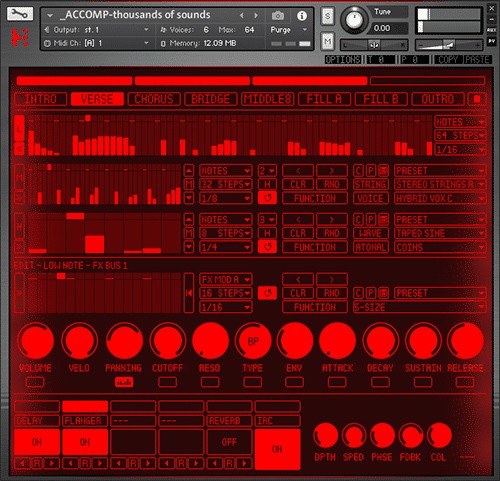 The Accompaniment module is the true heart of Hypernode.
Hypernode Accompaniment will instantly sort all pressed notes from low to high as you play and map them to the three built-in note sequencers at the top section.
Each Hypernode Accomp note section (low, mid, high) features a selectable output FX BUS, a harmony hold function which causes the first pressed note(s) to stay at the same pitch as long as the "H" button is pressed.
Each note section offers control over the amplifier and filter envelope, panning, volume, velocity to volume amount, cutoff, resonance, type and filter envelope amount.
Sounds for the individual note sections can be chosen by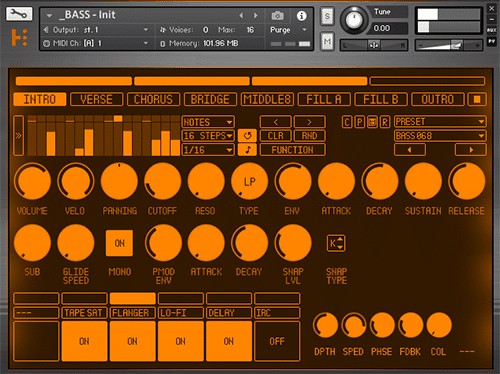 category – Atonal, Wave, String, Wind, Pluck and Voice.
Each note section can play two sounds at the same time.
Bass Module
Filled to the brim with 128 different driving, gritty electronic basslines, this module provides the foundation to all your compositions, and just like all the other modules this one can be endlessly tweaked to suit your needs!
Kickdrum & Percussion
Kick Module
The Hypernode Kick module is the beating heart of your creation - powered by the same effects like all modules.
It features a fully modelled sound-engine with adjustable kick tuning, decay, pitch modulation and 26 types of additional click shapes and noise to add realism.
Besides the normal modulation tables, you can sequence up to three engine parameters at once and per pattern.
Percussion Module
The Hypernode Percussion module features five hybrid engines. Each combines samples with acoustic modelling.
The clap engine features 26 different samples for the attack and the decay of the modelled clap. Besides this there is a noise layer as well. A hand clap knob to dial in sampled hand claps with 63 round robins is included as well. All layers can be mixed and blended the way you want them.
The cymbal engine features 26 different samples for the splash and the decay of the modelled cymbal. This technique can create a vast array of interesting cymbals.
The snare engine is modelled after a physical snare drum. You can blend in tone and body noises freely and have access over small details like the initial snap (hit) sound of the snare as well as the smash itself.
Additionally, there is a noise sample layer to create interesting hybrid snare sounds easily. You can also easily create dampened snare or stick sounds as well.
The tom engine brings you modelled tom sounds. You have full control over the body (tone) of the toms as well as the "snap" (click) sound that occurs when you hit a tom with a stick. And again, as an addition, you can blend in various noise samples to drastically change your tom sound.
Harmony, Lead & Pad
Lead Module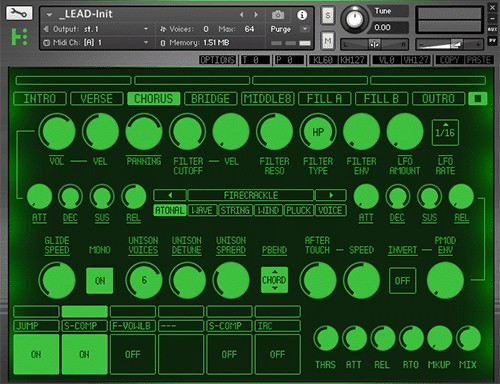 The Hypernode lead module includes all the 600 Hypernode sounds and features control over volume, velocity to volume, panning, filter cutoff and resonance, filter type and more.
You have two envelopes for volume and pitch modulation. Besides this there is true mono legato, gliding with adjustable speed, 8x times unison and some unique pitchbending modes.
You can have a different sound for each pattern as well.
Harmony Module
Besides all the features of the lead module, the harmony module works by analysing the pressed chords on the lower section of the keyboard and generating suiting harmony voices to your melody playing.
Pad Module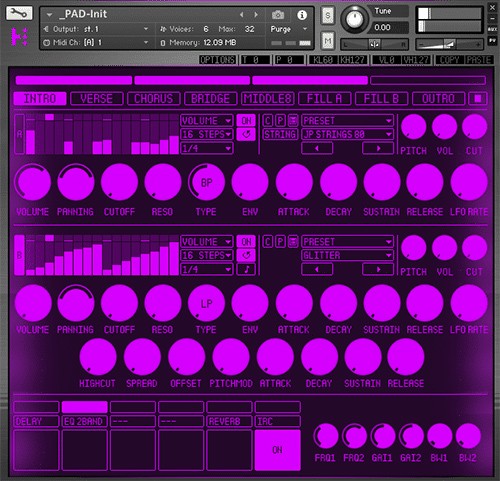 The Hypernode pad module delivers astonishing sounds utilizing its dual layout. It comes with full access to all the Hypernode sounds (600 sounds) and also has a dedicated pad library (128 sounds) - pads, textures and ambiences.
Combine that with complete sequencing control over any parameter – you can create fantastic sounds in no time.
Each layer features full control over effects, envelopes and even a built in LFO for pitch, volume or cutoff modulation. It also has the same insertable effects units as the other modules (for each layer).
Requires full version of Native Instruments' Kontakt 5.7.1 or higher.

Please notice: This library can not be used with the free Kontakt Player! To use this "Open Kontakt" format, you need a full version of Kontakt, which is included in products such as Komplete or Komplete Ultimate.
The minimum required Kontakt version number for this product is stated in the product description or can be found on the developer's website.
System Requirements:
Mac:
macOS 10.14 or higher
64 bit
Intel Core i5 or Apple M1 (native)
RAM: 4GB (6GB recommended)
Windows:
Windows 10 or higher
64 bit
Intel Core i5 or similar CPU
RAM: 4GB (6GB recommended)
Supported Interfaces:
Mac (64-bit only): Stand-alone, VST, VST3, AU, AAX
Windows (64-bit): Stand-alone, VST, VST3, AAX
Legacy Versions:
If you require legacy installers of Kontakt Player please refer to this Knowledge Base Article.
Required Registration:
Rigid Audio products require you to register at www.lootaudio.com to activate your license. To use Kontakt Player Libraries you also need to register with www.native-instruments.com.
For your own protection this library is provided as individual personalized files including a Digital Water Mark - DWM!