Take Shape
Transient shaping is the key to getting your audio upfront and punchy. Whether it's adding extra power to your kicks, or taming the tails of your synth lines, a decent transient shaping plugin should be an essential part of your music making arsenal.
Imprint is an innovative multiband transient designer featuring real-time display, 3 frequency bands, adjustable crossover points and advanced parameters. Running in all major plugin formats for Mac and PC, Imprint will add upfront definition to any audio with a range of useful presets and intuitive user controls.
Features
Multiband Transient Shaper

3 Frequency bands with adjustable crossover and gain

Over 20 Creative Presets for bass, drums, vocals, mastering and FX

Click free bypass control per-instance and per-band

Advanced transient character controls: width / smooth / attack / release

Output level and master gain control

Real-time waveform display

Resizability

Presets manager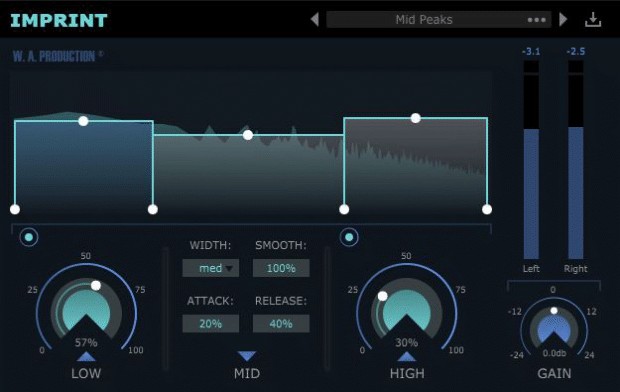 3 Band Transient Shaping
The flexible three-band workflow boosts transients that occur in different frequency ranges. The multiband graphic interface makes it easy to set the crossover points and gain of each band. The mix controls of each band boost the transient content in the selected frequency range (plus useful bypass controls).
Power
The Imprint logo acts as a bypass control for the whole plugin, and is smoothed to be click and pop free for unhindered A/B testing.
Advanced Controls : Width / Smooth / Attack /Release
Every band has an advanced panel that can be accessed through the triangular shaped control below the mix controls. The advanced parameters include peak width, smooth, attack and release controls so that you can tweak the behaviour of the transient boosting effect. The width control allows you to set the width of the peaks you want to target. The smooth control lets you smooth out those peaks for a more subtle effect. In addition, the attack control dampens the transients and the release allows you stretch the generated gain boost over time for a more extreme effect. Combined, these four features give you precise control over the generated gain boosts.
Presets
Over 20 factory presets are designed to get you up and running quickly, with tailored settings for many types of instruments, mastering chains and special FX. These are all easily accessible from the plugin menu and of course, you can save you own settings as user presets too.
The intuitive multi-band transient shaping controls give lifeless tracks punch, power and definition. Impact is your quick and easy solution to surgical transient shaping where regular plugins just won't do.
Mac:
macOS 10.15 or higher
64 bit
Windows:
Windows 8 or higher
64 bit
Required Registration:
W.A. Production products require you to register with the manufacturer at www.waproduction.com to activate your license.
This product requires an activation!
An internet connection is required to authorize / activate the product.