Immersive Reverb Workstation
Inspirata Immersive Edition is an immersive reverb workstation providing flexibility never before seen in sampled reverbs. The Immersive Edition is the flagship version of the Inspirata product family supporting surround configurations up to 22.2 and ships with a growing content library created at unprecedented spatial resolution to match even the most demanding applications. Inspirata Immersive also comes with a lifetime plan to receive all future room content created by Inspired Acoustics at no charge.
Inspirata is the culmination of many years of research and development by practicing acoustic consultants. The goal was to create a shockingly realistic and immersive sound experience that included tools and measurements previously only taken into account by acoustic professionals. From those years of research, data evaluation and testing comes Inspirata, the ultimate next-generation reverb workstation.
With Inspirata, you can:
Choose from a wide variety of real, acoustic spaces sampled in unprecedented detail. Iconic concert halls, theatres, places of worship, simple and natural domestic spaces and unique venues for postproduction.

Move around your sound sources and listener position in the selected space until finding the sweet spot for your mix. Work as if you were physically in that room, positioning the sound sources, or instruments, where you want, and listen from where you want.

Adjust real acoustic parameters that define the acoustic properties of a space and that truly matter to our hearing.

Choose from a massive list of surround mix options up to 22.2, including Dolby Atmos® (available configurations vary between different Editions of Inspirata).

Place multiple sound sources in the selected space (maximum number varies between different Editions of Inspirata)

Automate parameters and even microphone and sound source positions in real time with smooth and artifact-free operation.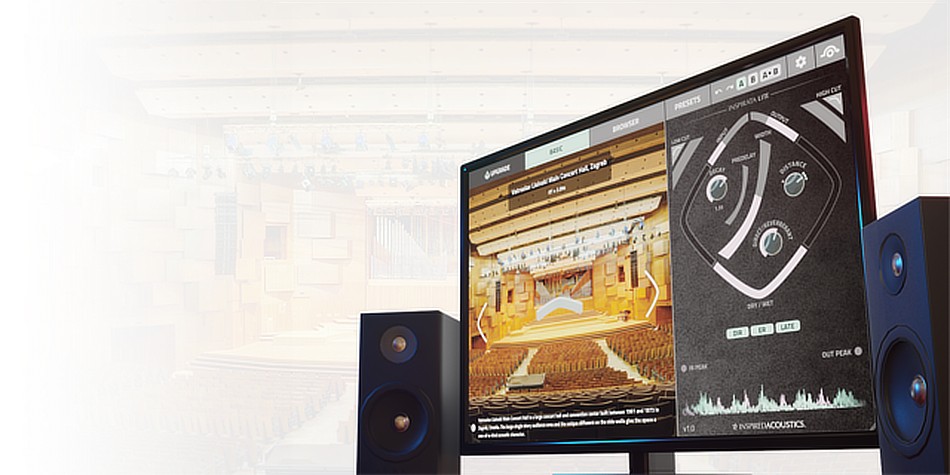 Details
Vast content library for music and post production - From the pristine sounds of historic spaces, lush reverberant environments of medieval cathedrals to legendary music clubs, INSPIRATA comes with a growing library of real space content. Many are available for the first time in history and many of them have never been experienced in such detail.

Limitless positioning, smooth movement - Moving virtual sound sources on stage or adjusting the listener position using a sample-based reverb processor was not possible without limitations, until now. In a musical context, now you can move your sound sources and listener to find the optimum recording and mixing locations. Move an instrument slightly backwards on stage for a better balance, or move it closer for more clarity. In post-production you can use INSPIRATA to automate the movement of your sound sources in every space, from close to far, left to right, as well as any of the acoustical parameters. The sound will instantly follow and sound the same as if you were in the space - only without the environmental noise. This unprecedented feature makes INSPIRATA a true workstation for spatial sound.

Revolutionary spatial controls - In INSPIRATA, we make it possible for you to control parameters that really matter to your ears - you can directly adjust acoustics and the sound of the space instead of the indirect properties that have no change to the sound. Gone is the time when you needed to bother with hall size, wall diffusion or decorrelation only to get different results in each space. You now have full and independent control on how wide your sound source is in the space, how much of the blended sound reaches you, and how much it envelopes around your ears. Spatial room acoustical parameters such as apparent source sound width (ASW) and listener envelopment (LEV) are controllable for the first time directly in any reverberation solution. In addition to these revolutionary controls, you can also adjust the orientation of your speaker feeds in space - facing your stereo or surround setup to any direction. And you can change and automate all of these in real time.

Direct control of sound clarity - In INSPIRATA, reverberation time and sound clarity are adjustable independently, in each space, using a single dedicated control for each. Despite these parameters not being totally independent, INSPIRATA pushes the limits and optimizes the reflections one-by-one to match the desired settings. The basis of the method of changing sound clarity (C80) has been published in an award-winning research paper by our team, and for the first time, it is now available in a real-time implementation.

Controls of the reverberation time - Reverberation time, the mother of all acoustic parameters, is an important aspect of how long the decay lasts. But there is no single reverberation time in a hall, and no single number at a given frequency. In natural spaces, the reverberation time varies slightly location-by-location, and this is fully preserved in INSPIRATA. Not only is the variation reproduced to accuracy, but also the non-exponential nature of the decay of natural spaces to a dynamic range fully covering the theoretical possibilities of sound reproduction. In real spaces, there is not only a spatial but also a frequency dependency of the reverberation time. Deep tones usually reverberate for a longer time while higher-pitched sounds fade away more promptly – due to, for example, the absorption of the sound of the air in large volumes. The frequency-dependent nature of the reverberation time directly affects the overall tonal footprint of your sound. By using intuitive controls for setting the reverberation time in a frequency-dependent nature or by tilting the controls to be more bass or treble-heavy, you can fine-tune how the space matches your mix with just a few clicks and achieve a level of warmth or brightness otherwise unimaginable.

Surround Support - INSPIRATA supports multi-channel audio by design. With INSPIRATA you can upmix your mono sound source to a wide variety of 3D surround configurations. The upmixing is done by the natural acoustic space itself. You can apply reverberation to surround audio or multi-channel audio for instruments or instrument groups, and deliver in any surround format that you desire with just a few single clicks.
Mac:
macOS 10.11 or higher
Intel Core i7
RAM: 4GB
Windows:
Windows 7 or higher
Intel Core i7
RAM: 4GB
Required Registration:
Inspired Acoustics products require you to register with the manufacturer at www.inspiredacoustics.com to activate your license.
This product requires an activation!
An internet connection is required to authorize / activate the product.