Detail | Clarity | Density | Loudness
INTENSITY is a new kind of audio processor for mixing, mastering and sound design. Built on techniques typically found in facial recognition algorithms, INTENSITY brings out a sound's inherent detail, increases its perceived loudness and density, and adds insane amounts of clarity. The unique algorithm carves out important signal features – making sounds sound more like themselves – and is operated with essentially one control. Between the proprietary algorithm and an optional soft-knee saturating limiter in the plugin's output stage, INTENSITY also excels at attaining maximum loudness and creating a beautifully aggressive tone.
The key INTENSITY features at a glance:
Mastering-grade processing for more detail, clarity, density and loudness.
Intuitive and fast workflow using a streamlined set of controls.
Proprietary INTENSITY circuit with optional frequency-dependent BIAS function.
Additional precision soft-knee saturating limiter at the output stage.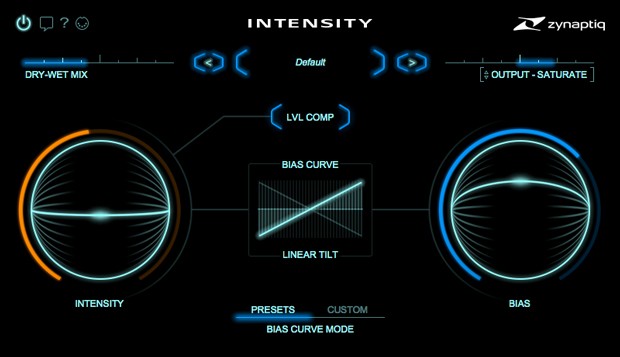 Think "Compressor"
So what IS this thing, then? You can think of INTENSITY like an infinite-band compressor operating in relative terms – whose time constants are zero, and which is controlled by an artificial intelligence at audio rate – making it possible to adjust the process with essentially just one knob.
Or Actually, do NOT Think "Compressor"
Well, except that this description would be completely inaccurate, as INTENSITY is absolutely NOT a compressor, and works in a completely different way. There's no RMS detector, no threshold, no ratio, no attack or release time. It doesn't pump or modulate in any other way. It doesn't overshoot and it works regardless of absolute levels and input type.
That said, the compressor analogy does serve to give you an idea of when to use it and what for.
Across the Board
INTENSITY is equally suited for processing individual tracks like speech, SFX, instruments – including guitars, bass and piano – as well as full mixes, multi-channel film stems, drum busses, and other complex content. This makes INTENSITY an indispensable tool for music producers, mastering engineers, sound designers, video producers, broad/podcasters, forensics professionals, audiophiles, or virtually anyone to quickly and easily add clarity, definition, and perceived loudness to their audio projects.
Mac:
macOS 10.15 or higher
Apple Silicon CPU, Intel CPU with at least 2 Cores (Intel i7 or higher recommended)
Windows:
Windows 10 or higher
CPU with at least 2 Cores (Intel i7 or higher recommended)
Required Registration:
Zynaptiq products require you to register with the manufacturer at www.zynaptiq.com and with www.ilok.com to activate your license.
This product requires an activation!
You can either "soft" activate on your computer without addditional hardware or transfer the license to an iLok USB dongle which has to be purchased separately. The iLok dongle can be used to run the protected software on different computers. Your licenses can be easily manged using the iLok Licence Manager. To protect your investment against theft or loss we recommend the iLok Zero Downtime protection with TLC.
An internet connection on any computer and a free user-accout at www.ilok.com is required to authorize the product.
Please check with the software manufacturer which iLok version is required at least if you want to use a hardware iLok!