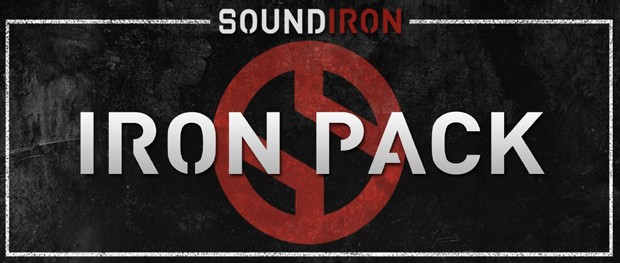 The Soundiron "Iron Pack" series is a line of compact, affordable, unique and great-sounding virtual instrument libraries for Kontakt and universal SFZ formats.
Iron Pack #01: Grand Piano
This pack is built on sounds cultivated from the Emotional Piano. With 100 MB of content, and 12 instrument presets for both Kontakt and SFZ, this handy kit offers a beautiful collection of atmospheric pads and mutated piano tones. It features a 10 creative sustaining and tuned percussive banks hand-crafted by warping the raw source, plus a pair of lightweight low-memory acoustic grand piano patch to give a tiny, playable preview of our premier Emotional Piano.
Iron Pack #02: Turkish Guitar
Volume 2 focuses on sound designed presets crafted from our Acoustic Saz library. At 119 MB, this great soundset offers 12 beautiful atmospheric pads and mutated acoustic saz string pluck tones, plus an simple yet beautiful sounding low-memory acoustic saz "Turkish Guitar" patch to give you a small, fully playable preview of our Acoustic & Electric Saz libraries.
Iron Pack #03: Metal Tones
Pack 3 features 14 creative tuned percussion and atmospheric instruments (147 MB)- both short and sustained, each carefully sculpted from natural recordings we've made from a wide variety of resonant metal objects and surfaces. These highly flexible patches are perfect for all styles of music, from soundtrack scoring, to experimental and atmospheric music. The final preset in the set is an awesome metallic "drum kit", assembled from our huge Rust 3 metal library.
Iron Pack #04: Children's Choir
Pack 04 features 11 creative choral pads, synths and atmospheric instruments designed using symphonic children's choir recordings (88 MB). These highly flexible patches are perfect for any musical genre or sound design job. We've also included an inspiring and angelic boychoir sustain patch, with dynamically blended Ah and Oo vowels. It serves as a great introduction to our Mercury Symphonic Boychoir.
Iron Pack #05: Baritone Guitar
Iron Pack 05 is built on a collection of electric baritone guitar multisample recordings previewing a future Soundiron release that we're currently working on. This edition features 12 unique plucked 6-string notes, evolving pads and atmospheric instruments, with over 200 MB of content. The natural plucked sustain presets encompass the baritone guitar's natural range and beyond - both clean and distorted - while the ambient and sound designed content takes the sound in whole new directions.
Iron Pack #06: Wooden Flutes
Iron Pack 06 features 12 unique ambient pads and experimental tonal drones created from manipulated traditional Indian Venu and Native American wooden flute recordings. There are also two acoustic flute instruments, with playable chromatic sustains and live phrases, trills and effects. This 214 MB library for Kontakt and SFZ includes 50 standard pcm wav samples that can be used in any .wav-compatible environment.
Iron Pack #07: Soprano Voice
Iron Pack 07 features 11 unique ambient pads and tonal drones created from our premier solo soprano library, Voice Of Rapture: The Soprano , featuring vocalist Nichole Dechaine. There are is also two additional classic acoustic vocal presets, with playable chromatic Ah vowel sustains and a selection of live performance phrases. This 131 MB library for Kontakt and SFZ includes 51 standard pcm wav samples that can be used in any .wav-compatible environment.
Iron Pack #08: Tuned Glass
Iron Pack #8 is built on a tuned chromatically recorded hand-played water vase set. It's a crisp, yet warm tuned percussion instrument, with a rounded attack and crystalline sustain. In addition to the acoustic preset, there are also 11 unique ambient pads, leads and atmospheres, each created using the raw source recordings. This 157 MB library for Kontakt and SFZ includes 65 standard pcm wav samples that can be used in any wav-compatible environment.
Iron Pack #09: Fat Analog
Iron Pack #9 was created with premium analog hardware, including an Elektron Analog Four and various filters and effects. The circuitry is modern, but each of the 12 custom patches designed by our own Spencer Nunamaker was inspired by classic vintage sounds, with the full body and warm you expect from analog synthesis. And each patch includes an array of easy controls and FX options to radically reshape the sound into your own fresh mutations. This 177 MB library for Kontakt and SFZ includes 66 standard pcm wav samples that can be used in any wav-compatible environment.
Iron Pack #10: Tortue Amour
Rare Galapagos Tortoise mating calls recorded Tortoises recorded at Austin Zoo & Sanctuary in Texas. These playable vocalizations come with 4 dynamic layers and up to 8 round-robin. they sound especially beefy when pitched down, making this library great material for creature sfx. The source has also been warped into a big selection of 33 unique musical ambiences, atmospheric textures, drones and pads. It's 350 MB installed, with 36 presets and 66 samples.
Iron Pack #11: Irish Penny Whistle
This pack features a chromatically sampled alto penny whistle. The tin whistle falls into the fipple flute family, similar to recorders and Native American flutes. The flute was recorded dry, capturing standard sustains, vibrato, flutter tongue and trills, as well as staccatos (4x round-robin), short performance phrases and effects. The library also comes complete with plenty of sound designed ambiences and flute atmospheres. It's 140 MB installed, with 14 presets and 128 samples.
Iron Pack #12: Prepared Acoustic Guitar
This pack brings you a range of different prepared acoustic guitar string plucks. Each string was prepared with various bits of metal wires, scraps, nuts and bolts. You also get a cool set of 14 different synth leads, ambiences and evolving atmospheres wrought from these highly distressed strings. It's 165 MB installed, with 33 presets and 37 samples.
The Kontakt format nki presets in these libraries are designed for the full retail version of Native Instruments Kontakt 4.2.4 or later.

Please notice: This library can not be used with the free Kontakt Player! To use this "Open Kontakt" format, you need a full version of Kontakt, which is included in products such as Komplete or Komplete Ultimate.
The minimum required Kontakt version number for this product is stated in the product description or can be found on the developer's website.
System Requirements:
Mac:
macOS 10.14 or higher
64 bit
Intel Core i5 or Apple M1 (native)
RAM: 4GB (6GB recommended)
Windows:
Windows 10 or higher
64 bit
Intel Core i5 or similar CPU
RAM: 4GB (6GB recommended)
Supported Interfaces:
Mac (64-bit only): Stand-alone, VST, VST3, AU, AAX
Windows (64-bit): Stand-alone, VST, VST3, AAX
Legacy Versions:
If you require legacy installers of Kontakt Player please refer to this Knowledge Base Article.
Required Registration:
Soundiron products require you to register with the manufacturer at www.soundiron.com to activate your license. To use Kontakt Player Libraries you also need to register with www.native-instruments.com.
For your own protection this library is provided as individual personalized files including a Digital Water Mark - DWM!