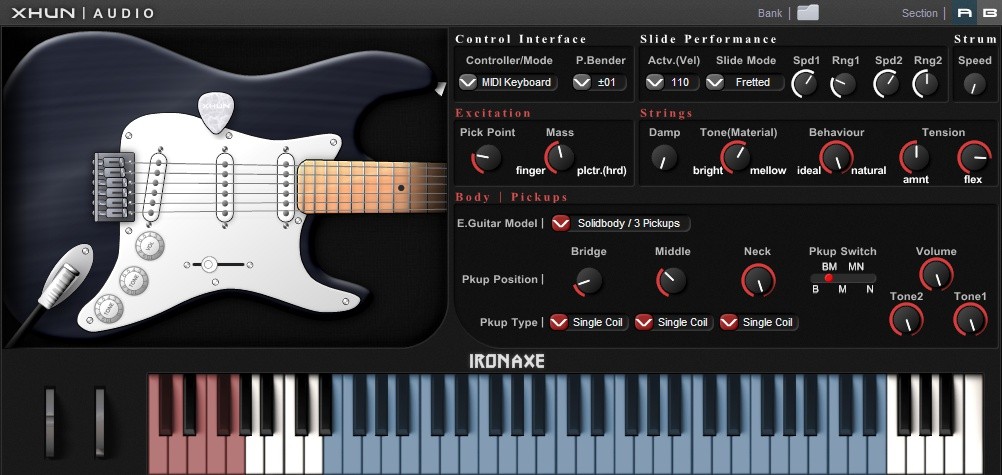 IronAxe - alive guitar for an unparalleled realism
IronAxe is a high-end Physical Modeling simulation of one of the most popular and loved electro-acoustic instruments of all time : the Electric Guitar.
Features
Physical Modeling simulation of real electronic and acoustic components

An all-in-one complete Electric Guitar + FX / Stompboxes + Amp / Cabinets setup

Choose your Guitar model : Solidbody with 2 or 3 Pickups

Excitation modeling : select the Plectrum hardness or pluck a String with fingers at any point along its lenght

Strings modeling : independent simulation of each of the 6 (different) strings, with the possibility to choose strings material, set tension values and other

Pickups modeling : select Pickups type (single-coil, humbucker, steelplate), number and place them into Guitar's body

KeyPerformer Engine : perform complex Strums, Phrases and Riffs with ease and in true real-time, using only a standard MIDI Keyboard

StringsToucher Engine : play/touch each of the 6 virtual Electric Guitar strings individually and in true real-time, for true-to-life arpeggios using only a standard MIDI Keyboard

Four insert effects slots, featuring 10 analogue modeled Stompboxes

Amp/Cabinet simulation, featuring 6 legendary Cabinets

Full MIDI CC#s mapping
Mac:
macOS 10.7 or higher
64 bit
Windows:
Windows 7 or higher
32 bit & 64 bit
Required Registration:
Xhun Audio products require you to register with the manufacturer at www.xhun-audio.com to activate your license.
This product requires an activation!
An internet connection is required to authorize / activate the product.