The latest in a series of critically acclaimed virtual pianos from Synthogy.
Played and recorded by many of the world's great artists, this 1951 "New York" Steinway Model D was hand-picked by Steinway & Sons for concert promotion, and has been lovingly and consistently maintained by artisan technicians.
It combines mature overtones with a youthful clarity that can only be achieved with an instrument of this class.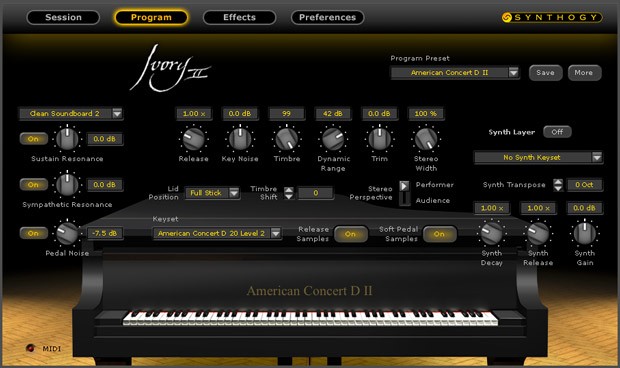 Synthogy has captured every nuance of this very special instrument and meticulously brought it to life with unparalleled realism!
This particular New York Steinway D has the designation "CD 121" signifying that it was selected by Steinway & Sons for artist promotion and concert hall specification. The instrument has an exceptionally pure and clear tone, a remarkably expressive dynamic range and has been described by many artists as among the finest they've ever played. In fact, the plate of this particular piano is signed by pianists Glenn Gould and Rudolf Serkin, a testament of high praise for the instrument by two of the world's great masters.
The piano was recorded in the Françoys-Bernier Concert Hall at Le Domaine Forget in the Charlevoix region of Quebec. This is the same hall where Ivory´s acclaimed German Steinway was recorded, and also by the same recording and technical team.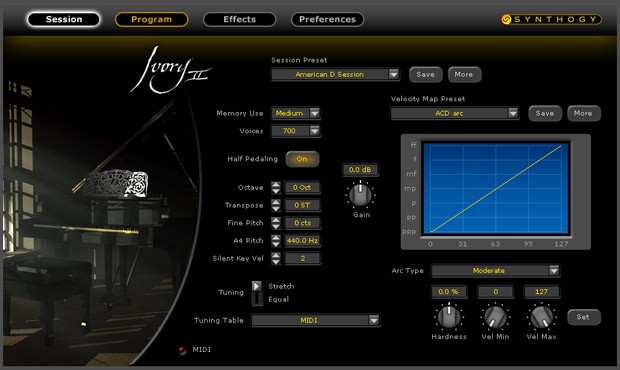 Ivory II–American Concert D will feature up to 20 velocity levels, will have the full compliment of Ivory II features, and run as a plug-in or standalone. For existing Ivory II users, Ivory II–American Concert D will install directly into the existing Ivory II library, giving access to all of Ivory II´s pianos and features from one great interface.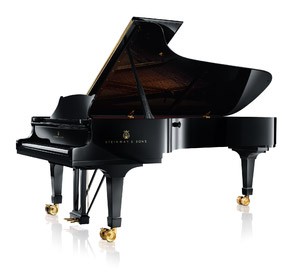 Highlights of Ivory II: American Concert D
1951 New York Steinway D selected by Steinway & Sons for artist promotion and concert hall specification
The largest, most extensively sampled of all Ivory II pianos
The first of Synthogy's pianos to feature up to 20 velocity levels, with Sample Interpolation Technology for ultra-smooth velocity and note transitions
Advanced Ivory II software/DSP engine, including Synthogy's exclusive Harmonic Resonance Modeling for realistic Sympathetic String Vibration.
Custom Soundboard Emulation DSP
Half-pedaling
Pedal Noise Enhancements
Una Corda (soft pedal) samples at multiple velocities
Native 64-bit support
Release samples triggered by velocity and duration
Timbre-shifting, Parametric EQ and new Synth Layer controls for powerful sound sculpting capabilities
World class digital FX including Real Ambience, Chorus and EQ
Customizable User Controls for Timbre, Stereo Width and Perspective, Velocity Response, Mechanical Key Noise, Lid Position and more
Tuning Tables Optional synth pad layer for modern/pop combinations
Dozens of programs and effects presets
Ivory II's "unified interface" feature enables you to use just a single instance, and one interface, to play and control all of Ivory´s pianos, no matter how many pianos you install. So whether you own one, two, or all four products, Ivory´s intelligent browsing feature allows you to load any piano from one convenient interface.

Sound On Sound 06/2013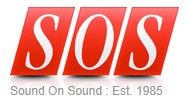 Conclusion (excerpt):
The great thing about American Concert D is that you can use it for virtually any style of music; its classic, expensive-sounding timbre is almost universally adaptable, and will add production value to arangements with very little user effort. Basically, you just load it (which takes about 10 seconds) and play!
MusicTech Magazine 11/2012

MTM Verdict: Synthogy's American Concert D faithfully captures the tone and clearity of a classic Steinway piano, and has a pleasingly flexible playback engine




MusicTech Magazine, 9 Stars


Keyboards Magazin, Key Buy Award


---


Michael Garson
Keyboardist and Musical Director for David Bowie, Composer/Arranger
"My whole life I awaited in disbeliefe that there would ever be a great piani sample library. Finally, Ivory came about, and I have used the Steinway sample on at least 100 recordings, and no one has ever questioned that it wasn´t my real piano"
---

Chick Corea
Jazz Legend
"I use Ivory as my basic acoustic piano sound for my work with Sibelius and Logic. It gives me a real piano feel"
---


David Newman
Film composer
"Ivory is simply the most ralistic sampled piano on the market today. Its tone and playability are second to none!"
---


Pete Townshend
singer/songwriter, founding member of "The Who"
"I´m a huge fan of Ivory. It amazes me every time I use it!"
---


Roger Hodgson
keyboardist/guitarist, founding member of "Supertramp"
"Ive not come close to the big full natural sound I get from my Ivory"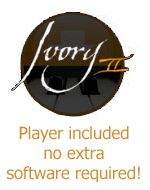 With the Synthogy Ivory 2.5 or later Piano Engine you can use the PACE computer based activation or the traditional PACE iLok™ Key activation. Previous Piano Engine versions always need and iLok™ key.
Mac:
macOS 10.8 or higher
64 bit
Quad Core CPU
2.0 GHz (2.4 GHz recommended)
RAM: 2 GB
Hard drive Speed of at least 7200 RPM
Windows:
Windows 8-10
32 bit & 64 bit
Quad Core CPU
2.0 GHz (2.4 GHz recommended)
RAM: 2 GB
Hard drive Speed of at least 7200 RPM
Required Registration:
Synthogy products require you to register with the manufacturer at www.synthogy.com and with www.ilok.com to activate your license.
This product requires an activation!
You can either "soft" activate on your computer without addditional hardware or transfer the license to an iLok USB dongle which has to be purchased separately. The iLok dongle can be used to run the protected software on different computers. Your licenses can be easily manged using the iLok Licence Manager. To protect your investment against theft or loss we recommend the iLok Zero Downtime protection with TLC.
An internet connection on any computer and a free user-accout at www.ilok.com is required to authorize the product.
Please check with the software manufacturer which iLok version is required at least if you want to use a hardware iLok!