Ivory II Italian Grand combines the extraordinary Italian 10 Foot Concert Grand Piano with Synthogy´s groundbreaking Ivory II piano engine. A remarkable versatile instrument, equally at home in large scale classical works, intimate jazz playing, as well as a full range of pop styles. An unforgettable playing experience!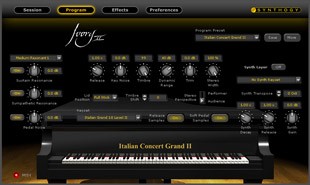 Ivory II Italian Grand is the second product in Synthogy´s newest generation of virtual piano technology. Featuring a greatly expanded sound set of the extraordinary 10 foot Concert Grand Piano, and fully integrated with the powerful new Ivory II piano DSP engine with Harmonic Resonance Modeling for true Sympathetic String Vibration, Ivory II Italian Grand shines like never before.
This exceptional piano is one of the world´s greatest and most sought after Concert instruments. Handcrafted in Italy, it is also one of the world´s most expensive and exclusive Concert Grands, renowned for its expressive dynamics and full-bodied character. Its tone is remarkably versatile, equally at home in large scale classical works, intimate jazz playing, as well as a full range of pop styles. The beauty of this instrument is captured in greater detail than ever, with up to 18 velocity levels, additional soft pedal and release samples and pedal noise enhancements. Synthogy´s decades of expertise in piano development, along with proprietary "timbre interpolation" technology combine to deliver the unrivaled playability and expressiveness that Ivory is famous for.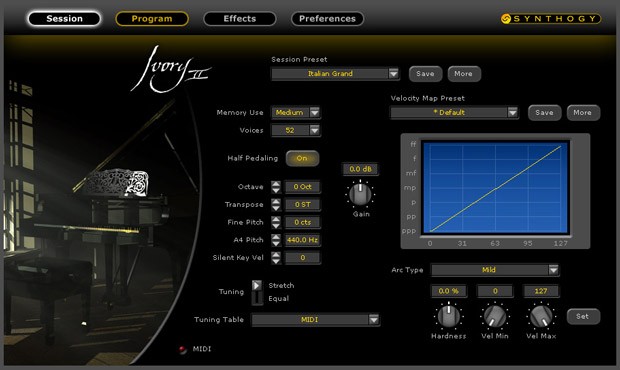 Ivory II Italian Grand also comes to life in a whole new way thanks to the groundbreaking features in the new Ivory II piano engine. Principal among them is Sympathetic String Resonance, a long sought after but elusive characteristic of real pianos that Synthogy approaches in a completely new and unique way. Realizing the true complexities and subtleties of sympathetic string excitation, Harmonic Resonance Modeling is a brand new technology that does not rely upon triggering additional samples, ordinary sine waves, or recordings in any way. Rather, notes struck that are harmonically related excite the actual complex overtones of the notes that are being held, in the same manner that undamped strings ring in a real acoustic piano. The result is an unprecedented new level of realism.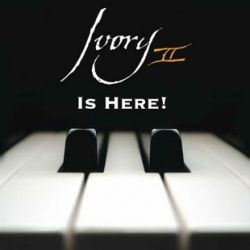 The full compliment of Ivory II's new features is also present, such as Half Pedaling, Lid Position, Pedal Noise, and Tuning Tables to provide even greater detail and control. Additionally, features such as Timbre Shifting, Parametric EQ, and new Synth Layer controls offer powerful new sound sculpting capabilities for custom piano programming and sound design. Years in the making, every effort has been taken to assure that Ivory II Italian Grand is a true and worthy successor to the legacy established by our original Ivory products.
Ivory II Italian Grand is not only one of the most stunning Concert Grands you´ll ever play, it is also one of the greatest values in software instruments at just $179 SRP. Whether you are a first time buyer or long time Ivory user, you owe it to yourself and your music to experience this amazing Concert Grand.

Highlights of Ivory II Italian Grand:
Over 28 Gigabytes of world-class samples featuring a Premium 10 foot, Italian made Concert Grand
Up to 18 discrete velocity layers with Sample Interpolation Technology for ultra-smooth velocity and note transitions
Harmonic Resonance Modeling for the most realistic Sympathetic String Resonance possible
Half-pedaling
Synthogy's exclusive, powerful 32 bit Sample Playback and DSP engine, engineered specifically for recreating the acoustic piano
Sustain Resonance DSP for realistic Damper Pedal response
World class digital FX including Real Ambience, Chorus and EQ
Customizable User controls for Timbre, Stereo Width and Perspective, Velocity Response, Mechanical Key Noise, Lid Position, Tuning Tables, and more
Timbre Shifting, Parametric EQ and new Synth Layer controls for powerful sound sculpting capabilities
Expertly tuned and regulated pianos in world-class studios and concert halls
All 88 keys individually sampled in up to 18 dynamic levels
Incorporates exclusive Sample Interpolation Technology used for ultra- smooth velocity and note transitions
Real Release samples, Soft Pedal samples, and Pedal Noise enhancements
Optional synth pad layer for modern/pop combinations
Dozens of user-adjustable presets
Ivory II´s "unified interface" feature enables you to use just a single instance, and one interface, to play and control all of Ivory´s pianos, no matter how many pianos you install. So whether you own one, any two, or all three products, Ivory II´s intelligent browsing feature allows you to load any piano from one convenient interface.
Sound On Sound 02/2007

Sound On Sound Hails the Italian Grand
"I loved playing it... it works just as well in larger works as it does in solo... Synthogy are to be applauded for producing yet another great library."
Audio MIDI 04/2007

AudioMIDI.com: "To play it is to love it."
"A must-have for Ivory users, and the most compelling reason yet to get Ivory. This instrument redefines, yet again, what a virtual grand can be.
Keyboard Magazine 06/2007

Keyboard Magazine Raves about The Italian Grand
Veteran product reviewer Jim Aikin takes an in depth look at Synthogy's Italian Grand in the pages of June's Keyboard Magazine. Here's a preview of what he has to say: "Extraordinary piano sound...
Virtual Instruments Magazine 01/2007

Virtual Instruments Magazine Praises The Italian Grand
"This instrument simply makes you want to play it. Synthogy Ivory is a great sampled piano instrument, and the Italian Grand may be the best of the four pianos available for it."
Musicians Life 03/2007

Virtual Instruments Magazine Praises The Italian Grand
"This instrument simply makes you want to play it. Synthogy Ivory is a great sampled piano instrument, and the Italian Grand may be the best of the four pianos available for it."
Recording.de 07/2009

Fazit
Bei dieser schieren Masse an Sounds muss das Fazit zweifelsohne lauten, dass mit Ivory eine der am umfassendsten und besten Sample-Libaries in Sachen Konzerflügel geschaffen wurde. Die Sounds sind mit Liebe zum Detail gesamplet, genauso wurden nützliche und praxisnahe Features im Plugin implementiert. Zwar wirkt der schiere Funktionsumfang und die vielfältigen Paramter auf den ersten Blick unter Umständen mehr abschreckend als einladend, hat man das Grundprinzip von Ivory aber verstanden, kann man schnell zwischen den Ebenen hin- und hermanövrieren und den Klang entsprechend den eigenen Vorstellungen formen. Man sollte also keine Angst haben, wirklich extensiv die Features von Ivory zu nutzen, aber auch wenn man lediglich auf die Presets zugreift hat man fast für jede Gelegenheit den passenden Flügelsound, denn die verschiedenen Typen untereinander liefern nochmals genügend Variationen. Dabei reagiert jeder Flügel individuell und mit eigener Note.
Ivory empfiehlt sich sowohl für Klassik-Sounds wie auch für Jazz und Pop/Rock, und man kommt gerne auf das Plugin zurück. Tatsächlich ertappe ich mich zusehends bei der Frage, was ich eigentlich vor Ivory in Sachen Piano-Sounds gemacht habe.
Recording.de Testbericht IvoryII_ItalianGrand


Keyboards Magazin, Key Buy Award


2010 M.I.P.A. International Press Award Winner
Best Software Instrument

Musicians Life, Redaktions Tipp

---


Michael Garson
Keyboardist and Musical Director for David Bowie, Composer/Arranger
"My whole life I awaited in disbeliefe that there would ever be a great piani sample library. Finally, Ivory came about, and I have used the Steinway sample on at least 100 recordings, and no one has ever questioned that it wasn´t my real piano"
---

Chick Corea
Jazz Legend
"I use Ivory as my basic acoustic piano sound for my work with Sibelius and Logic. It gives me a real piano feel"
---


David Newman
Film composer
"Ivory is simply the most ralistic sampled piano on the market today. Its tone and playability are second to none!"
---


Pete Townshend
singer/songwriter, founding member of "The Who"
"I´m a huge fan of Ivory. It amazes me every time I use it!"
---


Roger Hodgson
keyboardist/guitarist, founding member of "Supertramp"
"Ive not come close to the big full natural sound I get from my Ivory"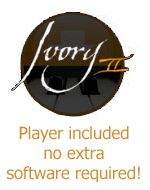 With the Synthogy Ivory 2.5 or later Piano Engine you can use the PACE computer based activation or the traditional PACE iLok™ Key activation. Previous Piano Engine versions always need and iLok™ key.
Mac:
macOS 10.8 or higher
64 bit
Quad Core CPU
2.0 GHz (2.4 GHz recommended)
RAM: 2 GB
Hard drive Speed of at least 7200 RPM
Windows:
Windows 8-10
32 bit & 64 bit
Quad Core CPU
2.0 GHz (2.4 GHz recommended)
RAM: 2 GB
Hard drive Speed of at least 7200 RPM



This product requires an activation!
You can either "soft" activate on your computer without addditional hardware or transfer the license to an iLok USB dongle which has to be purchased separately. The iLok dongle can be used to run the protected software on different computers. Your licenses can be easily manged using the iLok Licence Manager. To protect your investment against theft or loss we recommend the iLok Zero Downtime protection with TLC.
An internet connection on any computer and a free user-accout at www.ilok.com is required to authorize the product.
Please check with the software manufacturer which iLok version is required at least if you want to use a hardware iLok!