The Synth of '82 - Redefined for your Future Hits
In the synthesizer industry, something truly remarkable occurred in 1982 when a Japanese legend was developed. It was one among the synths that contributed to the 1980s' distinctive sound and was utilized by numerous successful musicians, including The Eurythmics, Cyndi Lauper, and Aha. It's more popular than ever, and artists like Charlie Puth, Tame Impala, and the Weeknd have used it on their hits.
Sweet Dreams
The 80s synth's original sound has been painstakingly reproduced by AIR Music Technology for you. But that's just the beginning; they intended to expand on the myth and adapt it to contemporary music production processes.
Take On Me
Since AIR's team is made up of audio experts and they precisely developed the sound, you naturally receive all the analog goodness of the original. It features a single DCO, a powerful sub oscillator, an unmatched VCF, and, if you want it, loads of THAT chorus!
They provided two workflows: the traditional front panel design and a longer, more contemporary UI that gives you even more sound-tuning options. Under the hood, there's some audio extras. Two DCO noise types - modern and vintage - as well as saturation and drive are included in the VCF. To assist you further refine the ideal sound, there is an additional envelope that wasn't present in the original. The chorus is accompanied with a strong delay, reverb, and EQ circuit.
Time After Time
Simply put, Jura combines the iconic sound of a '80s synth monster with some seriously awesome current workflow improvements to give you the best of both worlds.
The included MPC/FORCE standalone versions give you the full touch control hardware experience. Jura is the traditional synth for contemporary music production. The characteristics of tomorrow with the sounds of yesterday. The 1982 synthesizer redesigned for your upcoming hits!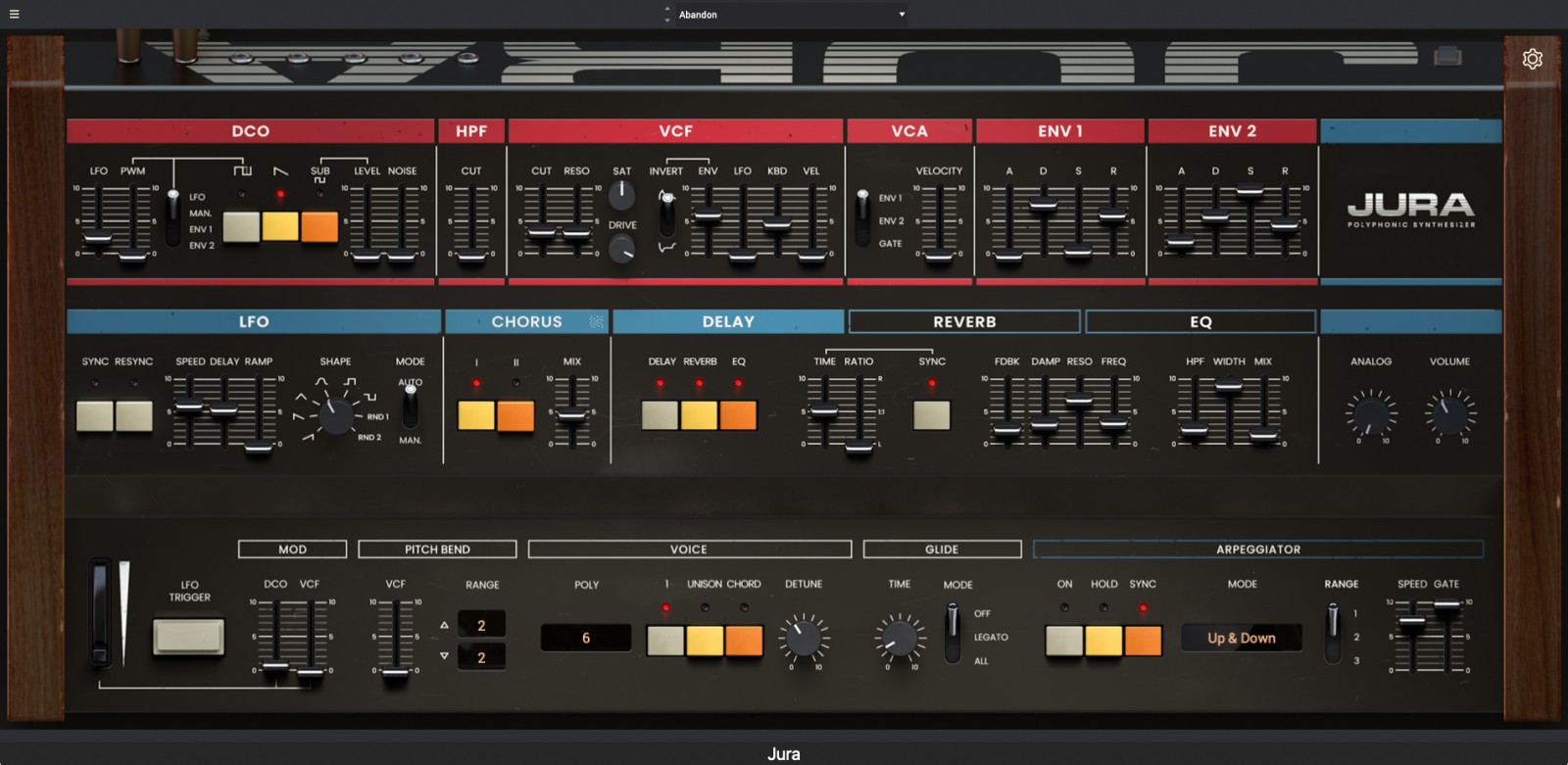 Specs
Switchable between classic / expanded controls

Oscillator section with pulse, saw, sub and noise waveforms: create classic pulse width modulation sounds using manual control, LFO or one of two envelope modulation sources

Filter section including VCF section with cutoff, resonance, saturation and drive: filter modulation via invertible envelope; LFO, keyboard and velocity tracking, high Pass Filter (HPF) filter control

VCA section with gate / envelope modes, plus velocity tracking

Two ADSR envelopes

BPM syncable LFO: 8 shapes including two random generators; speed, delay and ramp controls, re-sync and manually triggerable via

LFO trigger button

Classic Juno Chorus section: three modes with mix control

Delay section: up to 2 seconds of delay, BPM syncable, comprehensive feedback and resonance section, high pass, L/R ratio and width controls

Reverb section: Pre-reverb high and low pass filtering, pre-delay, diffusion, decay plus high & low damping controls, octave shimmer effect with feedback control, reverb modulation depth and rate controls, width control

3-band EQ section

Analog character knob

Detune-able unison and editable chord modes

Modulation wheel and pitch-bend controls

Glide controls

Arpeggiator
Mac:
macOS 10.8.5 or higher
64 bit
Core duo processor (i7 recommended)
RAM: 1GB (2GB recommended)
Windows:
Windows 7 or higher
64 bit
Dual core processor (i7 recommended)
2GHz
RAM: 1GB (2GB recommended)
Required Registration:
AIR Music Technology products require you to register with the manufacturer at www.airmusictech.com and with my.plugivery.com/redeem to activate your license.
This product requires an activation!
An internet connection is required to authorize / activate the product.