Keyscape™ - Collector Keyboards
KEYSCAPE® is an extraordinary virtual instrument featuring the largest selection of collector keyboards in the world. From "holy grail" pianos to stunning keyboards you didn't even know existed, this is a keyboardist's dream come true.

Ten years in the making, each of these sought-after keyboards was carefully restored and then deeply multisampled by the renowned Spectrasonics Sound Development Team. These compelling and highly expressive sounds will inspire you to PLAY!

The process began with going to the ends of the earth to find and restore each one of these rare and incredibly special instruments with the top technicians and expert craftsmen from each discipline. Spectrasonics even went as far as spending years redoing these instruments from scratch again and again until they were totally "right." This incredible attention to detail and meticulous care given to each instrument allowed us to develop these sounds to a whole new level of authentic tone.
While it's every performing keyboardist's dream to have the very best instruments instantly available anywhere, Keyscape is equally useful in the studio for producers and composers. Since these instruments can be easily transformed into amazing "unreal" sounds with the powerful STEAM Engine® under the hood, Keyscape easily turns these coveted instruments from History into innovative new sounds of the Future.

Custom Controls
The Custom Controls presented for each Patch allow you to go far beyond the original sound. The intuitive interface includes useful performance controls and high quality creative effects processing specially crafted for each Patch. Hundreds of included Patches showcase the remarkable versatility and ability to dramatically customize these iconic sounds to your music.
Authentic Expression
With many of these collector instruments, it's really the imperfections that make them so interesting. Instead of cleaning up all the quirks and noises they make, we made sure to closely capture them since they are big part of their vibe. In addition to that, our software team closely modeled the authentic behavior and mojo of vintage amplifiers, classic effects units and unique subtleties like mechanical noises, pedal noises and release overtones to bring these sounds to a whole new level of authenticity and dynamic expression.
Hybrid "Duo" Sounds
Along with the hundreds of patches based on the 36 instrument models, Keyscape includes special hybrid "Duo" sounds, which combine two of the instruments to create something entirely new. The unique timbre of these Duo patches make them some of the most creative and inspiring sounds in Keyscape!
Omnisphere Integration
As a bonus for Omnisphere 2 users, Keyscape also integrates fully as a satellite instrument within the Omnisphere® interface. Keyscape will simply appear as a library inside Omnisphere's browser for users of both plug-ins. This allows Omnisphere 2 users to harness the full synthesis power of the STEAM Engine® to explore endless sonic possibilities and combinations!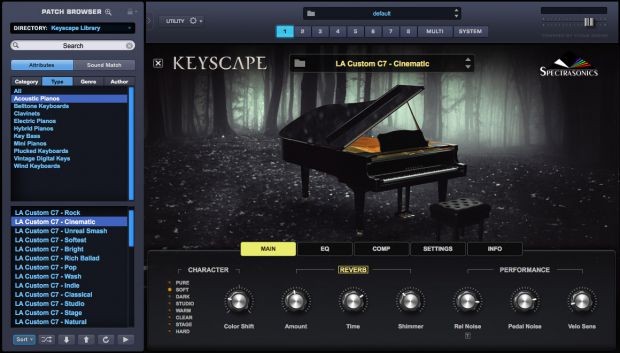 Technical Specifications
Huge 77 GB library with over 500 sounds, 36 Instrument Models and Hybrid "Duo" Patches

Deeply multisampled sounds with up to 32-way velocity switching, Round Robins, etc

Mechanical Noise, Pedal Noise and Release Noise behavior modeling

Patches feature authentic circuit modeled amps and effects

Optional "Lite" installation (30 GB) for stage use

Omnisphere® 2 integration
Keyscape™ Models
Keyscape Models 1 - LA Custom C7 Grand Piano | Wing Upright Piano | Wing Tack Piano & Double Felt Grand

Keyscape Models 2 - Rhodes - Classic Mark I Rhodes - LA Custom "E" Model | Vintage Vibe Electric Piano

Keyscape Models 3 - Wurlitzer 140B | Wurlitzer 200A | Electric Grand CP-70

Keyscape Models 4 - Pianet M | Pianet N | Pianet T

Keyscape Models 5 - Weltmeister Claviset | Celeste | Chimeatron

Keyscape Models 6 - Dulcitone | Clavinet C | Clavinet/Pianet DUO

Keyscape Models 7 - Vintage Vibe Vibanet | Clavichord | Dolceola

Keyscape Models 8 - Electric Harpsichord | Mini Student Butterfly Piano | Rhodes 1946 Pre-Piano

Keyscape Models 9 - Toy Piano - Classic | Toy Piano - Glock | Toy Piano - Grand

Keyscape Models 10 - Toy Piano Saucer Bell | Harmochord | Rhodes Piano Bass

Keyscape Models 11 - Vintage Vibe Tine Bass | Weltmeister Basset 1 | Weltmeister Basset 2

Keyscape Models 12 - MKS-20 Digital Piano | MK-80 Digital Rhodes | JD-800 Crystal Rhodes
"Keyscape Creative"
The "Keyscape Creative" library is a cutting-edge collection of over 1200 Omnisphere patches specially designed to showcase the power of combining Keyscape and Omnisphere 2. Owners of Omnispehre 2 and Keyscape can update their products to get the additional patches.
Muso Talk 11/2016
Spectrasonic Keyscape Testbericht mit Thorsten Quaeschning von Tangerine Dream
Tangerine Dream Musical Director und Keyboardist Thorsten Quaeschning testet für euch das neue Plug in von Spectrasonics an.
Wir hatten eigentlich eine Sammlung der Standard Keyboards Sounds wie Rhodes, Piano und Flügel erwartet.
Aber Thorsten hat ein paar wirklich Perlen in den über 70 Gigabyte des Monster Plug ins gefunden.
Warum die so geil sind und das Plug in dann doch die volle Wertung erhalten hat und ein Kaufempfehlung geworden ist erfahrt ihr im Video.
MusoTalk Empfehlung mit 5 Punkten auf dem Thorsten´s MusoMeter
" Top Plug in mit aussergewöhlichen aber gut einsetzbaren Sounds, nicht nur von Rhodes, Steinway und Co."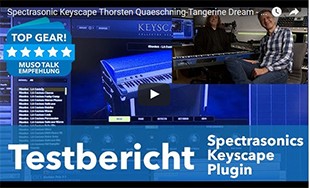 Mac:
macOS 10.13 or higher
64 bit
Intel Dual Core processor (i7 recommended)
2.4 GHz or higher
RAM: 8GB or higher
SSD recommended
Native support for Apple Silicon based Macs and Steinberg's latest VST3 plug-in standard.
Windows:
Windows 7 or higher
64 bit
Intel Dual Core processor
2.4 GHz or higher
RAM: 8GB or higher
SSD recommended
32-bit hosts are not supported for Keyscape. However, Keyscape sounds can be played within Omnisphere 2, which can operate in 32-bit hosts.
Required Registration:
Spectrasonics products require you to register with the manufacturer at www.spectrasonics.net to activate your license.
This product requires an activation!
An internet connection is required to authorize / activate the product.