Standalone Production and Performance System
MASCHINE+ is a sampler, a drum machine, a synth, and an on-stage superpower. In short, it's whatever you make it. Leave the laptop behind, jam with your other gear, and create beats in minutes with a wealth of on-board sounds, instruments, and effects.

It's the iconic MASCHINE workflow with fewer strings attached.
Do It Standalone
Standalone means more focus, more freedom, and more music making. Plug in, power up, and get creating straight away in the embedded MASCHINE+ production environment – from first ideas to finished tracks. Dial in effects to tweak your sounds, or sample audio and make it your own with an intuitive interface designed to keep the creative juices flowing. And if you want to bring your ideas into a DAW, copy them over, and boot up the MASCHINE software on your computer to pick up where you left off.
9 Instruments, 35 Effects and thousands of Sounds on board
As well as its classic groovebox workflow, MASCHINE+ includes MASCHINE+ Selection: A dedicated package of nine synths and sampled instruments, 35 effects, and seven Expansions (including two of your own choosing) that work seamlessly in standalone mode. It includes heavy-hitters like MASSIVE, FM8, MONARK, PRISM, the MASCHINE Factory Selection, RAUM, and PHASIS. That means its 16 pads can sound like a dusty vintage drumkit, a warped wavetable lead, or an organic modal synth – pretty much anything you can think of if you flex your sound design skills.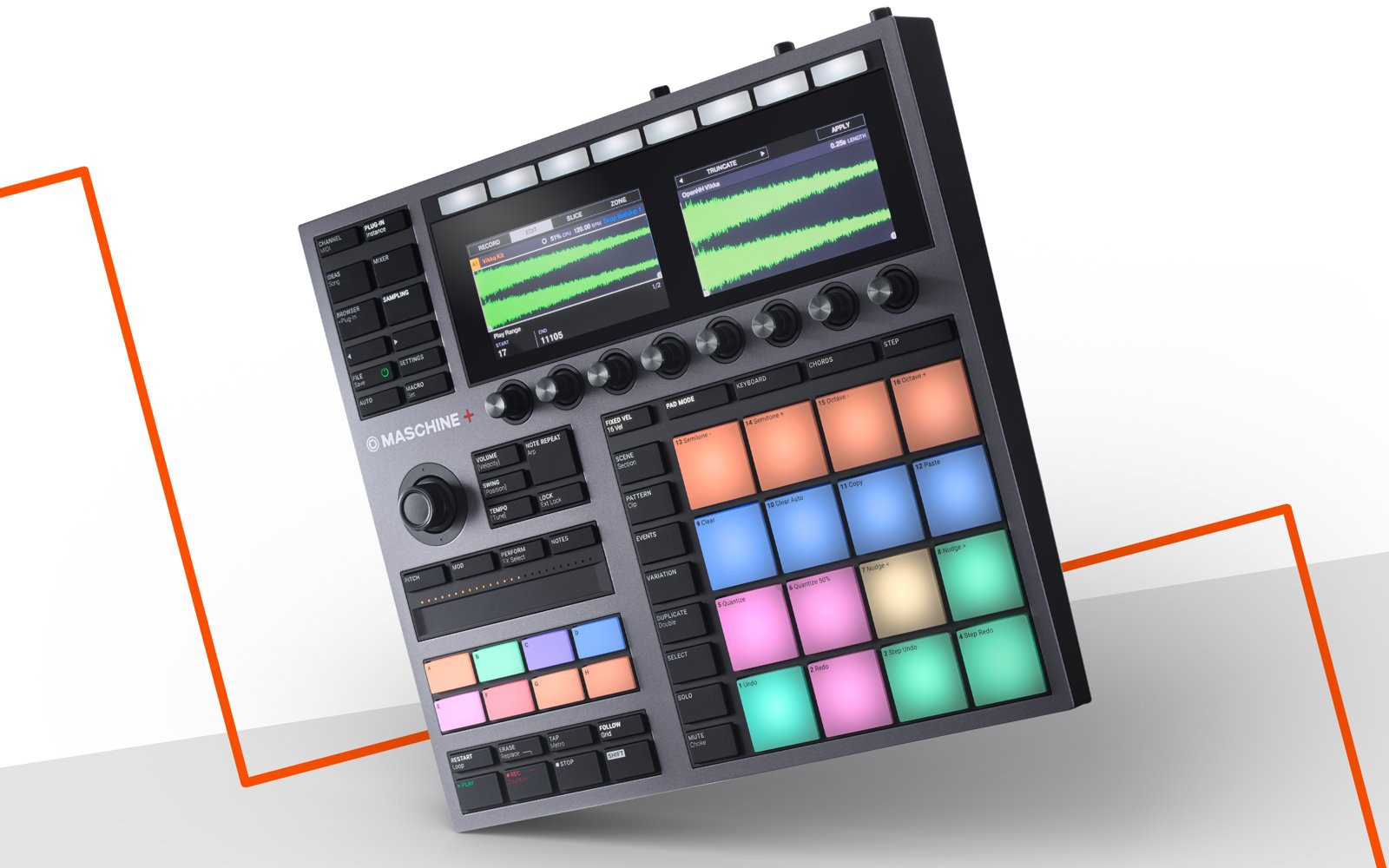 Sample and Sequence everything
Whether you're digging records or ripping radio edits, record any sound into MASCHINE+ and quickly chop and stretch the results into your own custom kits. Or transform and twist them in real-time with the Audio plug-in. The same goes for guitars, vocals, drums, and anything else – more sounds means more creative ways to make music.
Made to be played
Bring real expression to live performances with intuitive control over your music - tap out beats, run arpeggiators, or tweak synth melodies in real time. MASCHINE+ is an intuitive live sequencer, a fully-fledged groovebox, and a powerful performance synthesizer rolled into one.
The additionally introduced Clips feature lets you arrange your ideas with even more freedom. Create transitions across scenes, add unique variation to patterns, record MIDI directly into the full arrangement, and freely add audio wherever you need it. Once you've fleshed out your ideas, you can use MASCHINE+ as a powerful tool to push tracks past the finish line.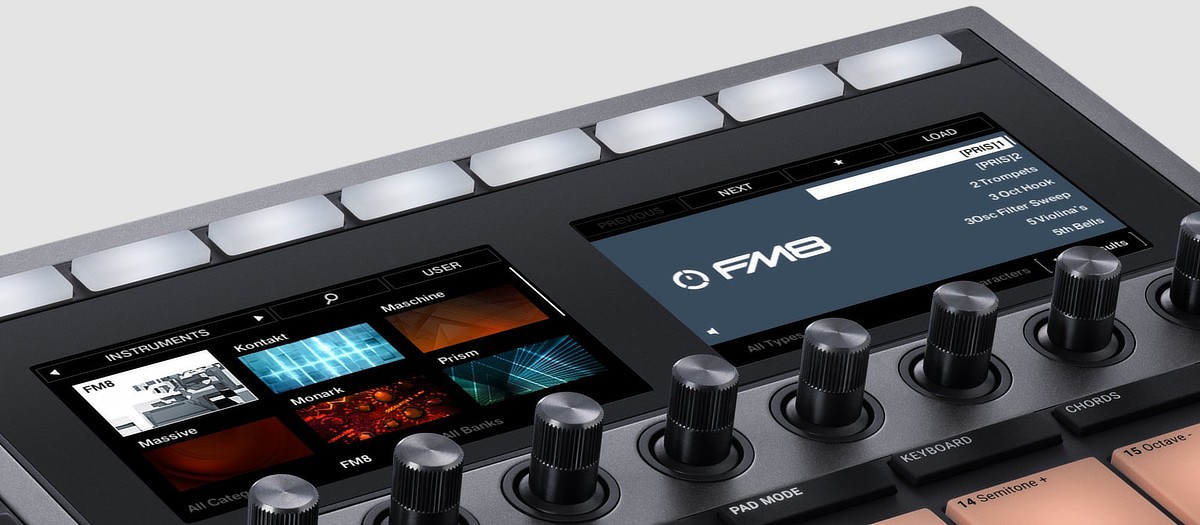 Connect and control your setup
Play and sequence outboard gear and capture the results, or manipulate external audio in real time with effects. MASCHINE+ can control, mix, and manipulate the rest of your setup with MIDI, line, and mic inputs to bring everything together instantly. And if you want to work with a computer, it doubles up as a classic MASCHINE controller too.
Sync and sound wirelessly
MASCHINE+ is Wi-Fi enabled, which means you can install new sounds, instruments, and effects at the touch of a button, without a computer in sight. When it comes to jamming with others or playing out live, keep in sync with other music apps, DAWs, and compatible gear with Ableton Link.
Features and Specifications
Immersive standalone workflow for creating beats and melodies, sampling, arranging music, and performing on stage or in the studio

Includes MASCHINE+ Selection with industry-leading instruments, sounds, and effects, plus renowned MASCHINE drum and bass synth plugins and effects

Quad-core CPU and 4 GB RAM for fast, seamless creation when it counts

Pro-grade, 44.1 kHz / 24-bit audio interface* with 2 x ¼" TRS line outputs, 2 x ¼" TRS line inputs, ¼" dynamic mic input, stereo headphone output, 1 x MIDI In, 1 x MIDI out; 1 x Footswitch, 2 x USB ports for MIDI controllers

Robust, anodized aluminium design for years on the road and in the studio

Iconic MASCHINE features and workflow including 16 velocity-sensitive pads, MASCHINE effects and plugins, swing, pad link, note repeat, step sequencer, and vintage sampler emulation

Use standalone or with a computer - integrate with your studio workflow, and unplug for DAW-less setups or live performances

WiFi and Link enabled for wirelessly installing and updating products, collaborating with others, and syncing with other gear
* 96 kHz / 24-bit in controller mode
Standalone Mode: You can use MASCHINE+ without a computer, but you'll need a wireless internet connection and your Native ID to get set up.
Mac:
macOS 10.14-10.15 (newest Update)
64 bit
Intel Core i5
RAM: 4GB
Windows:
macOS 10.14-10.15 (newest Update)
64 bit
Intel Core i5
RAM: 4GB
Additional Requirements:
USB 2.0 Port, free disk space for MASCHINE software and MASCHINE Library

An Internet connection and a graphics card which supports OpenGL 2.1 or higher are required to download and activate MASCHINE software. Once installed and activated, all products can be used offline
Product activation:
An internet connection is required to authorize / activate the product.