MB-5 Dynamix - Multiband dynamics processing revisited
This plugin provides unique envelope detection capabilities that let one band trigger the dynamics response on others (internal side-chain). Combined with the advanced stereo features including mid/side processing and independent channels activation, it gives you full control over the dynamics of the signal for a wide range of effects.
An additional brick wall limiter/clipper protects the output for complete control over the dynamics response.
The plug-in provides comprehensive visual feedback to let you know what's exactly going on at every step of the dynamics processor: for each channel, monitor the spectrum, the in/out levels, dynamics response, compression ratio and in/out level of each band...
Main Features
Full-featured multiband processor: compressor, gate, limiter, expander, waveshaper

Up to 5 bands, with crossover filters from 6 to 60 dB/Oct for optimal separation

Unique envelope routing capability for cross-band dynamics effects

Dry/wet control for parallel processing ("New York Compression")

Stereo or mid-side processing with multiple channels linking options

Post brickwall limiter or waveshaper

Comprehensive visual feedback with real time response curves and levels display

Perform multi-band side chain compression, ducking, gating and much more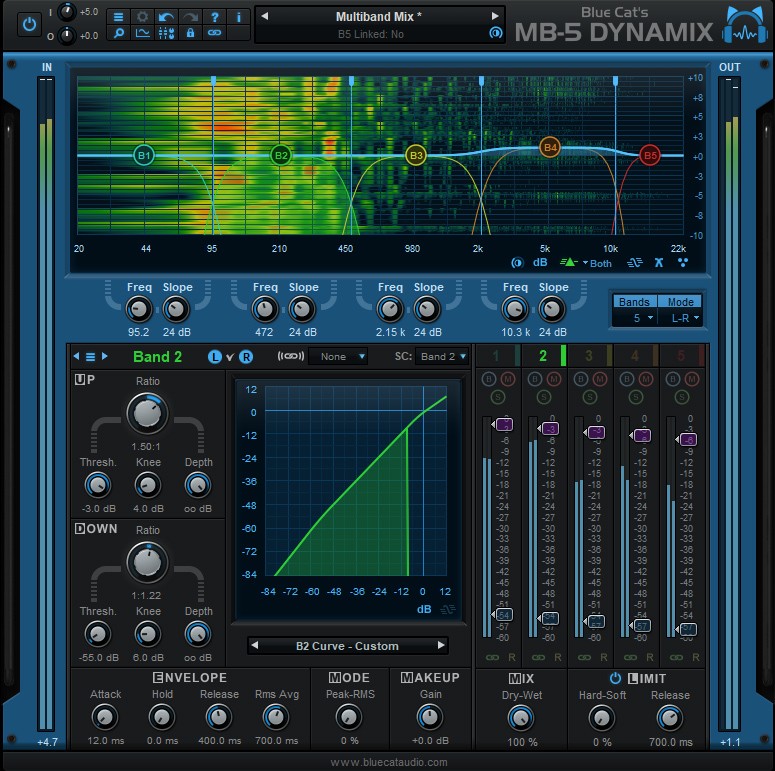 Mac:
macOS 10.9 or higher
Intel processor
standalone: Core Audio-compatible audio interface
Windows:
An SSE2-enabled processor (Pentium 4 or higher).
Windows 8 - 10
standalone: ASIO-, MME- or WASAPI-compatible audio-interface (ASIO recommended)
Required Registration:
Blue Cat Audio products require you to register with the manufacturer at www.bluecataudio.com to activate your license.
This product requires an activation!
An internet connection is required to authorize / activate the product.