The future of melody creation
Quick-fire melody creator, unlimited melody ideas for your beats

Overcome melody beat-block

No deep music theory required, just your ears!
Melody Sauce is a VST / AU MIDI FX that uses advanced generative algorithms to help you create instrumental melodies and hooks as MIDI in your music production software. A co-creation tool designed for anyone making music in electronic pop, EDM, Hip Hop and RnB styles, Melody Sauce provides a quick and unlimited source of melodies and melodic inspiration, created for you at the click of a button.
Simply connect Melody Sauce to any VST or AU software synth in your DAW and start exploring millions of melodic possibilities.
Additional Sounds, FX and Styles
A complete melody creation tool, with a updated Sound Engine of nearly 100 sounds and 3 built-in FX so you can hear melodies straight out of the box - no need to route MIDI to other instruments.

Get instant results in your chosen style with the new Style Mode. Choose from over 300 style settings for Hip Hop, Trap, EDM, House & Techno, Pop, Reggaeton and R&B.

Unique, unlimited melodies for your tracks in only a few clicks.
Product Features
Create Ideas Quickly - With Melody Sauce you can quickly and easily create, audition and select melodies for use as leads, synth lines, arpeggios and other instrumental hooks, all on-the-fly whilst you playback your song project. Create ideas to get you started, or get instant melodic help when you have beat block.

Unlimited Possibilities - None of the phrases that Melody Sauce creates are pre-programmed as you hear them, they are all built from scratch each time you click to generate. The melody engine features a deliberate element of chance and controlled randomisation to offer up a diverse range of melody options.

Advanced Algorithms - Melody Sauce is capable of creating many millions of different permutations of melody through its complex algorithms, which are the result of 18 months' research and collaboration with top music producers.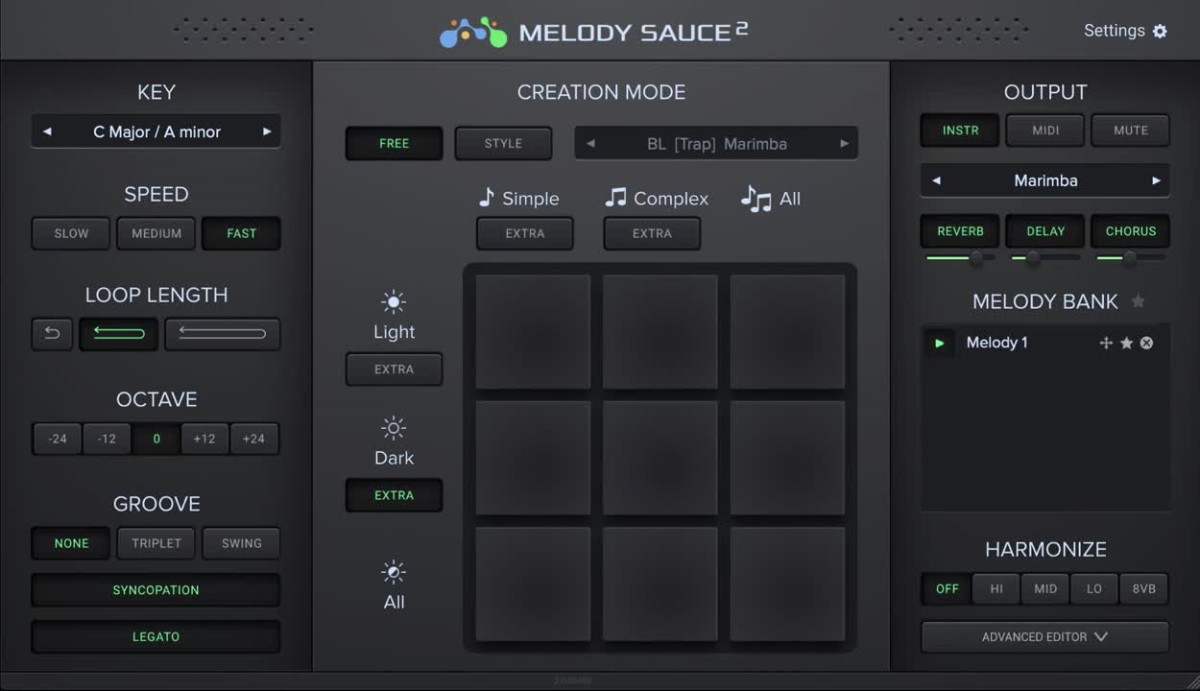 Mood & Convolution - Instantly create melodies in Melody Sauce with different mood and complexity setting combinations laid out in a simple interface.

Co-Creation - By adjusting a set of simple parameters, you get to control the melodies Melody Sauce creates for you. It drops into your workflow and starts delivering ideas without the need for complex settings or advanced music theory knowledge.

Instant Harmonies - Experiment with adding instant harmonies to the melodies you've created in Melody Sauce, with different harmony voicing options.

Seamless DAW integration - Melody Sauce operates inside your DAW sequencer. Easily connect Melody Sauce to your favourite VST or AU software synths and create melodies "on-the-fly" whilst your project is playing. Drag and drop melodies straight into your DAW. Operates in Audio Unit (AU) MIDI FX and VST plug-in formats. Compatible with Ableton Live, Logic Pro, FL Studio, Studio On, Reaper and more.
Mac:
macOS 10.7 or higher
M1 compatible with Rosetta
RAM: 4GB or higher
Windows:
Windows 7 or higher
RAM: 4GB or higher
Required Registration:
EVAbeat products require you to register with the manufacturer at www.evabeat.com to activate your license.
This product requires an activation!
An internet connection is required to authorize / activate the product.