The Key To A New 3D Sound Universe
Sound Trajectory is a powerful application designed for sound creators to construct completely immersive soundscapes.

miniST is identical to the full Sound Trajectory software with the only exception that it is limited to 16 trajectories and 32 audio inputs.

The semi-modular design of this software makes it possible to adapt easily to the users' needs for a specific project. For the studio or live work, it works either as a standalone application or connected to other multichannel audio and video solutions via their inputs and outputs, or DAW via Ircam Labs' Tosca plug-in for automation control.

The built-in audio engine offers intuitive settings for setting up the configuration of your virtual space. The internal audio engine can be turned off to use an external audio render and controlled by OSC directly from the Sound Trajectory interface.

The aim of Sound Trajectory is to help you create and control sound trajectories in 3D virtual space with powerful and simple to use tools.

The Sound Trajectory Suite is divided into three programs:
STmixer - is for mixing sound sources
STsampler - is an ambisonic sampler
STcontrol - is dedicated to control external audio engines in OSC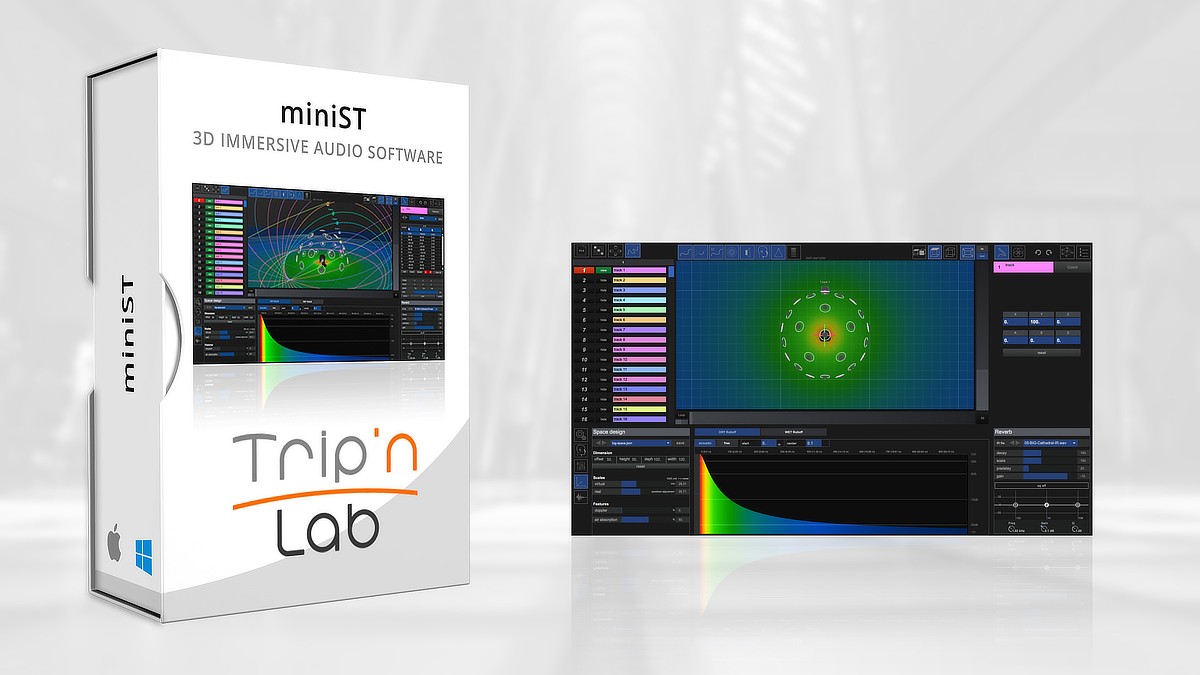 Product Features
Manage the positions and trajectories of your sound sources by drawing their path in a 3D space

Utilize an inbuilt sampler to play the audio samples along the trajectories, with 32 polyphonic voices

Mix 32 tracks with trajectories. Each track can support up to 16 input sources

Employ the Motion Listener to easily monitor a trajectory

With a simple line you can define the sound path using the 3D Visual interface you choose the position of the speakers, the sources and the listener

It's an app which extends existing solutions like DAW, modular software, live mixing and game frameworks

Supports any multichannel speaker configuration for music studio, live concerts, cinema, Fulldome, VR and Binaural

From mono to Dolby Atmos® 9.1, a dedicated editor allows you to define the pattern of the sources. During the mixing, Sound Trajectory allows you to control their position, size, rotation, and scale

Visualize video from the integrated player or Syphon, Spout for all formats from standard, up to VR 360.

Use OSC protocol assigning inputs and outputs in order to control Sound Trajectory from another software or to control other software remotely

Use Midi protocol with 14 bit pitch-bend to control the trajectories index

A session can have as many scenes as you want. Each scene allows you to instantly store and recall all the parameters that you have edited or modified
Mac:
macOS 10.12 or higher
64 bit
RAM: 4GB
Windows:
Windows 10
64 bit
RAM: 4GB
Required Registration:
Trip n Lab products require you to register with the manufacturer at www.tripnlab.com and with my.plugivery.com/redeem to activate your license.
This product requires an activation!
An internet connection is required to authorize / activate the product.