The Big Bang of Synths
Miniverse (formerly Minimode) is a painstaking virtual emulation of the granddaddy of all portable synthesizers. Introduced in 1971, no other instrument is more associated with the word "synthesizer" - it's perhaps the best-known and loved analog synthesizer ever made. Though its innards weren't identical to the massive modular synths, it shared the thick, juicy, "fat" analog sound that remains unchallenged 50 years later! It set the standard for future synthesizers, inspired whole new genres of music, and defined the sound of artists as diverse as Kraftwerk, Herbie Hancock, Rick Wakeman, Pink Floyd, Parliament, Gary Numan, and countless others.
Miniverse was conceived as the ultimate tribute to the original instrument. Cherry Audio focused on a single principle: absolute authenticity. In association with DSP master and frequent collaborator Mark Barton (MRB), they studied and measured every nuance, every curve, and every response of the audio. Even the Miniverse interface is a meticulous recreation of the original, from the maple cabinet and textured surface to the unmistakable "Cosmo" knobs and switches. Cherry Audio avoided the temptation to add extra features, such as additional LFOs or effects, which might distract from the spirit and vibe of the classic model. Instead, Miniverse portrays the pure, raw, powerful sound and feel of the classic original.
All About the Sound
Whether you're seeking monstrous leads, funky basslines, or warm atmospheric pads, Miniverse has you covered. In fact, the resulting tones are so mighty that they could not resist adding one particular enhancement. If one classic synth voice isn't enough, they've made it easy to dial in two, four, eight, or sixteen polyphonic voices guaranteed to bring the house down. Need outstanding sounds even faster? Miniverse includes a library of over 250 presets created by professional sound designers. Brass, keys, percussion, sound effects, and even MIDI Polyphonic Expression (MPE) presets and, of course, the signature earthshaking basses and leads the Mini is renowned for are just a click away.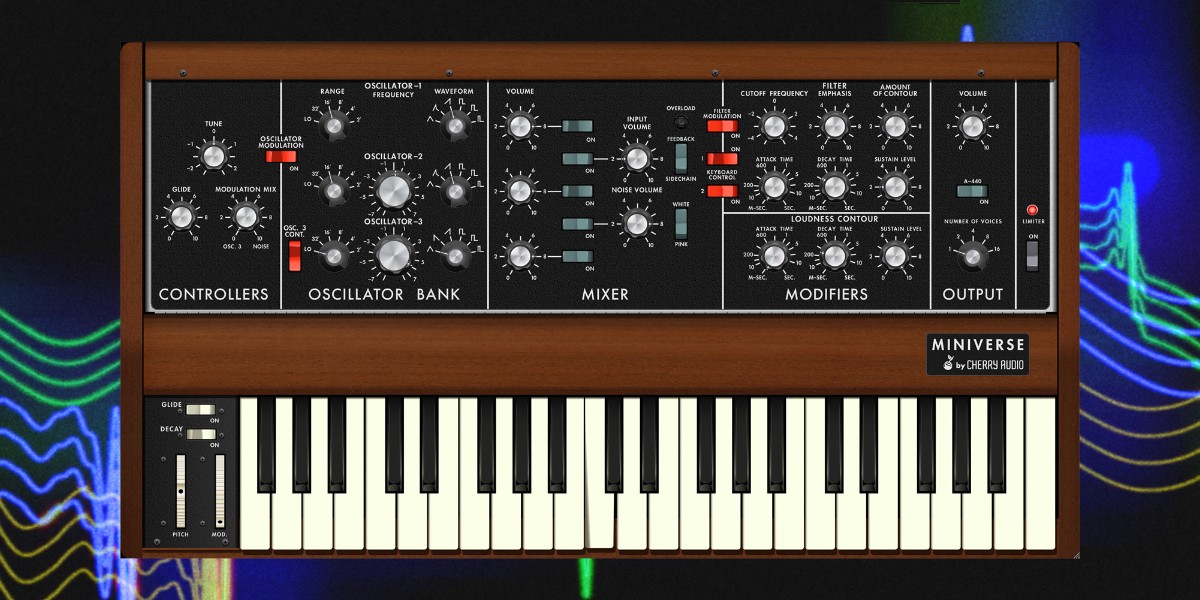 Miniverse Features
Faithful virtual analog emulation of the legendary hardware

All features of the original in a realistic interface exactly as the original

Three oscillators with triangle, sawtooth-triangular, ramp sawtooth, square, wide rectangular, and narrow rectangular waveforms

Classic four-pole, 24dB/octave ladder filter

Feedback and Sidechain, replicating the original instrument's External Input function with super accurately replicated overdrive characteristics

Fully programmable with over 250 factory preset patches created by pro sound designers

Monophonic and polyphonic modes: 1, 2, 4, 8, or 16 voices

Superbly accurate modeling of inherent oscillator mixer and VCA overdrive characteristics

MIDI Polyphonic Expression (MPE) support for expressive performances using MPE-compatible controllers

Complete MIDI control and DAW automation for all controls, with easy-to-use MIDI learn

Preset and Global level MIDI mapping

Cherry Audio's acclaimed Focus zoom-in feature

Highly optimized coding for optimal performance with ultra-low CPU load

User-adjustable oversampling control
Mac:
macOS 10.13 or higher
64 bit
Native Apple M1 compatible (including Apple M1 Ultra)
3.4 GHz Quad Core processor or M1 CPU
RAM: 8GB
Windos:
Windows 7 or higher
64 bit
3.4 GHz Quad Core processor
RAM: 8GB
Required Registration:
Cherry Audio products require you to register with the manufacturer at www.cherryaudio.com to activate your license.
This product requires an activation!
An internet connection is required to authorize / activate the product.