Limitless sonic options right at your fingertips
MixBox packs 70 award-winning mixing processors and creative effects derived from T-RackS, AmpliTube and SampleTank into a convenient 500-series style plug-in. Create, compare and save your own custom channel strips or multiFX chains, or choose from over 600 presets to give your creativity a kickstart. Whether in your favorite DAW or stand-alone, MixBox combines a massive range of effects and powerful workflow to supercharge your mixes.
Key Features
Create your own custom channel strips

70 FX from T-RackS, AmpliTube & SampleTank

Dynamics, EQs, Filters, Modulation, Channel Strips, Saturation, Reverbs, Delays, Distortion and Amps

4 all-new algorithms for hall, room, plate and inverse reverbs

Chain up to 8 processors in a single instance

Lightning-fast workflow with all controls at your fingertips

Save and recall entire chains, instantly

Over 600 presets for every situation, including single processor and whole-chain presets

Stand-alone hosts up to 8 full racks for live mixing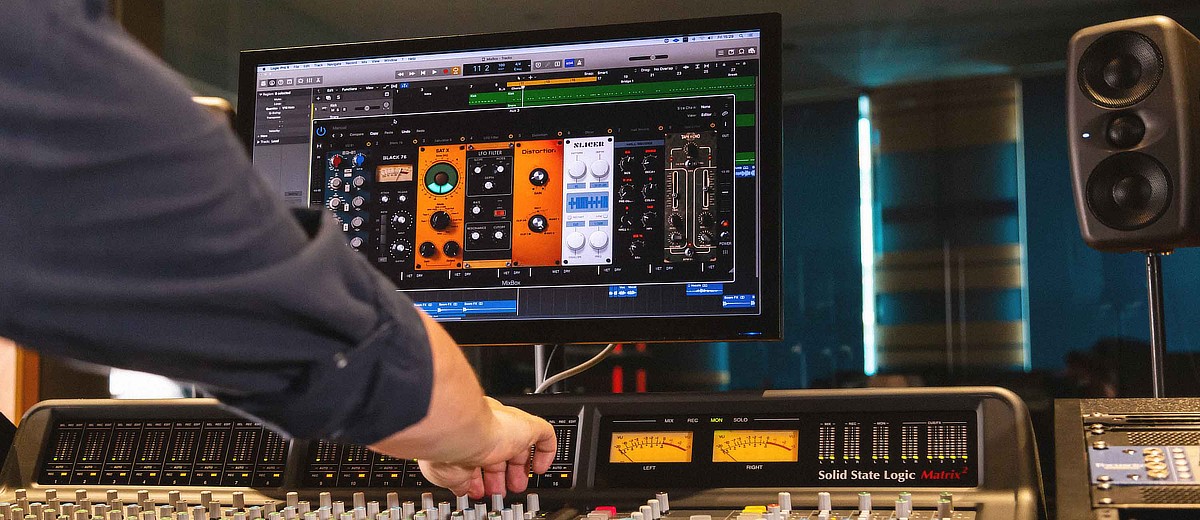 A modeling powerhouse
MixBox includes ultra-precise digital models of some of the most iconic mixing gear in history like the LA2A, 1176, 1073 EQs, 4000-series channel strips, plus creative models like amplifier distortion and even tape saturation.
Get the gear collection of your dreams right at your fingertips including all of the gear and FX below
Amp (9): American Vintage T, British Tube Lead, Cabinet, Flexi Amp, Jazz Amp 120, Modern Tube Lead, Preamp, SVT Classic, Tone Control

Channel Strip (3): Channel Strip, EQ 81, EQ Comp

Delay (3): Digital Delay, Reverb Delay, Tape Echo

Distortion (5): Crusher, Distortion, Lo-Fi, Overdrive, Overscream

Dynamics (7): Black 76, Bus Compressor, Compressor, De-Esser, Limiter, Model 670, White 2A

EQ (4): British EQ, EQ PG, Parametric EQ, Vintage EQ-1A

Filter (10): Env Filter, Filter Formant, Filter Phaser, Filter-C, Filter-M, Filter-O, Filter-R, LFO Filter, Multi Filter, Wah 47

Modulation (17): AM Modulator, AutoPan, Chorus, Chorus C1, Electric Flanger, Ensemble, Env Flanger, Flanger, FM Modulator, Multi Chorus, Opto Tremolo, Phaser, Rotary Speaker, Slicer, Small Phazer, Tremolo, Uni-V

Reverb (9): Ambience, ConvoRoom, Digital Reverb, Hall Reverb, Inverse Reverb, Plate Reverb, Room Reverb, Spring Reverb, Stereo Imager

Saturation (3): Phonograph, Saturator-X, Tape Cassette
Mac:
macOS 10.10 or higher
64 bit
Intel core 2 duo processor
RAM: 4GB (8GB recommended)
Windows:
Windows 7 or higher
64 bit
Intel core 2 duo or AMD Athlon 64 X2 processor
RAM: 4GB (8GB recommended)
Required Registration:
IK-Multimedia products require you to register with the manufacturer at www.ikmultimedia.com to activate your license.
This product requires an activation!
An internet connection is required to authorize / activate the product.